On the valuation front, Bitcoin is miles ahead when compared to Ethereum. While the former boasted of a market cap of around $584.7 billion at press time, the latter flashed a value of $223.5 billion. Even though Ethereum's valuation is not even half of Bitcoin's, 'flippening' discussions have been going on for quite some time. Ethereum community members strongly believed that the displacement is bound to happen one day, given the project's strong fundamentals. On the development activity front, for instance, Ethereum possesses the baton, despite slowing down its pace over the past few months. Bitcoin's activity, on the other hand, has noted an uptick. Even so, when compared, it is nowhere close to Ethereum.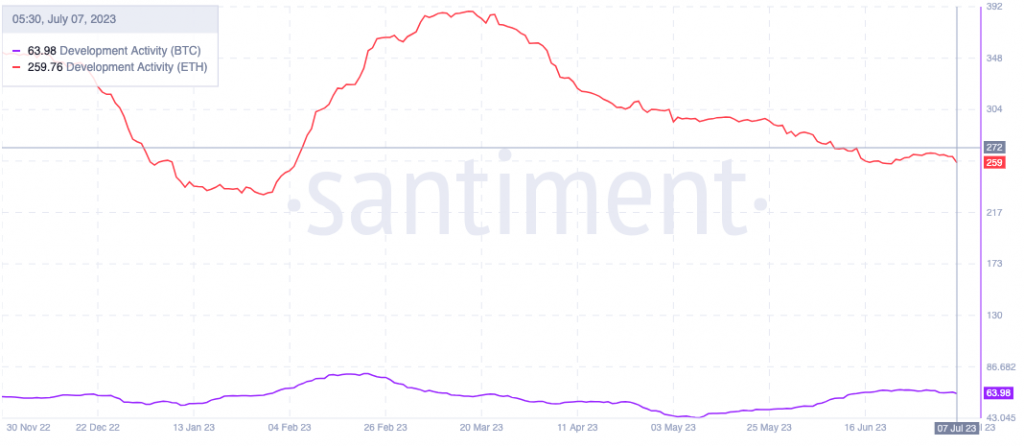 Also Read: Bitcoin Ordinals NFT Inscriptions Surpass 153K: Developer Ports It to Litecoin
The culture of 'doing things' on Bitcoin
Ordinals have proved to be a game changer for Bitcoin. They debuted on Bitcoin in January this year. On one hand, people from the industry underlined that this helped in refining the development activity within the ecosystem, and openly welcomed NFTs on the platform. On the other hand, skeptics have been debating how Ordinals unlock a world of dangers for the Bitcoin network, including malware assaults and soaring transaction costs. 
Ethereum founder Vitalik Buterin is on the former page. In a recent Twitter space with Eric Wall and Udi Wertheimer, Buterin asserted that Ordinals has helped instigate the "organic return of builder culture" to the network. In fact, he also went on to praise the BRC-20 token standard. According to him, this was an outright rejection of "stagnant" politics within the Bitcoin ecosystem, and added,
"Ordinals are starting to bring back a culture of actually doing things. It feels like there's real pushback to the laser-eye movement, which is good."
On the update timeline, Bitcoin's latest major upgrades remain to be Taproot [2021] and SegWit [2017]. However, as far as Ethereum is concerned, developers successfully checked the Merge [2022] and Shanghai upgrade [2023] boxes more recently.
Also Read: Bitcoin Flips Cardano, Solana to Claim 2nd Spot in NFT Sales