Meme coins took a backseat today while the rest of the market was on an uptrend. As Bitcoin [BTC] pushed past the $28K zone, Ethereum [ETH] decided to push its resistance as well. The largest altcoin moved beyond $1,900 for the first time in eight months.
During these last couple of months, ETH whales decided to fill their pockets awaiting a possible upward trajectory. According to data from Santiment, addresses holding 100-10K ETH have accumulated a whopping $4.24 billion over the last 9 months. At press time, ETH was trading for $1,910 with a 5.28% daily surge.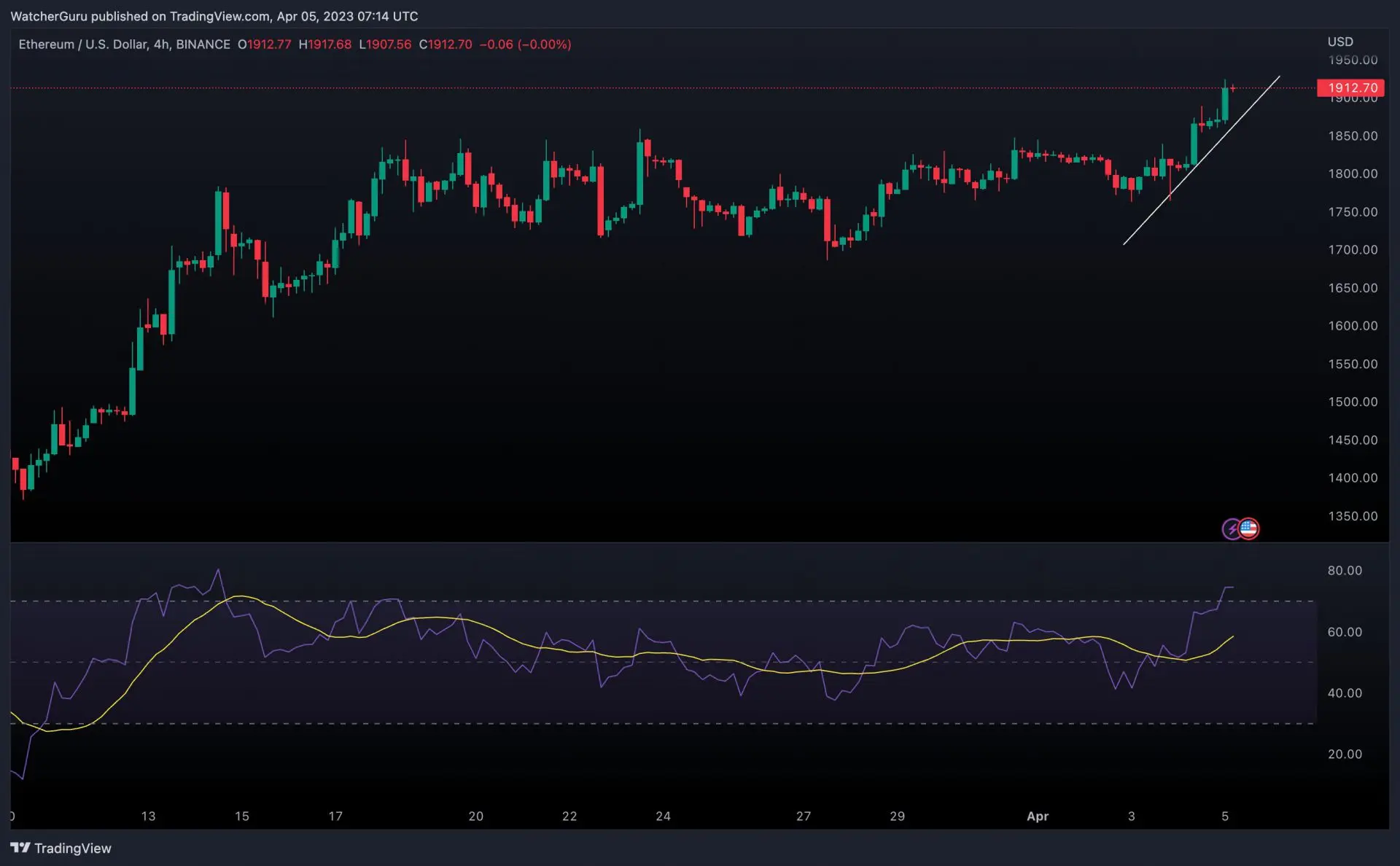 As seen in the above chart, after a significant period of consolidation throughout March, ETH finally managed to move upwards. The altcoin jumped from a low of $1,809 all the way to a high of $1,921.
The above-displayed uptrend was in sync with the Relative Strength Index [RSI] marker. Over the last couple of days, the Ethereum network witnessed increased buying activity. Currently, the RSI marker is over the 70 median which further pointed out that ETH is being overbought.
An upswing was in the cards for ETH as Shapella is right around the corner. Several had their bets on the altcoin claiming the $2K spot right before the update. However, considering ETH's current streak the asset could hit this juncture sooner than later.
But why is Ethereum surging?
Is it the whales? or is it the hype around Shapella? While these factors did contribute to ETH's latest rise, the community believed that there are other influences as well.
It could be attributed to increased demand for Ethereum given that staking is expected to be more fluid. In addition, predictions that the Fed may lighten up on its quantitative tightening efforts as interest rate hikes can disrupt the world's banking industry, could also be one of the reasons.
Will ETH be able to retain its hot streak? It is quite uncertain as ETH dipped right after the Merge that occurred in September 2022. Since the upcoming update will unlock staked ETH, investors could rush in to liquidate their holdings. Since the Beacon Chain started in December 2020, the network has registered stacked ETH of more than 18 million in the contract.