PEPE coin has been making news once again. However, this time, the attention isn't positive. The coin has experienced a significant drop of 24% within the past 24 hours. At press time, PEPE is being traded at a value of $0.000000835927, showing a 4.6% dip in value within the span of an hour.
The value of the asset descended from a peak of $0.00000111 to $0.000000811657 earlier in the day. Notably, the asset underwent a change that involved an extra zero during this downward trend.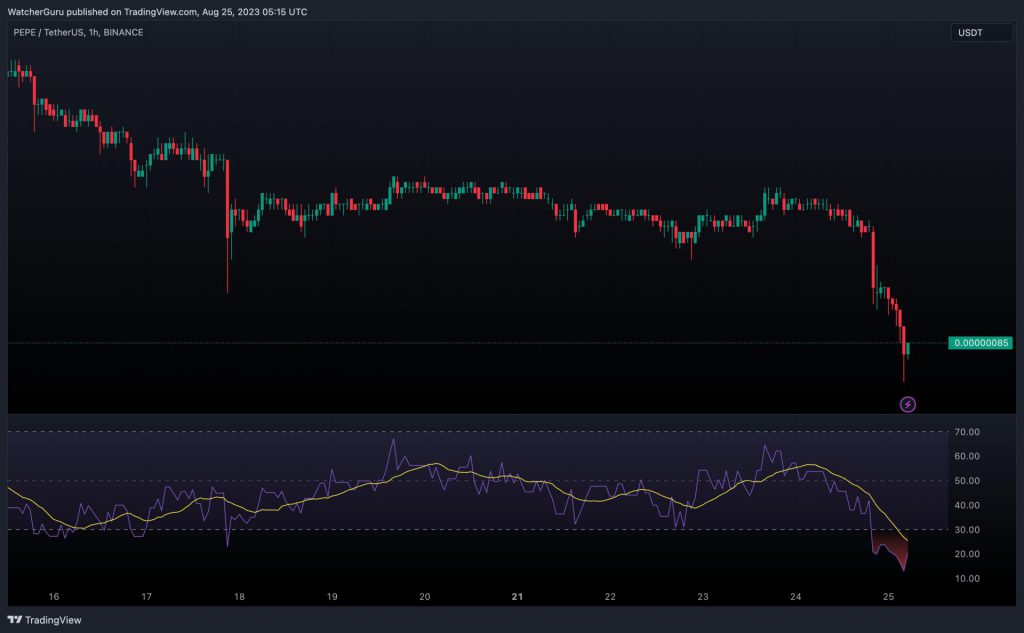 The decline in the asset's value is evident in PEPE's one-hour chart. Furthermore, the Relative Strength Index [RSI] indicator indicated that the meme coin was experiencing overselling conditions at the present time.
Also Read: Pepe Coin May Rise 2137% by 2025, But Will it Rival SHIB, DOGE?
But why is PEPE one of the biggest losers in the market today?
A notable amount of the PEPE meme coin, valued in the millions of dollars, was walking out of crypto exchanges. This occurrence alarmed investors, leading to a drop in its price and also bringing focus to concerning activities within the project's multi-sig wallet. More than 16 trillion tokens were abruptly taken out of the PEPE multi-sig wallet. This wallet stands as one of the most significant holders of this meme coin.
These tokens were sent to addresses linked to Binance, OXK, and Bybit. A report reveals that PEPE totaling $8.2 million was sent to OKX, $6.5 million to Binance, and $434,000 to Bybit. Alongside this, an extra $400,000 was moved to a wallet whose owner is not known. All in all, about 16 trillion PEPE tokens were sent from the wallet address, which constitutes roughly 3.8% of the entire token supply.
The requirement for transaction approval had shifted. From needing the consensus of five out of eight wallets, it dropped to just two out of eight. This movement followed closely after individuals monitoring the blockchain detected changes related to how the wallet, functioning like a secure vault, manages the approval of transactions.
Currently, this wallet holds PEPE amounting to $10 million. Noteworthy is the fact that this fund transfer represented the first instance of these tokens being dispatched from the project's multi-sig wallet to exchanges.
Also Read: Whale Offloads SHIB, BONE Tokens for 1 Trillion PEPE Coin Post Shibarium