It has time and again been observed that meme coins have a limited correlation with Bitcoin [BTC] or other macroeconomic events. Instead, most of the meme coin rallies are driven by hype. For instance, during the peak of Shiba Inu [SHIB] in 2021, meme coins experienced increased trading volume. Similarly, with the recent launch of PEPE, trading volumes of these meme-inspired tokens are soaring.
According to recent data by Dune Analytics, the crypto market witnessed $2.3 billion in meme coin trading volume last week. This is a six-fold increase from the previous week's trading volume of $387 million. Additionally, it is also the highest trading volume recorded by meme coins since May 2021.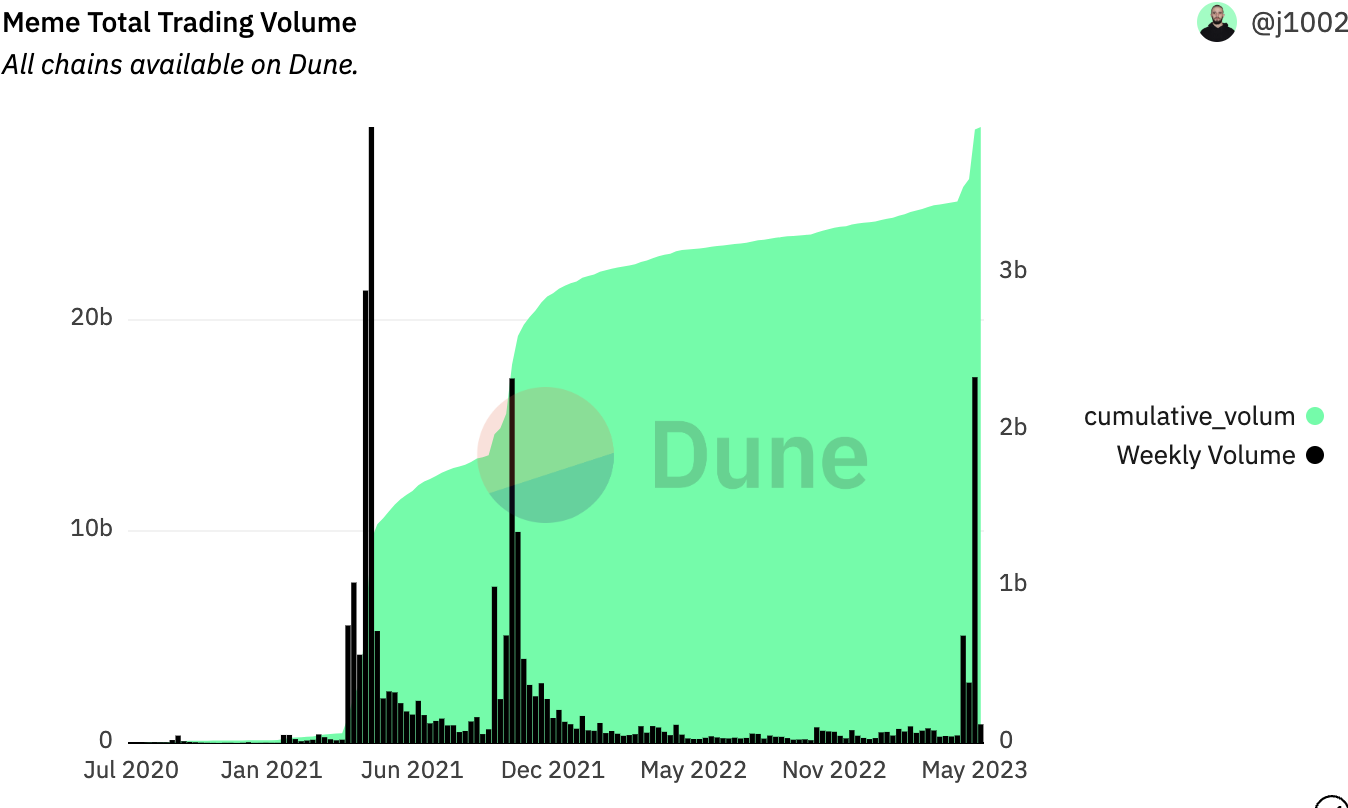 It is not surprising that the rise was led by PEPE. The asset's impeccable growth above the $1 billion market cap speaks volumes. The increased whale activity has surely added to the rising meme coin trading volume.
The recent surge in meme coin trading volume was largely instigated by PEPE, but it was also revealed that Shiba Inu played a role in the increase. According to IntoTheBlock, large buyers purchased more than 10.25 trillion SHIB tokens in the past week. However, sales by large sellers were 250 billion SHIB lower. This resulted in a bullish trend for Shiba Inu, despite its recent price crash.
Shiba Inu continues to dip
It appears that even with the involvement of large investors, Shiba Inu was not able to avoid a decline. The second-largest meme coin experienced a 4.17% drop in the last 24 hours, and at press time, was trading at $0.000009033. This marks a decrease from its earlier high of $0.000009527.
Despite the price drop, the trading volume of Shiba Inu has been increasing. The 24-hour trading volume of SHIB was $148,245,841, which represented a 12.43% increase. The daily volume of PEPE, on the other hand, was down by 21.29%.