Pepe Coin (PEPE) has made a significant mark in the memecoin landscape, challenging the likes of Dogecoin (DOGE) and Shiba Inu (SHIB). Since its launch in mid-April 2023, PEPE has made gains of nearly 2130%. Moreover, its market cap has grown at an incredible rate, reaching $800 million in less than a month.
In a recent poll on Twitter, users were asked which asset they would choose between Pepe Coin and Dogecoin if they had $100,000 to invest. So far, 2367 people have cast their votes. Pepe is currently leading the poll with 64.9% of the majority. DOGE is following far behind with only 35.1% of the votes.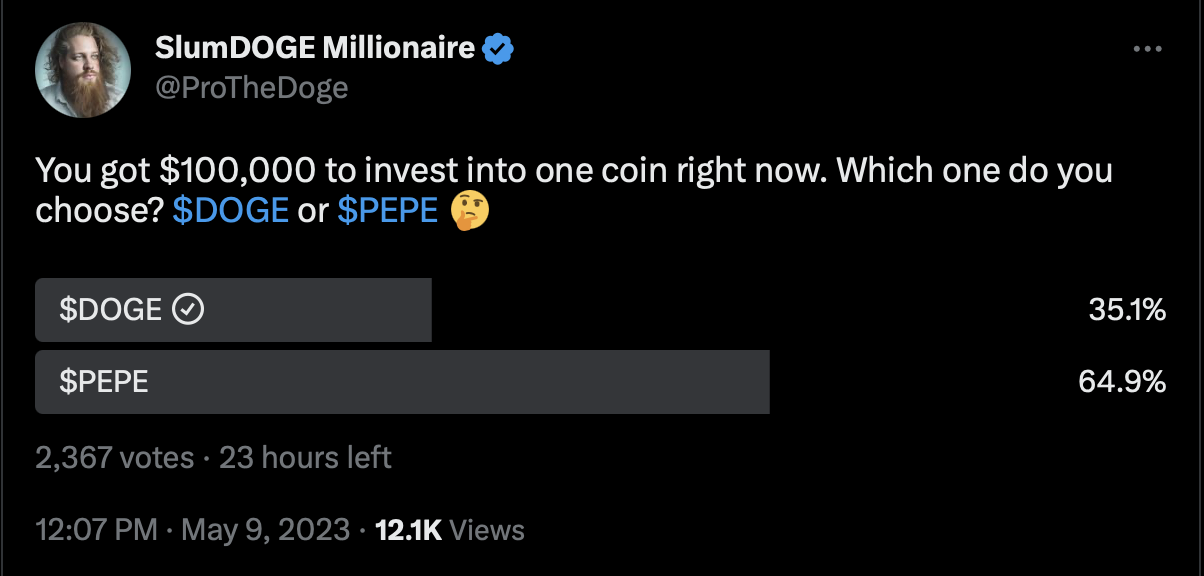 The poll is still open for another 23 hours. Therefore, the results could vary once voting concludes. It is possible that the balance may tip in the next 23 hours, and DOGE takes the upper hand. However, as of now, PEPE is dominating the poll.
Pepe or Dogecoin, which is a better investment?
The hype around Pepe Coin (PEPE) is currently unparalleled. It is the most trendy crypto project right now with a significant following. However, PEPE still has its issues. Although Pepe Coin is also a meme-inspired project, Dogecoin (DOGE) is the original memecoin.
PEPE, being brand new and listed on limited exchanges, suffers from low liquidity issues. Although investors are becoming millionaires, there is little liquidity to allow them to cash out. DOGE, on the other hand, has a lot more liquidity. Additionally, both projects are limited in their use cases. While Dogecoin (DOGE) has the upper hand in entering the crypto space early, Pepe Coin (PEPE) is just beginning its journey. DOGE has a lot more adoption as a mode of payment than PEPE. DOGE is also accepted by giant firms like Tesla for their merchandise.
Furthermore, Dogecoin (DOGE) investors are more inclined towards the "meme" aspect of the project. Although PEPE is also a memecoin, it is plausible that most investors are in it to make a quick buck. Given the aforementioned reasons, Dogecoin (DOGE) does appear to be the more attractive investment for the long term, whereas Pepe (PEPE) appears to be fueled by FOMO (fear of missing out).
At press time, DOGE was trading at $0.072368, down by 3% in the last 24 hours. On the other hand, PEPE was trading at $0.00000190, down by 18.4% in the last 24 hours.