Popular memecoin Pepe (PEPE) has rallied 16% in the last 24 hours. The frog-themed crypto is currently the 6th biggest gainer among the top 100 projects. The token has also risen by 15.7% on the weekly charts.

The latest inflow of funds is most likely due to Bitcoin (BTC) seeing a new positive sentiment from investors. The other altcoins and memecoins are probably just following the original crypto. BTC's rally is attributed to BlackRock and Fidelity's spot Bitcoin ETF applications. The SEC has not accepted a single spot Bitcoin ETF application so far. However, many expect the SEC to accept BlackRock's application, as it is the largest asset manager in the world.
Is Pepe making a comeback?
PEPE is still far from its early-May highs. The memecoin made headlines when it rallied by nearly 6000% after just a few days of launch. However, the token has taken a toll since then. Pepe reached an all-time high of $0.00000431 on May 5, 2023. The popular coin has fallen by 75.01% since then. According to IntoTheBlock, 54% of PEPE holders are at a loss. Only 33% are in profit, while 13% are even. Furthermore, the platform notes that large transactions have fallen by 8.10%. However, the project has seen net network growth of 2.05%, which is positive.
PEPE's latest rally is probably a temporary jump and might not continue much further. The project does not have any real-world use cases, and most investors are in it most likely to make a quick buck.
The token is currently facing resistance at around $0.00000118, with support at about $0.00000101. If current resistance levels are broken, the token could face fresh resistance around $0.00000124.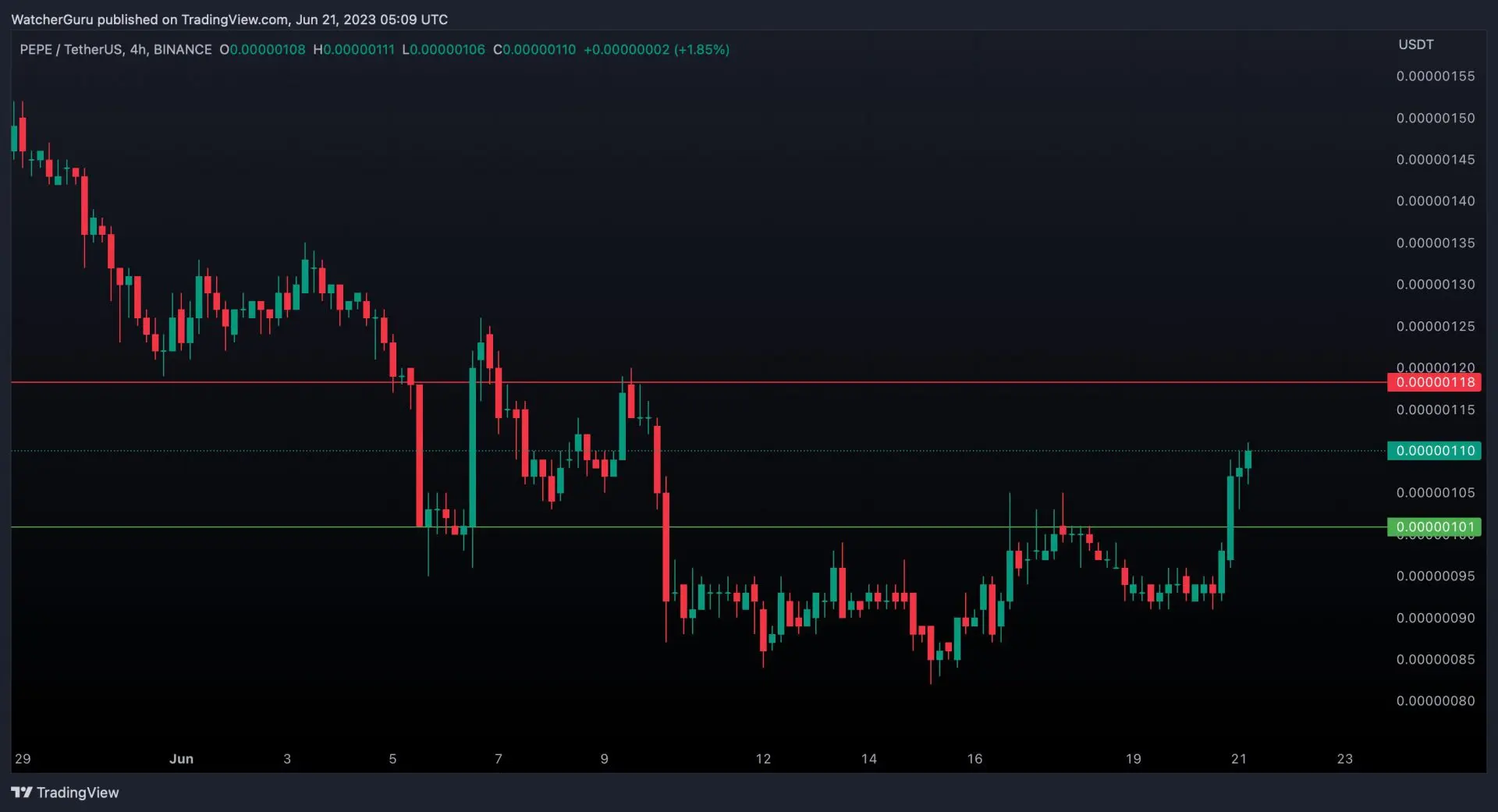 At press time, PEPE was trading at $0.00000107, up by 0.1% in the last hour. However, the token is down 31.1% in the monthly charts.