Shannon Bray, a U.S. politician, has publically appreciated Shiba Inu's (SHIB) price pump. SHIB is currently one of the best-performing cryptos in the weekly charts, with a 7.8% gain in the last seven days. The politician further asked his followers to post tweets related to the popular dog-themed crypto. Moreover, the politician took a shot at SHIB's rival memecoin, Pepe (PEPE). Bray stated, "thank goodness we aren't $pepe."
Bray is a Gubernatorial Candidate '24 for the state of North Carolina. As per his Twitter bio, Bray is also a "Tech Entrepreneur, Cybersecurity, Anti-War Combat Veteran, Author, Speaker, Blockchain Advocate."
Moreover, this is not the first time Bray has publically shown support for Shiba Inu (SHIB). A few days ago, Bray replied to a SHIB-focused page that if he gets paid, he would buy SHIB. Bray further stated that "Nothing else will ever regain that traction."
Shiba Inu's burn rate picks up after days of stagnation
Not only has SHIB managed to rake in some gains, but the asset's burn rate has also spiked after a few days of lackluster performance. According to the data on Shibburn, SHIB's burn rate has reached 1027.94%.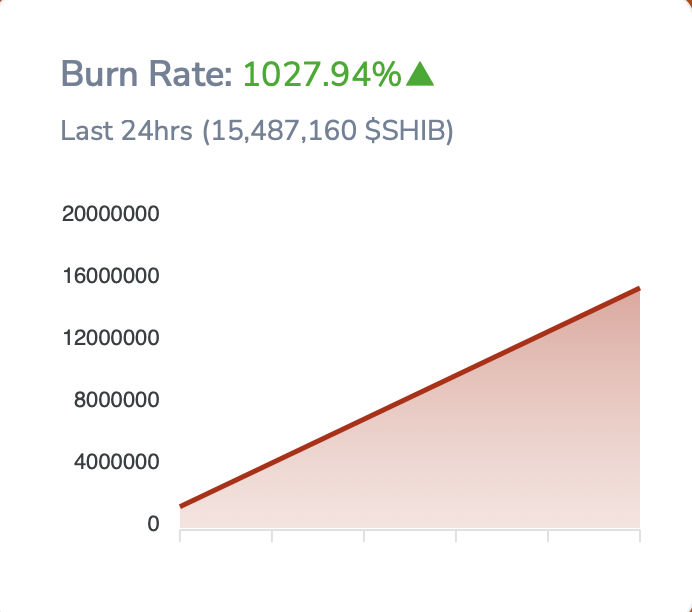 The lackluster burn performance over the past few days could be attributed to low activity, which has led to a lesser number of tokens being sent to the dead wallets. Additionally, it is also possible that the fall in the asset's price led to lower transactions, thereby fewer burns. Or perhaps burns in general have taken a hit. However, the metric seems to have picked up steam once Shiba Inu (SHIB) began making some gains.
Despite making gains in the weekly charts, SHIB has fallen 1.1% in the last 24 hours. Moreover, the asset is down by 91.68% from its all-time high of $0.00008616, attained in October 2021. At press time, SHIB was trading at $0.00000717, down by 0.5% in the last hour.