The Polygon [MATIC] network seems to be making strides on the developmental front. According to a recent tweet from Polygon Labs, POL contracts have been activated on the Goerli testnet following community discussions. Additionally, two proposals outlining potential modifications to the native token burning mechanism, crucial for future upgrades, have also been introduced on the Goerli testnet.
In accordance with the official announcement, the PIP governance process has led to the introduction of PIP-24: Modifying EIP-1559 Policy and PIP-25: Adapting the Total Supply of POL. These proposals were developed based on input from the community.
Furthermore, POL represents the blockchain's progression in reimagining MATIC. It will support a network of Layer 2 chains based on zero-knowledge technology, enabling functions like staking, community ownership, and governance.
Also Read: Polygon Releases 3 Major Proposals for POL Token
Polygon's MATIC turns a bullish chapter but for how long?
Polygon's native token, MATIC, registered a spike on the price front. From a low of $0.508, it ascended to a high of $0.5925. The asset surged by nearly 10% throughout the last couple of days. However, at press time, the asset was trading for $0.5581, down by 5.30% over the past day.
As the price experienced a significant surge, MATIC's trading volume also saw an increase. Such a move is generally seen as a positive development. According to Santiment, alongside Bitcoin [BTC] and XRP, Polygon saw a prominent surge in volume. However, at press time, similar to its price, the asset's trading volume dipped by 26.10%.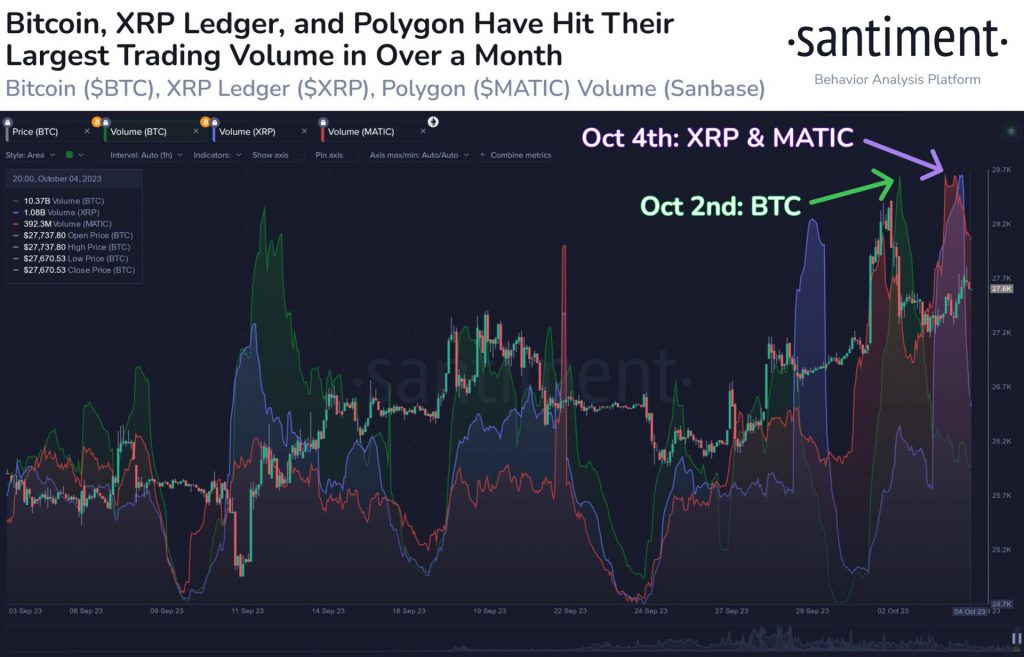 This abrupt downtrend could have also been prompted by the recent departure of the network's co-founder. Jaynti Kanani, one of the co-founders of Polygon, disclosed that he hasn't been actively involved in the project's day-to-day operations for the past year. Instead, he has moved on to new endeavors after playing a pivotal role in its launch back in 2017.
This announcement marks the third exit among the ten co-founders of Polygon this year. Although it's not unusual for executives to move on to new ventures, Kanani's departure during Polygon's transition to Polygon 2.0 has raised concerns.
Also Read: Polygon Network Welcomes Google Cloud as a Validator