On Thursday, the state of the crypto market deteriorated further as Bitcoin, yet again, dipped below the $30k mark. Consequentially, most other altcoins followed suit.
Polygon's native token MATIC was one among the worst-hit top-ranked alts. After depreciating by about 10% over in the said timeframe, the 17th ranked token was seen exchanging hands around $0.63 at press time.
MATIC Macro overlook
Leaving aside the daily window, MATIC has been shedding value even on the long-term frame for quite some time now. Since the beginning of April, it has been engulfed within a bearish descending channel. In the said period, the alt has shed more than 50% of its value and tumbled from around $1.5-$1.7 to $0.6. However, looks like the downtrend might not be able to sustain for long.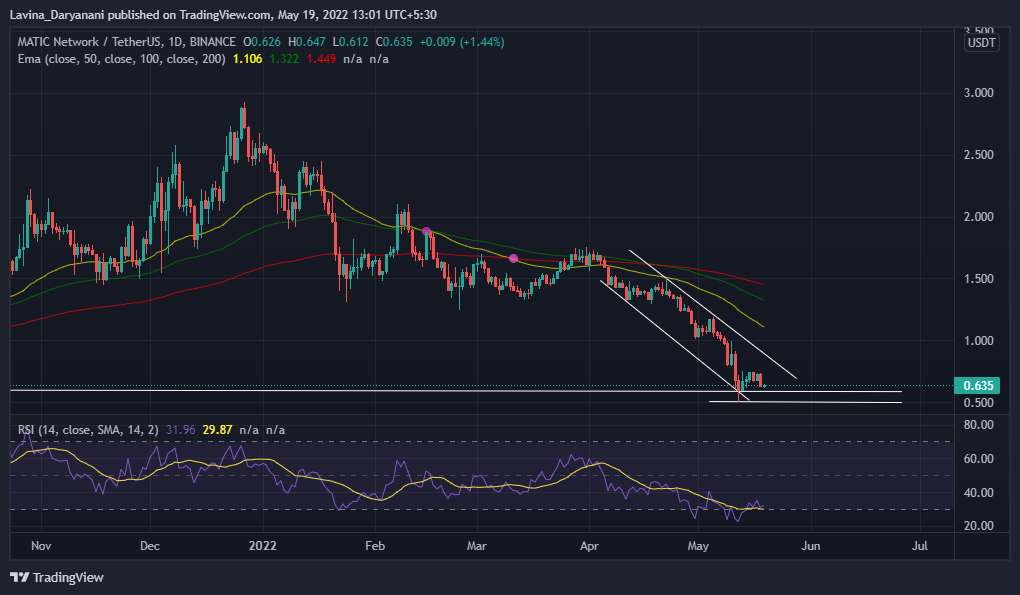 On 12 May, MATIC stopped at a low of $0.5 but soon managed to rebound. The support around $0.59 came into play and has since then assisted the alt in staying above the psychological $0.6 mark.
At press time, MATIC's RSI was typically oscillating in the oversold region, at 31.4, indicating that a brief, short-term trend reversal was imminent.
Alongside, market participants were also seen taking advantage of the discounted price of MATIC. Over the past 12 hours alone, for instance, the buyer-seller trade difference reflected a positive value of 932k tokens, bringing to light the buying bias present in the MATIC market.

Beware though
Well, even though bulls seem to be asserting their dominance in the market, for now, it should be noted that the upside for MATIC remains to be capped.
At the moment, Polygon's native asset is trading around a strong resistance cluster extending from $0.65 to $0.67. In the aforementioned band, over 3.56k addresses have cumulatively purchased close to 30 million MATIC tokens.
This pretty much means that as the price approaches the said levels, MATIC HOLDers would be triggered to sell their tokens. In such a scenario, it wouldn't take much time for the bullish outlook to flip to bearish and the buying pressure to get converted to selling pressure.
Furthermore, it should be noted that MATIC shares quite a high correlation with Bitcoin, and its directional bias would be directly impacted by the king coin's movements. Thus, given the indecisive state of the market, it'd be best for traders to exercise caution and do their research before placing their bets on Polygon's MATIC.