Bitcoin exchange-traded funds [ETFs] have become a significant point of interest. This week itself, Bitcoin ETFs attracted more than 7 million engagements. Despite high expectations for these products, the Securities and Exchange Commission [SEC] took a cautious stance, announcing postponements for the Bitcoin ETF applications.
The regulatory body delayed BlackRock, Invesco, Bitwise, and Valkyrie's Spot ETF applications, as indicated by documents published on its official website. Nevertheless, Bitcoin reached an impressive peak at $27,224 and has since maintained a similar level. The fourth quarter has been anticipated as a potentially favorable period for BTC. But the critical question remains whether Bitcoin can sustain its existing momentum.
Also Read: ARK's Bitcoin Spot ETF Delayed Again Until January 2024
Bitcoin's long-term holders continue to remain positive
Recent reports reveal that the proportion of BTC supply in the possession of long-term HODLers has reached an all-time high of 76.09%. This underscores the increasing confidence among long-term investors.
In addition to the rising count of long-term holders, there has been a record-breaking surge in the number of addresses possessing at least 1 BTC. Moreover, the number of BTC addresses classified as "sharks" and "whales," which hold between 10 and 10,000 BTC, has reached its peak for 2023, accumulating a total of 13.03 million BTC.
Santiment has labeled it a bullish combination. It also indicated that these addresses view the current price range as an attractive entry point. A key contributing factor to this trend is the substantial anticipation surrounding Bitcoin ETFs. As the market undergoes an accumulation period, many are placing their bets on the upcoming months, anticipating a potential upward trend for BTC.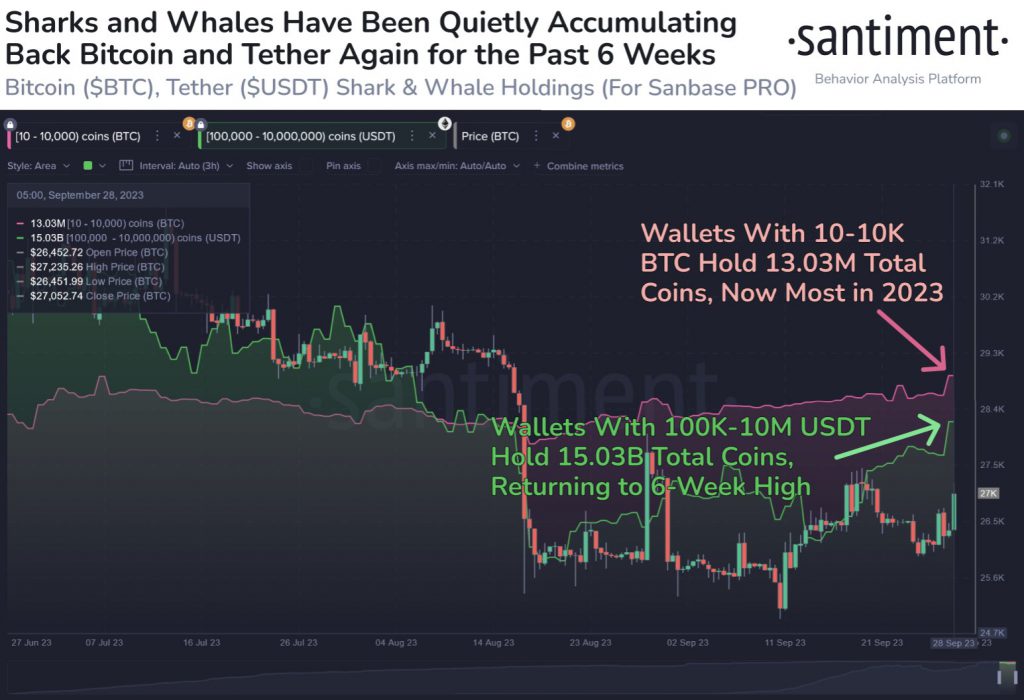 Also Read: Can Bitcoin Get Over Its 'Bearish Blues' In October?