In a recent significant development, a US judge handed down a ruling that determined Ripple's XRP should not be classified as a security, bringing an end to the legal dispute between XRP and the SEC. As a result of this pivotal decision, the price of XRP experienced a remarkable surge in the market. The victory was considered monumental for Ripple, as the prolonged lawsuit came to an end.
Also read: SEC Chair Gary Gensler Talks about Re-appealing Ripple Case
However, rumors started surfacing that the SEC might appeal. SEC Chair Gary Gensler also commented on the situation. Amidst this heightened drama, Ripple Labs has moved ahead with its scheduled release of one billion XRP.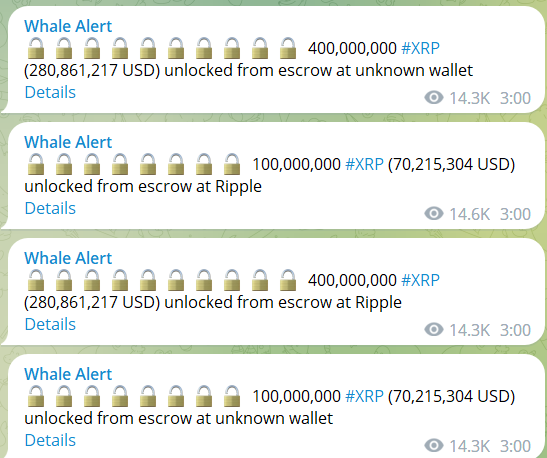 Ripple releases 1 billion XRP
According to data from Whalestats, Ripple executed four transactions involving a total of two transactions worth 400 million XRP and two transactions worth 100 million XRP each. These tokens are scheduled to remain locked until the 1st of September. At that point, the next batch of Ripple will be released into circulation.
To ensure greater certainty in XRP's supply, Ripple had previously placed 55 billion XRP tokens into a series of escrows. These represent 55% of the entire potential supply. These escrows are securely stored on the ledger, and their release is governed by the ledger's mechanics, enforced through consensus, to regulate the supply of XRP. The primary objective behind this approach was to enhance predictability in the Ripple token's supply.
Also read: Dogecoin Eyes $0.1 Milestone, What's Hindering the Surge?
The XRP releases have been taking place since 2017. The final release from the existing escrows is expected later this year, just before the commencement of the next escrow phase. That phase is set to end in March 2026.