XRP, the cryptocurrency linked to Ripple, recently underwent a slight decrease of 1.59% to reach $0.6575, maintaining a holding pattern as investors eagerly anticipate developments in the ongoing legal dispute between Ripple and the U.S. Securities and Exchange Commission (SEC). This minor dip comes after a modest 0.50% increase during the weekend.
This reflects the market's cautious optimism awaiting crucial decisions from the court. The pressing question on everyone's minds: Can XRP sustain its upward trend for the remainder of the month?
Also Read: China's Boyaa Interactive to Spend $90M on Bitcoin and Ethereum
November Forecast
Looking ahead to November, positive indications are prevalent. According to Changelly, a prominent cryptocurrency exchange platform, XRP's prospects for the month appear promising. The altcoin can mostly witness double-digit gains throughout November.
Notably, during the third week of the month, the asset is projected to experience a significant surge of over 30%. A pivotal date, Nov. 17, expects a notable spike of 32% for the altcoin, propelling XRP's price to a high of $0.8807. Additionally, the asset is predicted to reach an even higher peak of $0.881.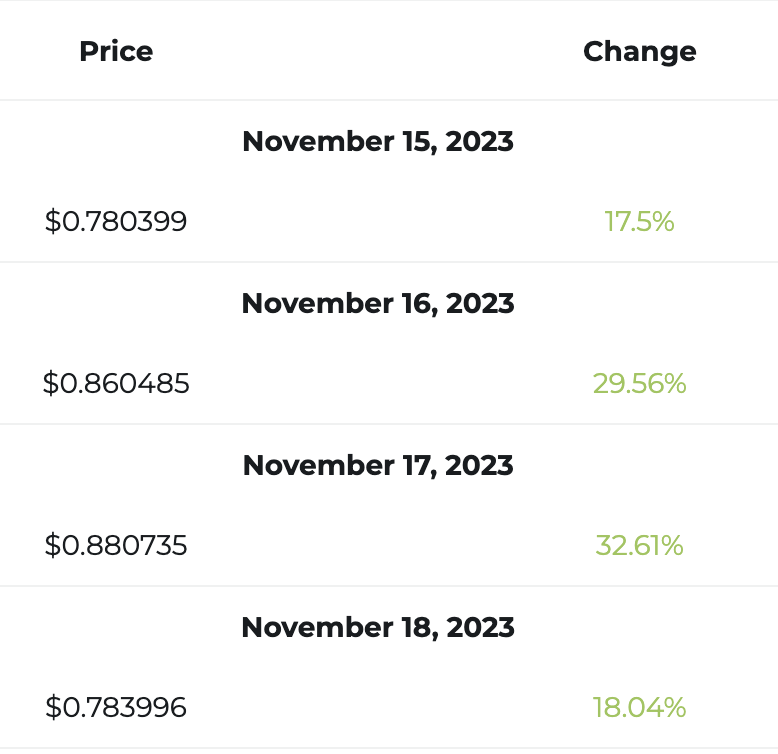 Also Read: Ripple's XRP Could Rally 900%, Reach $6.6: Predicts Analyst
November Trends for XRP
The average monthly return for the altcoin in November has been an impressive 77.3%. But the median monthly return sits at around -10.2%. A deeper analysis of XRP's price history over the past five years presents a mixed array of signals. Only one November, specifically in 2020, yielded notably positive results. During that month, the altcoin observed an exceptional 178.3% surge, further emphasizing the cryptocurrency's potential for rapid and substantial gains.
As XRP navigates its legal battle with the SEC, the cryptocurrency market closely watches developments. The positive sentiment surrounding XRP's legal proceedings has attracted the attention of both seasoned and novice investors. Despite the inherent volatility of the cryptocurrency market, XRP's recent performance suggests a bullish momentum. As the month progresses, the global crypto community observes eagerly, anticipating whether the asset can maintain its current trajectory and achieve new heights.
Also Read: Ripple XRP: Here's When It Can Reach $10
Additionally, XRP's journey through November is characterized by legal uncertainties and promising price projections. The cryptocurrency's historical performance in this month features a blend of remarkable gains and more measured returns. With forecasts indicating double-digit increases and significant surges in the weeks to come, XRP is positioned to captivate investors seeking opportunities in the volatile crypto landscape. As the legal battle unfolds and market dynamics evolve, the fate of XRP in November remains an intriguing narrative for the entire cryptocurrency community.