Robinhood released its Q2 2023 earnings report a few hours back. The platform reported a crypto trading revenue of $31 million for the second quarter. The figure mentioned above is down 18% from Q1's $38 million. The latest crypto volume accounted for 16% of Robinhood's aggregate trading volume in Q2.
The crypto assets under custody did not register any change when compared to the first quarter. Robinhood reported having $11.5 billion in assets under management at the end of Q2. Nevertheless, the number rose fairly from December 2022's $8.431 billion.
During the earnings call, Vlad Tenev, the company's Co-Founder and Chief Executive Officer said that users get "more crypto" for their dollar than most other competitors. He mentioned that the company's goal is to be the safest and most trusted place for customers to hold, trade, and transact crypto. Tenev added,
"With all of the turmoil in the space over the past year or so, I think there has been a little bit of a flight to safety, and we're seeing that reflected in some of the market share gains you're seeing. And that's something that we'd like to continue to invest in."
Also Read: Binance 'Inaccessible' in China Despite $90 Billion Business Claims
Robinhood Achieves GAAP Profitability
Overall, the company's Earnings Per Share [EPS] stood at $0.03 on the back of the $486 million net revenue. This number managed to beat analysts' estimation of a loss of $0.01 per share, based on $473 million as net revenue.
In Q2, the firm also achieved GAAP profitability for the "first time as a public company," given that the net income rose to $25 million. Jason Warnick, Chief Financial Officer of Robinhood Markets said,
"Reaching GAAP profitability is a testament to the work our team has done to transform the business and better position Robinhood to drive shareholder value."
HOOD shares did not react positively to the earnings report catalyst. It depreciated by 3.3% on Wednesday, applying brakes to its uptrend initiated in mid-May. Robinhood shares were last seen exchanging hands at $12.44.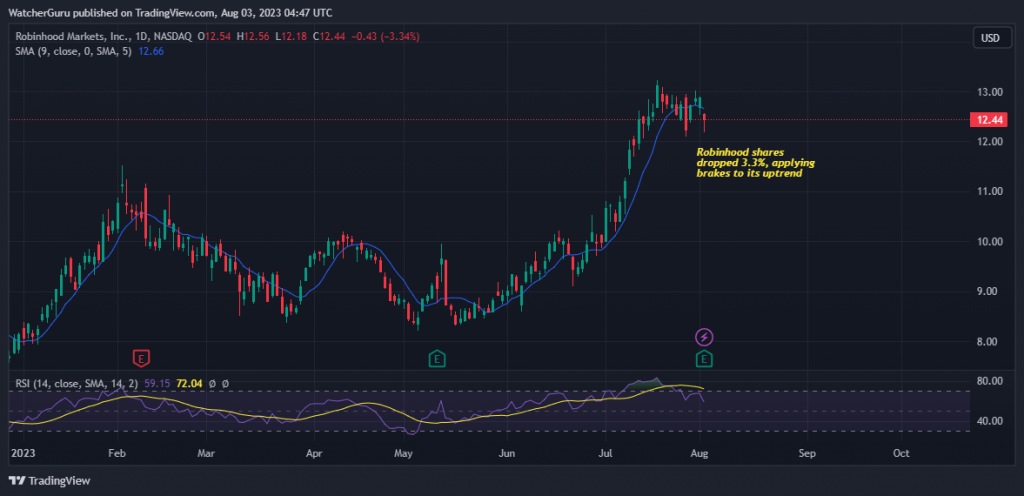 Also Read: FTX Confirms Plan to Relaunch Exchange