Amid a local government meeting, a "high-ranking" South Korean official was caught trading virtual currency. Per media house News1, Senior Auditor Ahn from the Gyeonggi Province accessed a crypto trading app "several times" when others were giving speeches at the plenary session of the Bucheon City Council.
Per the local media report,
"… the appearance of the city hall audit officer who attended the 263rd 2nd regular meeting of the Bucheon City Council in Gyeonggi Province on this day was captured by reporters' cameras while ordering virtual currency during negotiation groups and municipal administration speeches."
Distracted by trading, the official was "unable to focus" on the ongoing conference. When the controversy arose, the auditor "repeatedly apologized" and told News1 via a phone call,
"I'm sorry for doing other things during the plenary session."
Per the image captured by News1, the official used the "buy coin" feature of a domestic crypto exchange platform. The mobile phone screen flashed three Dogecoin trading pairs. One was against fiat—the South Korean Won [KRW], the other was against Tether [USDT], and the remaining one was against Bitcoin [BTC].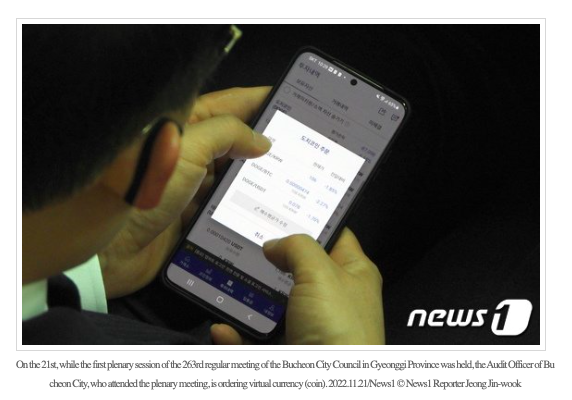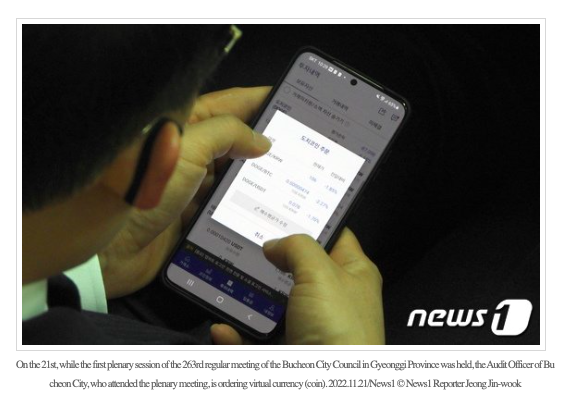 Worth noting here is that Audit Officer's annual contract is due to expire next month. Per News1, the same is due for renewal next month.
… it is known that he was about to renew the contract (extension by one year) in December.
Commenting on the latest development, a City Official was quoted saying,
"We are taking the matter seriously."  
State of Dogecoin HODLers
Dogecoin witnessed a pump at the beginning of November, thanks to Elon Musk. On November 1, the largest meme token went on to re-claim 0.15888—a level last seen in April 2022 before that. DOGE has shed around half of its value since then and was priced at $0.075 at press time.
Nevertheless, more than half of DOGE HOLDers [56.25%] are in profit or "in the money" at the current price. Around 37.7% of them are in loss or "out of the money," while the remaining 6.05% of them are in a break-even position.


Also Read: Shiba Inu, DOGE react to Elon's Halloween Tweet: What's ahead?