With Halloween 2022 almost coming to end, Elon Musk—the current sole director of social media giant Twitter—tweeted a picture of a Shiba Inu dog and a pumpkin. Both the focal subjects in the frame had one thing in common—the Twitter logo. The former wore apparel featuring the blue 'freed' bird, while the latter depicted a luminescent version of the same.
It is a known fact that Elon Musk is fond of cryptos like Dogecoin and Shiba Inu. In fact, he has already given himself the title of "DogeFather" in the past. As expected, the prices of tokens belonging to the meme basket started rallying right after the tweet was posted.
Dogecoin's reaction was outright. As illustrated below, the trend was quite monotonous on the minute chart. However, the same minute the tweet was out, DOGE registered an unconventionally long green candle. It continued rising and was up by roughly 14% in minutes. Resultantly, "to the moon" claims were already being made by people from the community.
However, right after, a retracement was seen materializing, and the number had shrunk down to 12% already.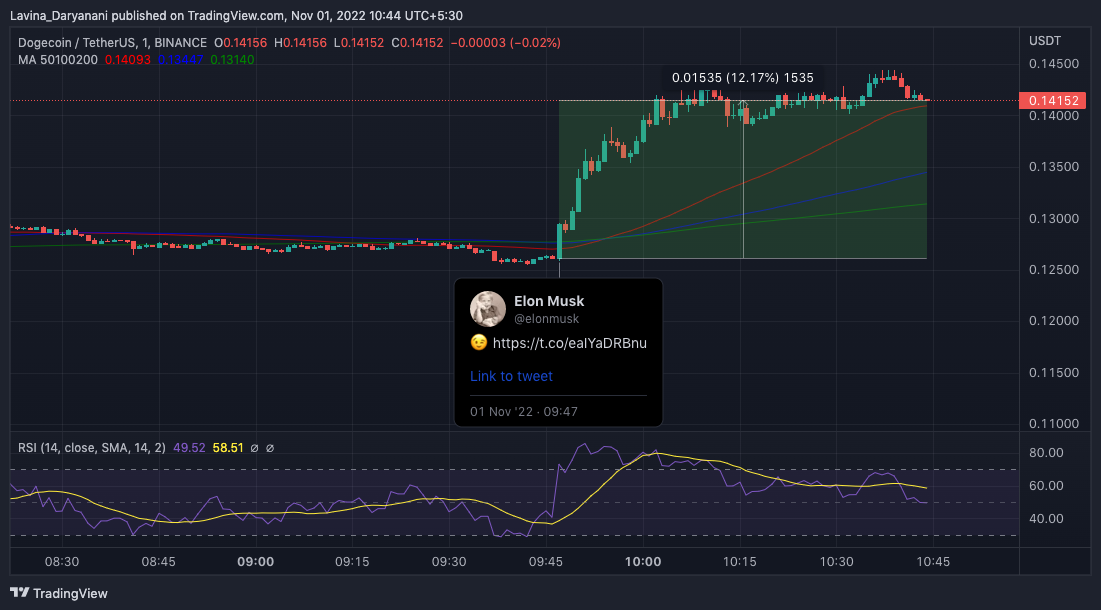 Shiba Inu also registered similar northbound movements, but with less intensity. It rallied by around 5% to create a local high of $0.00001032. Post the hype surge, even this token started pulling down its socks. Eventually, the pump was down to 4%, with the asset being traded at $0.00001287.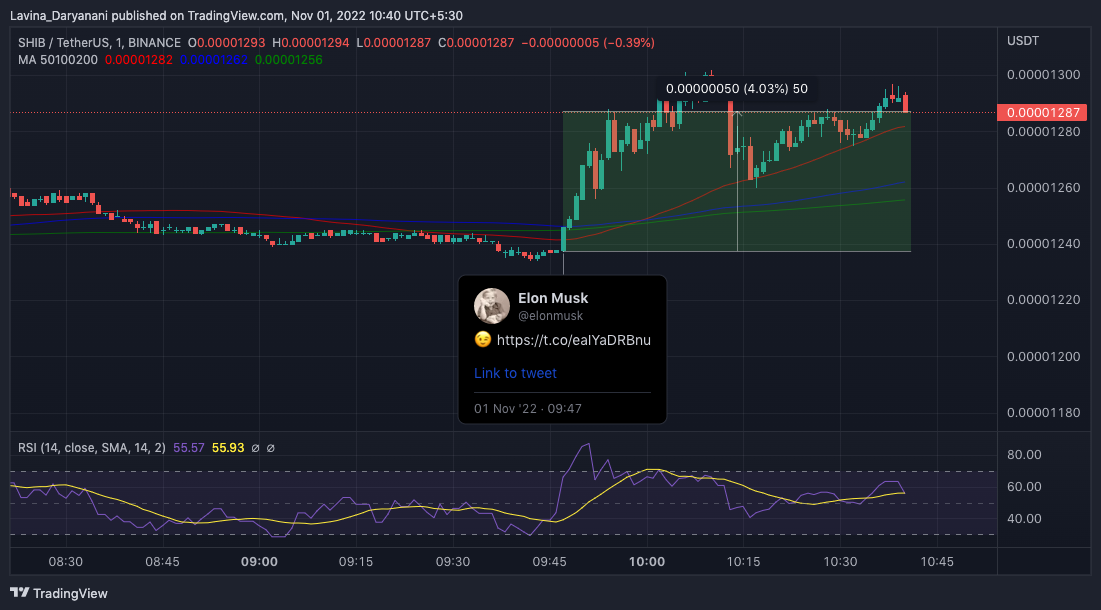 What could this mean for Shiba Inu and Dogecoin?
Well, Elon Musk and his firms have been quite open in advocating meme coins. Last month, the exec announced that the Boring Company's Burnt Hair perfume could be purchased with Dogecoin. Similarly, on the payments page, Shiba Inu was also an available option.
Post the Twitter deal, Elon Musk for the first time hinted today that Shiba Inu and Dogecoin could come to the platform. Just a day back, it was reported that the social media giant was considering charging $20 per month from blue ticked/verified accounts to maintain that badge. So if at all such a thing happens, then Musk could perhaps enable the Dogecoin, Shiba Inu payment option for the same.
Alongside, people from the community are also expecting Elon Musk to roll out a Dogecoin Tipping Jar. The same would help in increasing the adoption of the said tokens.
It's a known fact that the new Twitter executive sees Dogecoin as a currency and expects it to inevitably become a standard payment system going forward. So, as long as we're in the Musk era, both Dogecoin and Shiba Inu have fairly bright prospects.
At press time, Dogecoin had already surpassed the psychological $0.15 mark and was trading at $0.155, for the first time since April this year.