SafeMoon is now under the top 100 cryptocurrencies list on CoinGecko and is ranked at no 93. The DeFi token has come a long way since its inception and beat thousands of existing cryptos in the market. In addition, SFM is now on Crypto Bubbles for viewing and will be sharing space with other top cryptos. The website lists weekly performances of cryptos along with their standing as per its market capitalization. It also boasts of a configuration window that opens up when a user edits or adds a chart.
Launched in March 2021, SafeMoon was quick to grab the limelight and became a part of the evolving crypto space. New and first-time investors saw it as low-hanging fruit and were driven to get their hands on SFM in large numbers.
READ ALSO: SafeMoon V2 Price Prediction: How buyers can win out SFM's consolidation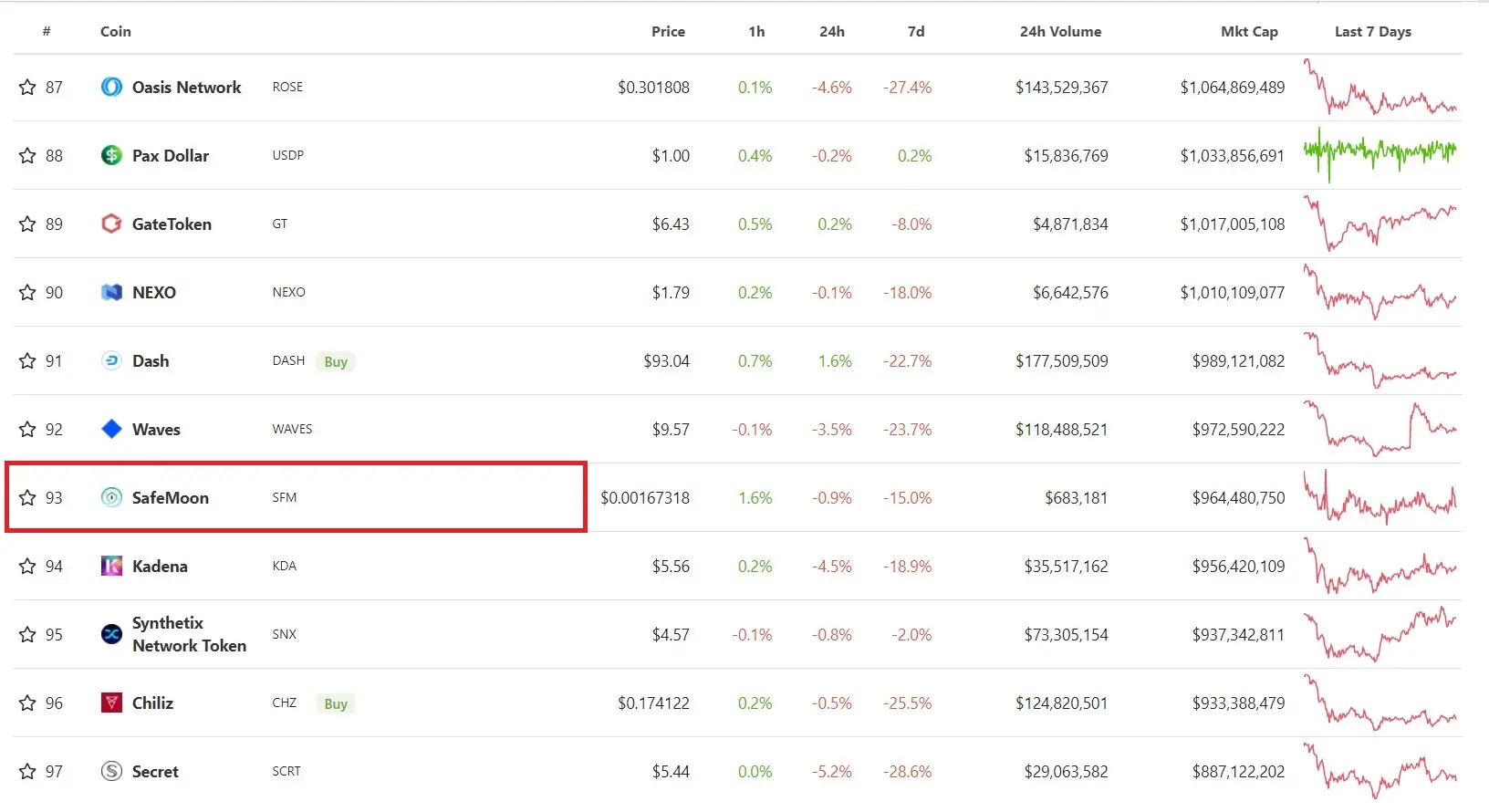 Investors believe that SafeMoon could also replicate Dogecoin's rise in the coming years and satisfy their financial aspirations.
The community support has been SafeMoon's path to fame and it has been expanding by the day. At the same time, it has proven to be a competitor for DOGE, as the DeFi token is winning several polls. It recently won CoinMarketCap's poll and also won MMA fighter Chuck Liddell's Twitter poll. Surprisingly, Safemoon also won a poll tweeted out by Dogecoin influencer Matt Wallace. The string of winning polls all occurred this month giving a boost to the community.
Also, Safemoon Wallet crossed the 1 million downloads mark in just five months post its launch. The launch which was scheduled to take place in August 2021, got delayed due to "technical issues". The team faced severe criticism for mishandling the launch, which was mostly some of their own makings. However, the wallet was launched a month later in September and steered the token to safe waters.
READ ALSO: What is restricting Saitama Inu to its current price level?
Safemoon : The Path Ahead
After migrating from V1 to the V2 platform, John Karony confirmed that Safemoon will launch its own NFT line 'Naughty Naut'. He confirmed the development during a 'Safemoon Sunday' Q&A session this month. He added that the NFT will be tied to the Metaverse development experience (MDE) for an added real-world use-case advantage.
"We are coming out with our own NFT line called Naughty Naut and will be series-1. So that'll be released soon and we've been working on it a little bit. It's going to be done the right way. This will tie into our Metaverse development experience. We're also scaling up our gaming side of our team because we want to anchor these NFT's into the real world. You will be able to use the NFT's that have a real-world application inside the Metaverse. And they live symbiotically together," explained Karony.
At press time, Safemoon V2 (SFM) was trading at $0.00167716 and is down -0.7% in the 24-hours day trade.