Move over the coveted top ten coins. Fairly new altcoins like Saitama, Shiba Inu, BabyDoge, have been turning heads in the crypto market. Saitama has certainly bagged a prominent place under the crypto spotlight. While the community awaits the launch of the SaitaMask app, the Saitama token seemed to be faring really well.
2022 started off on a great note for the Saitama network. With a dramatic increase in both token holders as well as its price, the altcoin proved to be unstoppable. Earlier today, Twitter handle, Saitama Official revealed that the number of token holders had finally surged over 300k.
The tweet read,
This wasn't all, the price of the altcoin along with its market cap followed suit. The Saitama market bagged massive gains overnight. With a 24-hour price rise of about 50%, the altcoin scaled to a high of $0.00000008031. However, the altcoin incurred a dainty setback, during press time. With a 46.67% daily surge, the asset was trading at $0.00000007512, at the time of writing.
Furthermore, the unstoppable Saitama went on to break its own record as its market cap grew beyond $4 billion. SaitaMask is all set to make its debut on 8 January 2022 and the community couldn't have welcomed it better.
Both, the number of token holders, as well as its price, is presumed to increase following the launch of the SaitaMask app. Users of the app would be able to make purchases via Saitama only, further bolstering the demand of the asset.
"Binance List Saitama" petition amasses great traction
As the community celebrated the altcoin's latest triumphs, they were also yearning for a listing on one of the most popular crypto exchanges, Binance. The asset's latest price movements, as well as adoption rate, have got people speculating that it would soon be listed on major exchanges.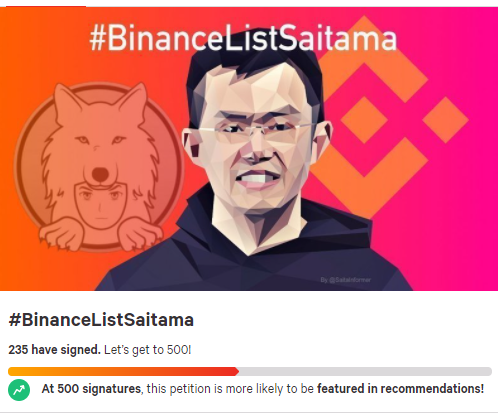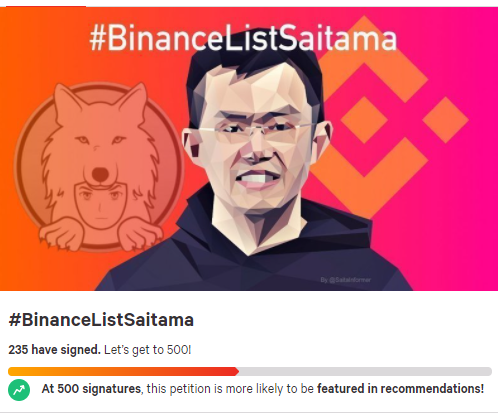 Meanwhile, a petition that urged Binance to onboard Saitama was noted making the rounds on Crypto Twitter. The petition required about 500 signatures and has already managed to secure 235.