The Bahamas Attorney General, Sen. Ryan Pinder KC, has announced the arrest of former FTX CEO Sam Bankman-Fried (SBF). The Royal Bahamas Police Force arrested SBF after the US filed criminal charges against him, and likely requested his extradition.
In response to the arrest, Prime Minister Davis stated that "The Bahamas and the United States have a shared interest in holding accountable all individuals associated with FTX who may have betrayed the public trust and broken the law." The Bahamas will continue its own investigations into the collapse of FTX. This will be with cooperation of law enforcement and regulatory partners in the US and elsewhere.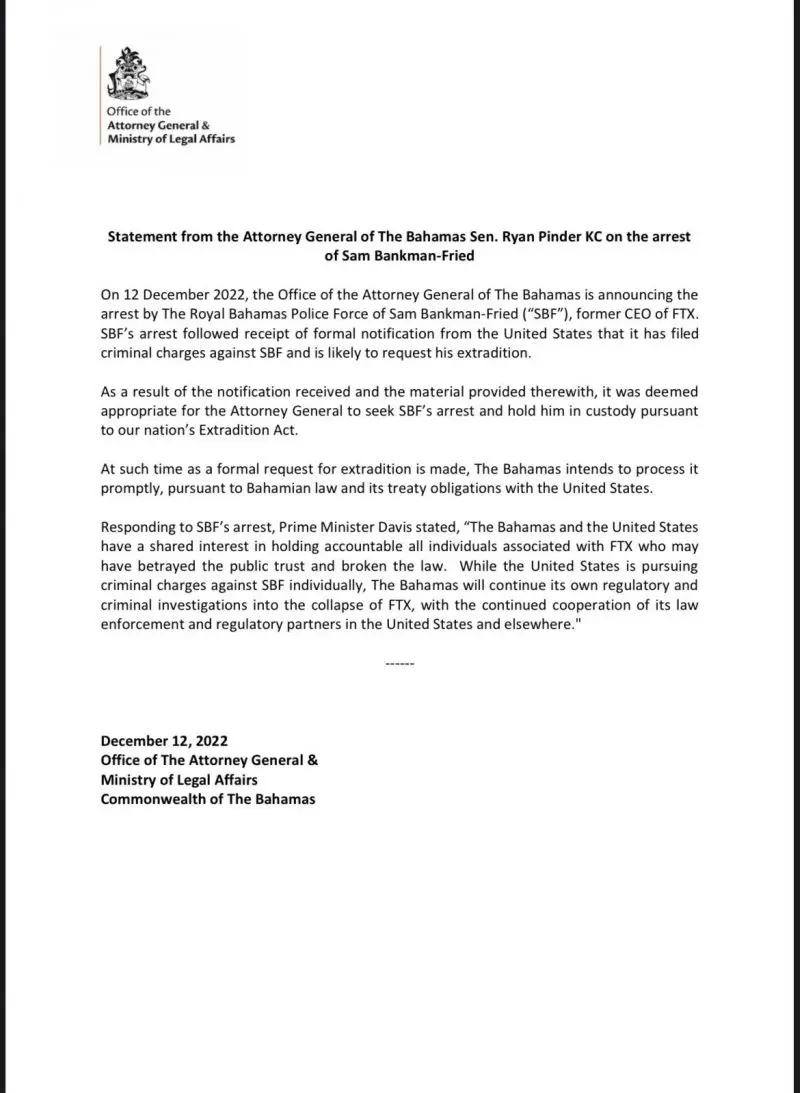 Once the US makes a formal request for extradition, The Bahamas will promptly process it according to its law and treaty obligations.
SBF's arrest is the latest development in the ongoing investigations into FTX, which collapsed earlier this year. The company's collapse has resulted in significant financial losses for investors. This raised huge concerns regarding the stability of the broader crypto market.
USA Damian Williams confirmed Bankman-Fried's arrest in a tweet. He said the United States plans to unseal the indictment in the morning. Williams also confirmed they will have more to say at that time.
Legal Experts' Opinion On SBF's Arrest
According to legal experts, the former FTX CEO could face life in prison without the possibility of of supervised release. A severe punishment would not essentially come as a surprise because several out of the ordinary sentences have been granted by authorities in the past. Bernie Madoff, for instance, was sentenced 150 years in prison for running one of the largest, longest and most widespread ponzi schemes in history.
Commenting on the latest development, Cardano founder Charles Hoskinson opined on Twitter that a trial "would lift a lot of stones."
Furthermore, it is worth recalling here that the former FTX executive agreed to testify virtually before the House Financial Services Committee on Tuesday. Now that he has been arrested, question marks regarding the same have resurfaced.
The arrest of Sam Bankman-Fried and the ongoing investigations highlight the need for proper regulation in the cryptocurrency industry. It remains to be seen what the investigations will reveal and their implications for the market.