Ethereum has been struggling to make it past $2K for months. However, the asset recently managed to cross this level around the Shapella upgrade. This development aided investors in withdrawing their staked ETH on the Ethereum blockchain. Fearing increased selling, several viewed Shapella as a bearish event. However, the aftermath has painted a different landscape.
The upgrade occurred on April 12 and ever since a total of $2.15 billion worth of ETH has been withdrawn. This weekend closed with withdrawals surging to a high of over 1 million tokens. Despite this, ETH reached an 11-month high of $2,137.45.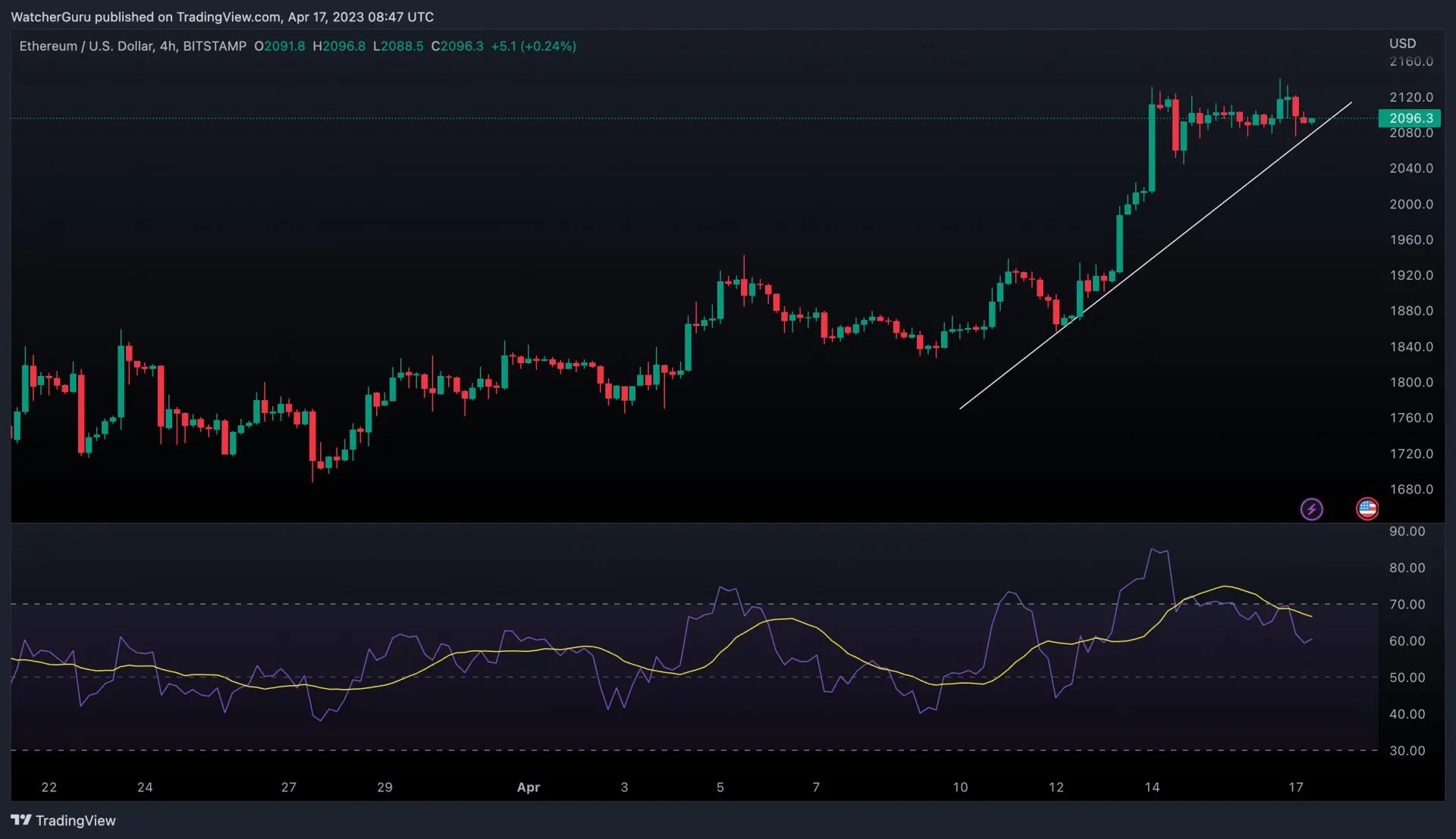 As seen in the above chart, ETH has seen steady growth. Squashing all the fear around selling, the Relative Strength Index [RSI] revealed that the altcoin was being overbought.
Selling activity has been slow so far. This is mostly because customers are restaking withdrawn ETH or moving it to exchanges to take advantage of other market options rather than selling it for USD or stablecoins. For instance, the staked ETH balance on Lido has been rising since Shapella.
The staked ETH balance on Lido has surged by about 100,000. It now has a value of $12.6 billion and a little over six million tokens. Alongside this, Lido's portion of staked ETH has climbed to 34.7%. But, withdrawals aren't enabled on the network yet.
Additionally, most of the withdrawals seemed to be coming from Kraken. According to recent data, Kraken accounted for 62% of the exit queue. The number of validators in the exit queue was over 15,000. Back in February 2023, the Securities and Exchange Commission [SEC] decided that Kraken's staking offerings were unregistered securities. Therefore, the exchange's supremacy in the unstaking arena was foreseen.
ETH is now a "perfect yield-bearing collateral" that doesn't require selling
As seen in the above data, individuals are certainly withdrawing but they aren't selling. A Twitter user noted how this is because investors have come to the realization that ETH is a yield-bearing collateral that doesn't need to be sold in order to pocket profits.
Firstly, 'kamikaz FIAT' highlighted how ETH's shift to proof-of-stake has turned it into an asset with "no structural sell pressure." The uniqueness of ETH is what aids in dismissing the need to sell and gain profit.
Following the Shanghai upgrade, the withdrawal process has been "derisked". This further bolsters the Liquid Staking Derivatives [LSD] pegs to aid in secure collateral borrowing. There aren't any lingering threats of sell pressure.
All of the above points prove that Ethereum's Shapella wasn't necessarily a bearish event. Considering the theory of 'kamikaz FIAT', even once Lido decided to enable staking, sell pressure will be in control.