Shiba Inu has a lot of projects up its sleeve in 2022 which includes Shibarium, ShiabNet, play-2-earn games among others. The roadmap for SHIB was envisioned by Ryoshi in his infamous blog 'I AM RYOSHI' way back in May 2021. Ryoshi spoke in length about how Shibarium will be a gamechanger for SHIB and also mentioned SHI Stable Coin.
While not many details are out about the upcoming project, Ryoshi mentioned in the blog that SHI will sit alongside the Shibarium layer-2 network. He also mentioned that SHI Stable Coin will be a part of the upcoming Shiba Inu NFT Game.
Read Also: Champion Sportswear Gets Requests to Launch Shiba Inu Line of T-shirts
What is Shiba Inu's SHI Stable Coin?
In Ryoshi's vision, he mentions SHIB Stable Coin as "an algo-stable coin that always pegs to 1c." He also describes it as "the global exchange of value for plebs".
Ryoshi confirmed in the blog that SHI Stable Coin will be released right after the Shibarium layer-2 network's launch. "Want to be launched after the Shibarium has established. But can also launch before on ETH network and bridge over of course," he wrote.
Read Also: 3 Reasons Why Ethereum Whales Are Buying Shiba Inu
He also mentioned that SHI will operate on both the Ethereum and Shibarium networks simultaneously. The founder of SHIB stated he wants SHI to become a global stable currency, which will be used by all countries as a store of value and payment method.
"The end goal is that SHI (operating both on ETH and the Shibarium) becomes a global stable currency that plebs across all countries are able to use as both a store of value and method of payment."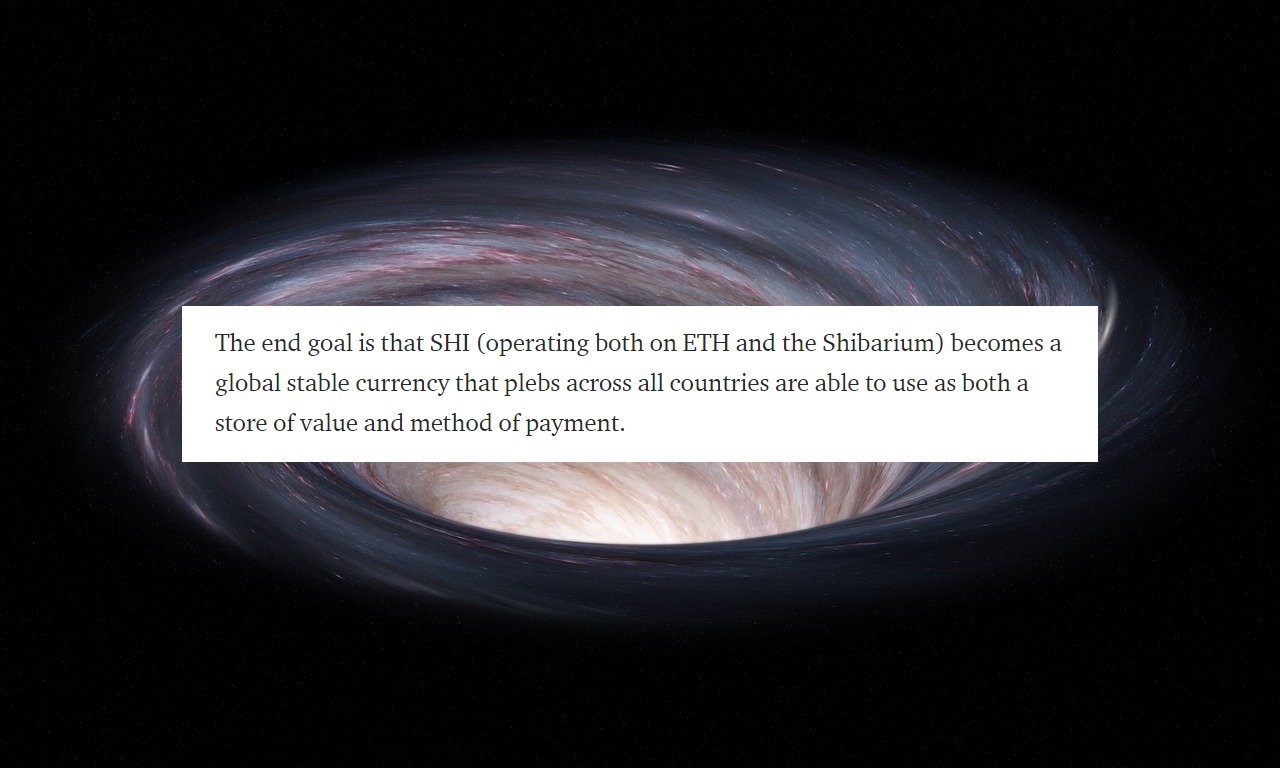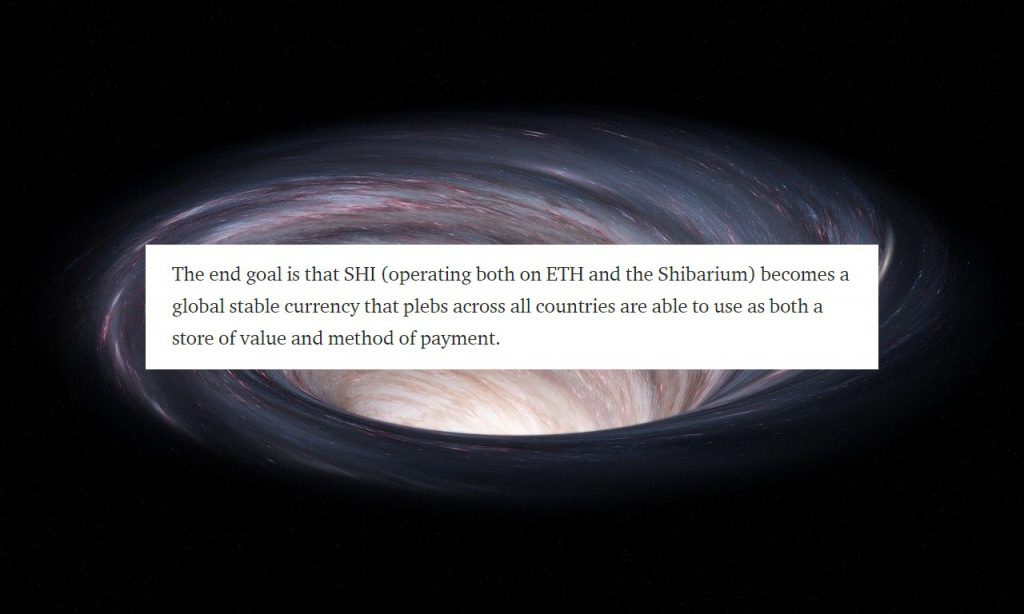 However, Ryoshi did not mention the entire roadmap for SHI Stable Coin and only brushed on its surface. Once Shibarium is released, the next in line to compliment the layer-2 functionalities will be SHI Stable Coin.
He mentioned that SHI will be built by the in-house team and not rely on third-party vendors. "Whatever it is, it needs to be built with care not to rely on 3rd party oracles. They need to be built to be fully contained, perpetual and autonomous," he wrote in the blog.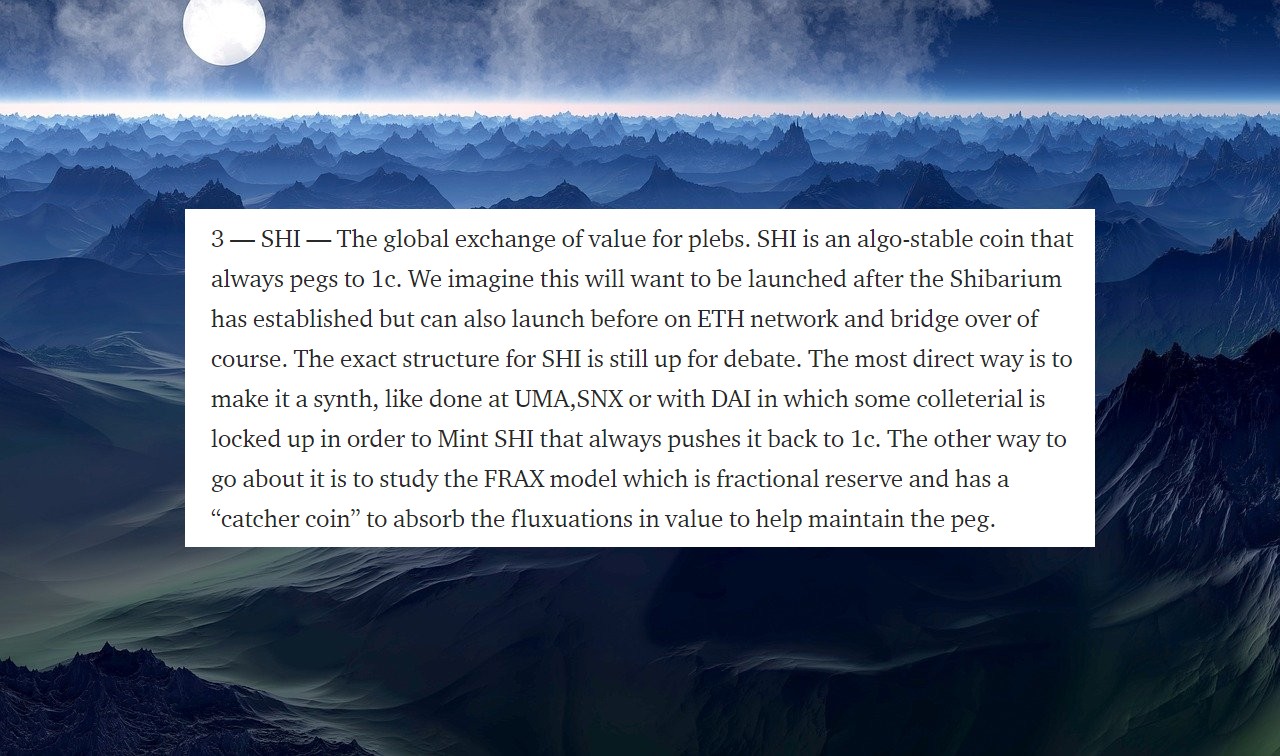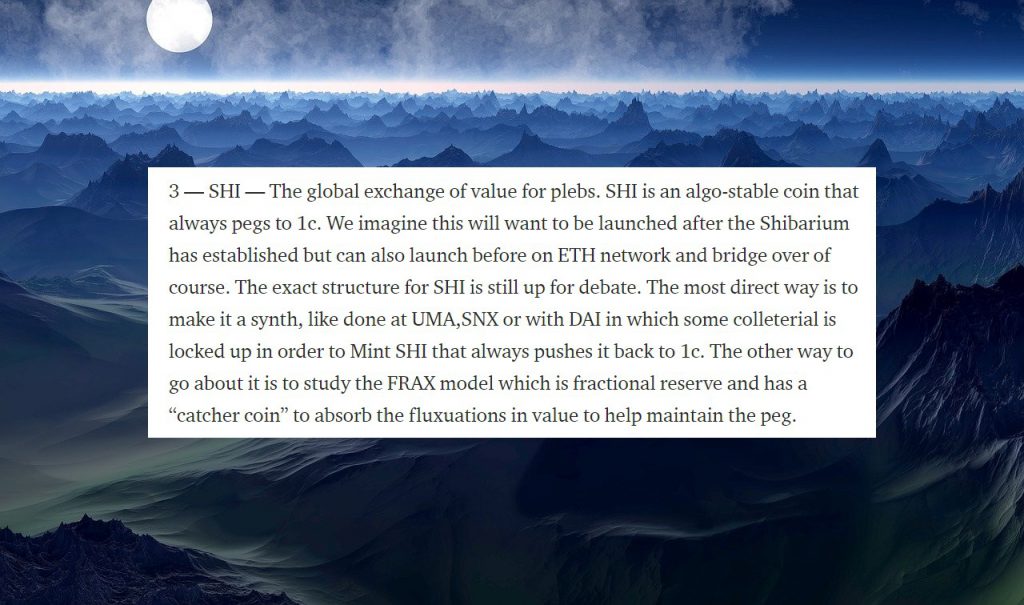 Read Also: Shiba Inu's Welly Receives 4.9 Star Ratings From Visitors on Google
When is SHI Stable Coin Release Date?
During a Q&A session on SHIB's Discord on January 21, lead developer Shytoshi Kusama was asked about SHI by a user. The user asked Shytoshi about SHI's release date and he answered, "Shi update I expect soon. There is a dedicated and very smart team working on it."
Shytoshi also spoke about SHI before that and said that the team has completed the "private acquisition that bolsters our content and technology stack". However, he didn't provide further information and chose to remain tight-lipped.