Over the past week, the number of zero-balance addresses on the Shiba Inu network has seen an incline. Data from IntoTheBlock revealed that the number of such addresses noted a 147.25% hike in just the last seven days. As shown below, most of the rise transpired over the past day. The rise in the zero-balance addresses indicated that Shiba Inu investors are likely selling by transferring out all of their tokens.

Also read: With Shiba Inu, Dogecoin Hibernating, BabyDoge Coin Rallies 47%
Shiba Inu Bulls vs. Bears: Who's leading?
In absolute terms, the number of bears is evidently higher than the number of bulls. Like shown below, over the past week, there have been 130 bulls when compared to 141 bears. Essentially, this bull-bear metric takes into account only large market participants who transact more than 1% of the 24-hour volume on a given day.
Given that the number of bears is more than the number of bulls, one would expect the former category's overall volume to be higher than the other. However, that is not the case. As shown below, bulls totally bought 19.27 trillion SHIB tokens over the past week. In the same period, bears ended up selling only 18.75 trillion SHIB.
Also Read: Shiba Inu: How Long Until SHIB Reaches $0.01?
Thus, the bullish volume weighing slightly more than the bearish volume, indicates that Shiba Inu is likely in a safe zone for now. Perhaps that's why its returns on the weekly continue to remain in the green.
From its $0.00001058 low created seven days back, SHIB is up by 9%. On the daily, it has noted another parallel 2% incline. At press time, SHIB was trading in green at $0.0000116, above its immediate resistance.
So, if the bullish momentum continues building from here on, and if SHIB flips the resistance to support, it can be expected to start re-heading toward its February 2023 levels. On the contrary, if bears' volume starts eclipsing bulls' volume, then SHIB can be expected to fall back into its narrow consolidation range as chalked out below.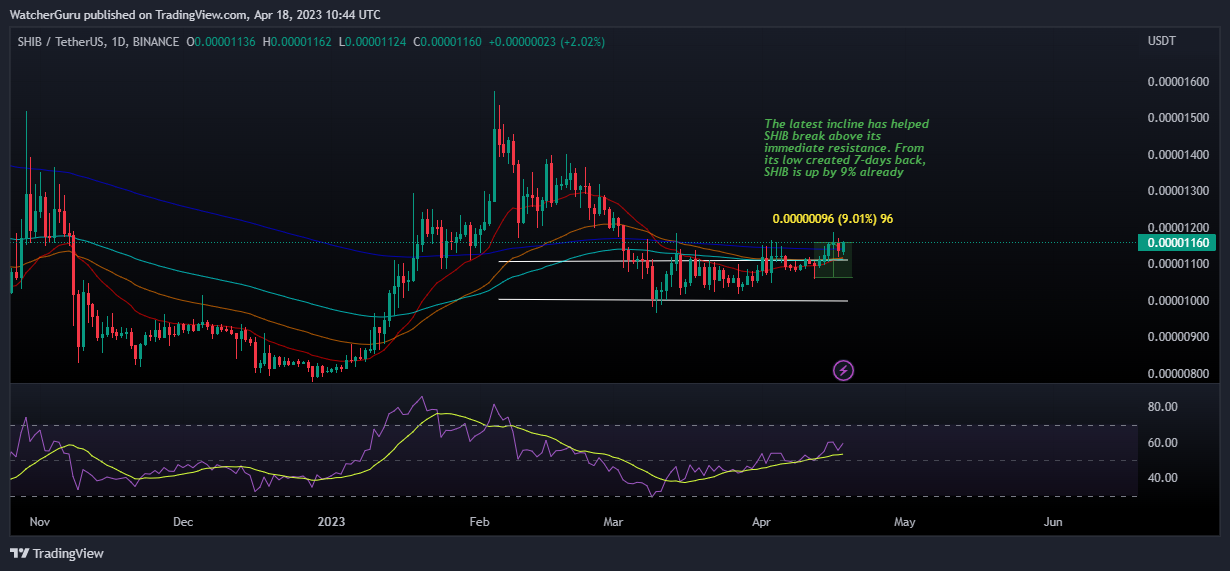 Also Read: Why Is Shiba Inu Struggling In a 'Bull Market'?