The Shiba Inu [SHIB] ecosystem has been actively burning SHIB tokens while preparing for the much-awaited launch of Shibarium. In July, the community burned a substantial amount of SHIB tokens, totaling 2,094,566,264. These tokens were sent to dead wallets in a series of 412 transactions over the course of the month, as reported by Shibburn.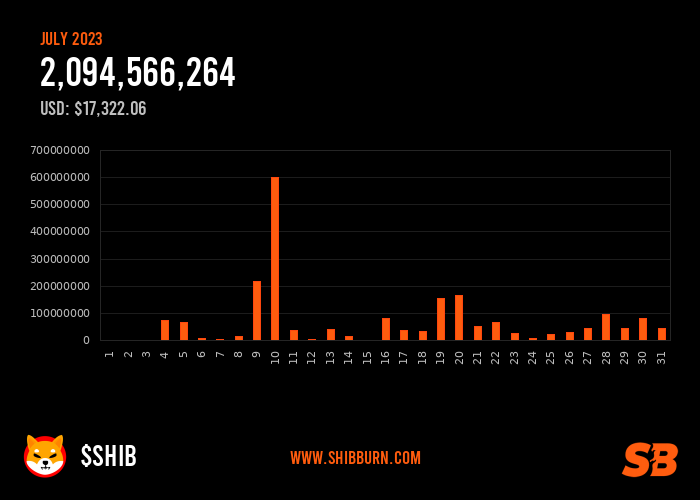 The token-burning activity in July 2023 showed significant improvement compared to the previous month. In June, the community managed to eliminate only 1,653,845,435 SHIB tokens from circulation. However, June was considered a lackluster month for token burns. They experienced an 89% decrease from the burn activity recorded in May. Back in May, the network saw a significant burn of 15,369,335,177 SHIB tokens, making July's burn appear relatively smaller in comparison. Currently, SHIB's burn rate is at a negative 42.47%. Over the last 24 hours, a total of 46,161,989 tokens were burnt.
The surge in token burns is anticipated to have a positive impact on the value of the meme coin. As long as the Shiba Inu community continues to sustain this upward trend in token burning, there is a possibility that the asset's price could reach $0.0001 sooner than initially projected.
Also Read: Shiba Inu Weekly Burn Update: 268 Million SHIB Burned
How is Shiba Inu faring now?
The SHIB network concluded July on a positive note, experiencing an almost 11% increase during the day. However, currently, the meme coin is undergoing a correction, and its value stands at $0.000008268 with a slight daily decline of 0.62%.
As a result of this setback, the SHIB network witnessed a surge in long liquidations. Coinglass data indicated that a total of $245.59K worth of long positions were liquidated, while only $1.21K in shorts were liquidated during the same period. Nevertheless, the community has been betting big on SHIB in anticipation of Shibarium.

Also Read: Shiba Inu: Shibarium To Burn 5 Trillion Tokens, SHIB To Hit $0.01?