The state of Shiba Inu's network activity has been has been improving lately. A recent analysis by Santiment reaffirmed that the Shiba Inu network has seen a "big rise" in new daily addresses created. Over the past couple of weeks, around 2,500 new Shiba Inu addresses have been consistently added per day.

Prior to the latest spike, two other notable spikes were registered recently. One was around mid-June, while the other was towards the end of the month. Around the same time, SHIB rallied in price. First by around 50%, then by around 12%. Contrarily, the network activity remained stagnant and then dropped in April-May. Likewise, the price consolidated, and then dropped in value a couple of times. Thus, given the latest refinement of activity, another SHIB uptick can be anticipated.
Nevertheless, it should be noted that rises have also signalled a market top during a couple of instances in the past. Thus, let us hold back the horses, and delve into the state of a few other metrics to get a confirmation.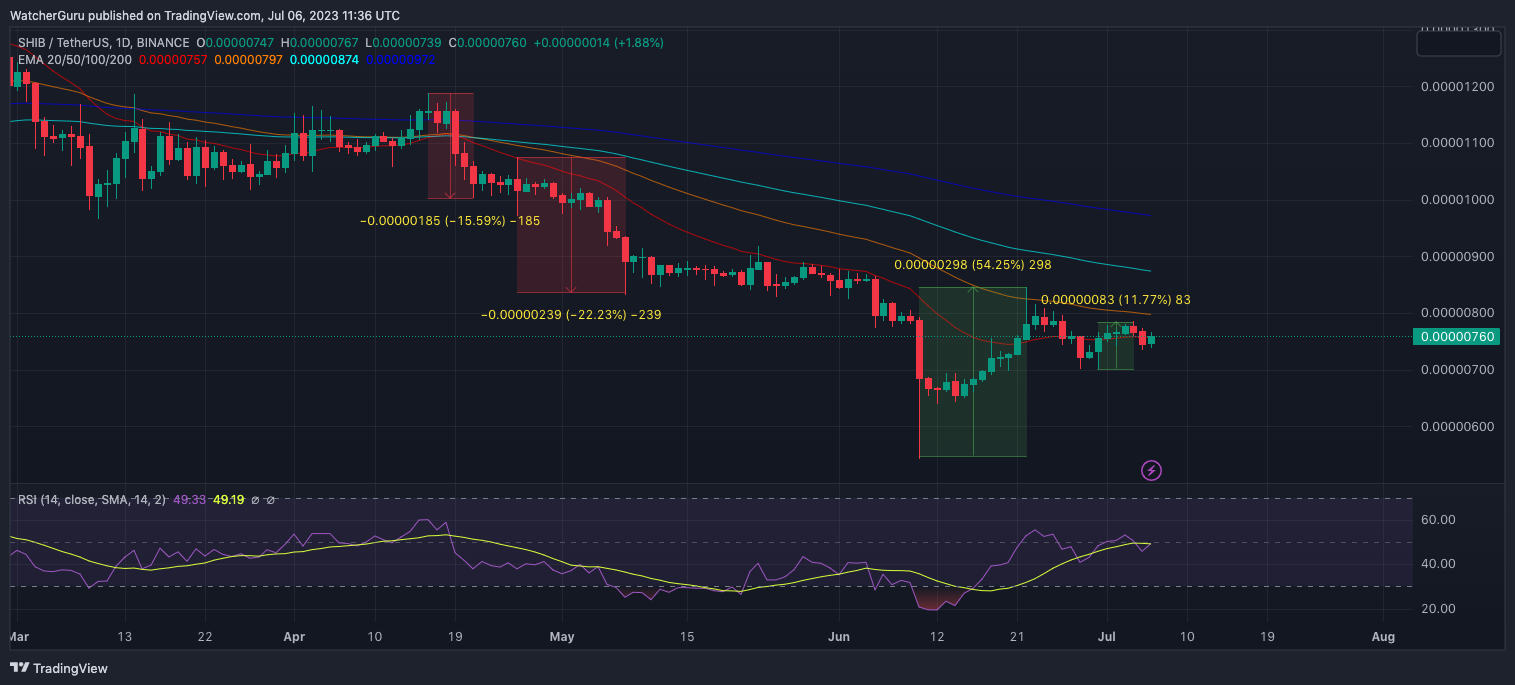 Also Read: Shiba Inu Investors are Holding SHIB for 200+ Days on Coinbase
Are SHIB investors on board?
Well, for the price to organically incline, at least a handful of fundamentals need to be aligned. Leaving aside the network activity, several other positive signs are currently surfacing for SHIB. At the moment, the Network Realized Profit Loss [NRPL] is completely under water. This metric helps gauge if traders and investors profiting or losing money. Usually, a negative spike on the NRPL indicated that a major chunk of traders are selling at a loss. On any given day, one trader's capitulation is another trader's perfect buy-low opportunity. So, whenever there is an excessive amount of profit [positive reading], the market generally counteracts and initiates a downtrend. However, when the losses are drastically dominant on the network [negative reading], like currently, the market is triggered to swing up.

Also Read: Dogecoin 'Shorts' Helped DOGE Rally 21%
Alongside, the Shiba Inu balance on exchanges is also on a downtrend. This likely means that investors are accumulating SHIB. In the first half of June, more than 9.1% of SHIB's supply was locked up on exchanges. However now, the number is down to 8.6%. Santiment's report noted, that the aforementioned trends indicate that there "might be a positive spin" for Shiba Inu in-store. However, with the broader market, led by Bitcoin, seemingly in its correction mode, SHIB could end up applying temporary brakes.

Also Read: Shiba Inu: Can the Moon Guide SHIB to $0.00001?