The launch of Shibarium resulted in elevated adoption interest for Shiba Inu [SHIB]. While the layer-2 network has been flourishing, SHIB itself hasn't experienced notable benefits. The meme coin recorded a 12.38% dip in value in the past month. As we approach the end of the current month with only ten days remaining, the community is hopeful of a potential upswing in SHIB's performance.
It appears that not everything unfolds as anticipated. According to a well-known machine-learning algorithm called PricePredictions, SHIB is projected to remain at its present price level. This algorithm takes into account widely recognized technical analysis indicators. This includes indicators like average true range [ATR], Bollinger Bands [BB], moving average convergence divergence [MACD], and relative strength index [RSI].
In the most recent update, SHIB was trading at $0.000007378, reflecting a 1.23% daily increase. Although the asset had recently reached a high point of $0.000007559, it subsequently pulled back to the $0.0000073 range. PricePredictions anticipates SHIB to be valued at $0.0000073 by September 30, 2023. This prediction shows a notable decline compared to its earlier price earlier this month, when it reached a peak of $0.0000079.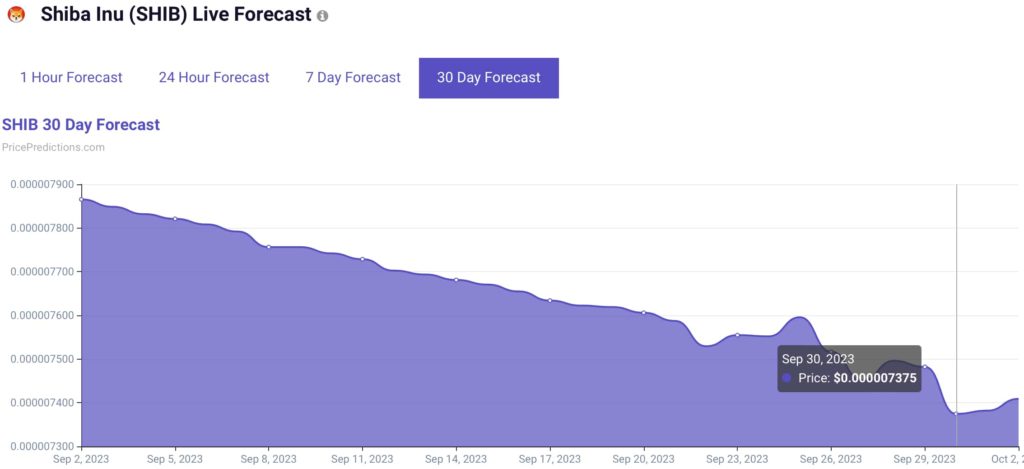 Also Read: Shiba Inu's Shibarium Records Nearly 700% Growth in Smart Contracts
Shiba Inu's profitability rises amidst prevailing bearish sentiment
Due to the modest increase in SHIB's price, the asset's profitability has experienced minor progress. Presently, 11% of holders are in a profitable position at the current price of the meme coin. Nonetheless, a significant 87% of holders are grappling with losses.
Nevertheless, in the SHIB market, the bears took the lead over the bulls. As per data from Into The Block, there were 137 bull addresses in the last seven days. These addresses represent those that purchased over 1% of the trading volume within the past 24 hours. In contrast, there were 143 bear addresses in the same seven-day period. These are addresses that sold more than 1% of the volume traded in the last 24 hours.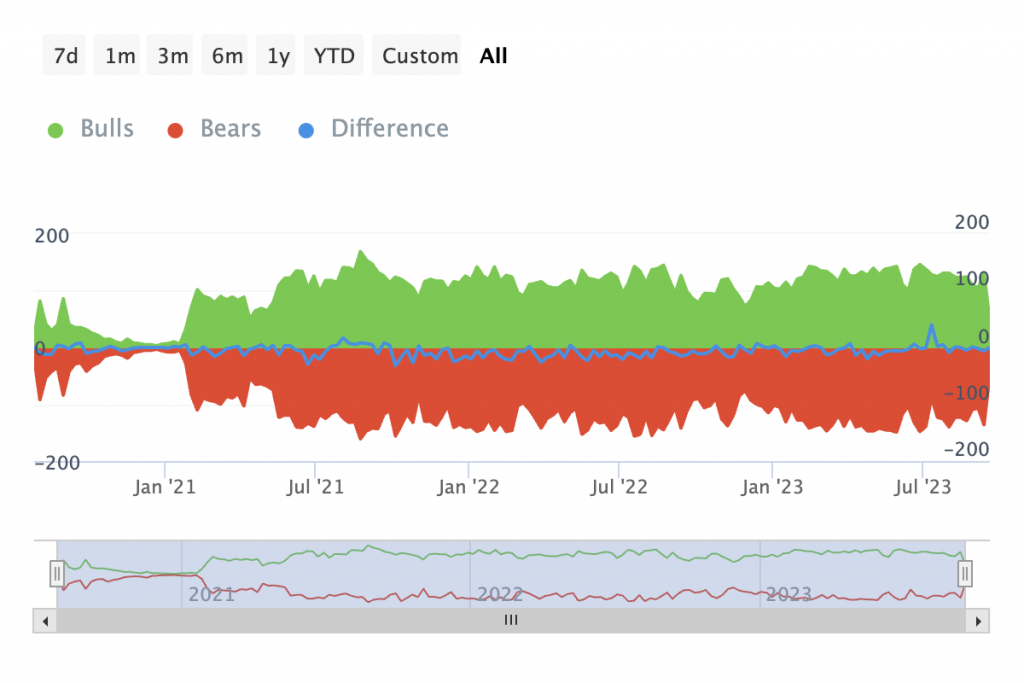 Also Read: Shiba Inu: What Will SHIB's Price Be on October 1, 2023?