Despite encountering issues during its initial launch, Shibarium has somewhat flourished due to its rapidly increasing adoption. Data provided by Shibariumscan revealed an astonishing 678.18% increase in the number of newly confirmed contracts. This surge has propelled the overall count of confirmed contracts on Shibarium to a historic peak of 428.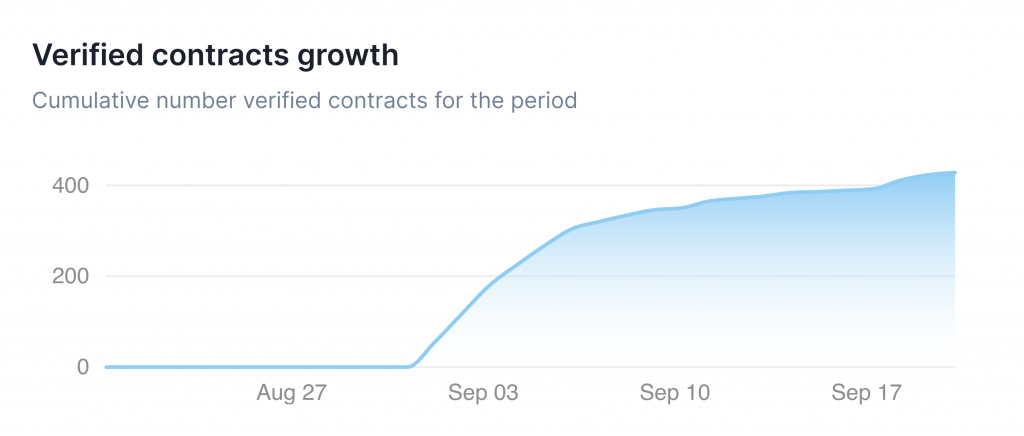 As seen in the chart, the total count of confirmed contracts stood at 55 on Sept. 1. Nevertheless, the Shibarium network has consistently experienced an upward trend since that time. This remarkable ascent can be linked to a sudden surge in newly validated contracts, which witnessed an astounding 533% spike within just a 24-hour period on Sep. 18. Just the day before, the count was a mere 3, but it quickly escalated to 19.
This is certainly bullish for the Shibarium network. Verified smart contracts not only enhance the dissemination of information but also convey the core objectives of these contracts. This transparency provides advantages to projects reliant on these contracts by equipping them with a valuable understanding of the source code.
Furthermore, there has been a significant increase in the overall number of contracts. Presently, the total contract growth on Shibarium has reached 9,917. Other statistics, like total transactions, have been inching closer to 3 million. Additionally, there are 1,246,744 wallet addresses in the L2 network.
Also Read: Shiba Inu: Shibarium Adding More Than 36,000 Wallets Per Day
Shibarium's TVL drowns
While the rest of the network appears to be flourishing, there has been a decline in the total value locked within Shibarium. In August, the TVL in Shibarium reached a peak of $1.47 million but has since experienced a gradual decrease. Presently, the total value of the L2 protocol has dropped significantly to $599,032.

Additionally, within Shibarium, there are a total of 13 projects, with DogSwap and MARSWAP being notable decentralized exchanges that contribute significantly to total numbers. Each of these platforms boasts a TVL exceeding $200,000. Meanwhile, Shiba Inu was trading at $0.000007386, at press time, with a 1.22% daily surge.
Also Read: Shiba Inu: Robinhood Boosts SHIB Holdings Amidst Shibarium's Buzz