According to ShibaPlay, around 993.3 billion Shiba Inu (SHIB) tokens were transferred by anonymous wallets. According to the data on Etherscan, Binance, the world's largest crypto exchange, was responsible for moving almost half (499.9 billion) of it. The value of the SHIB moved by Binance is about $4.6 million.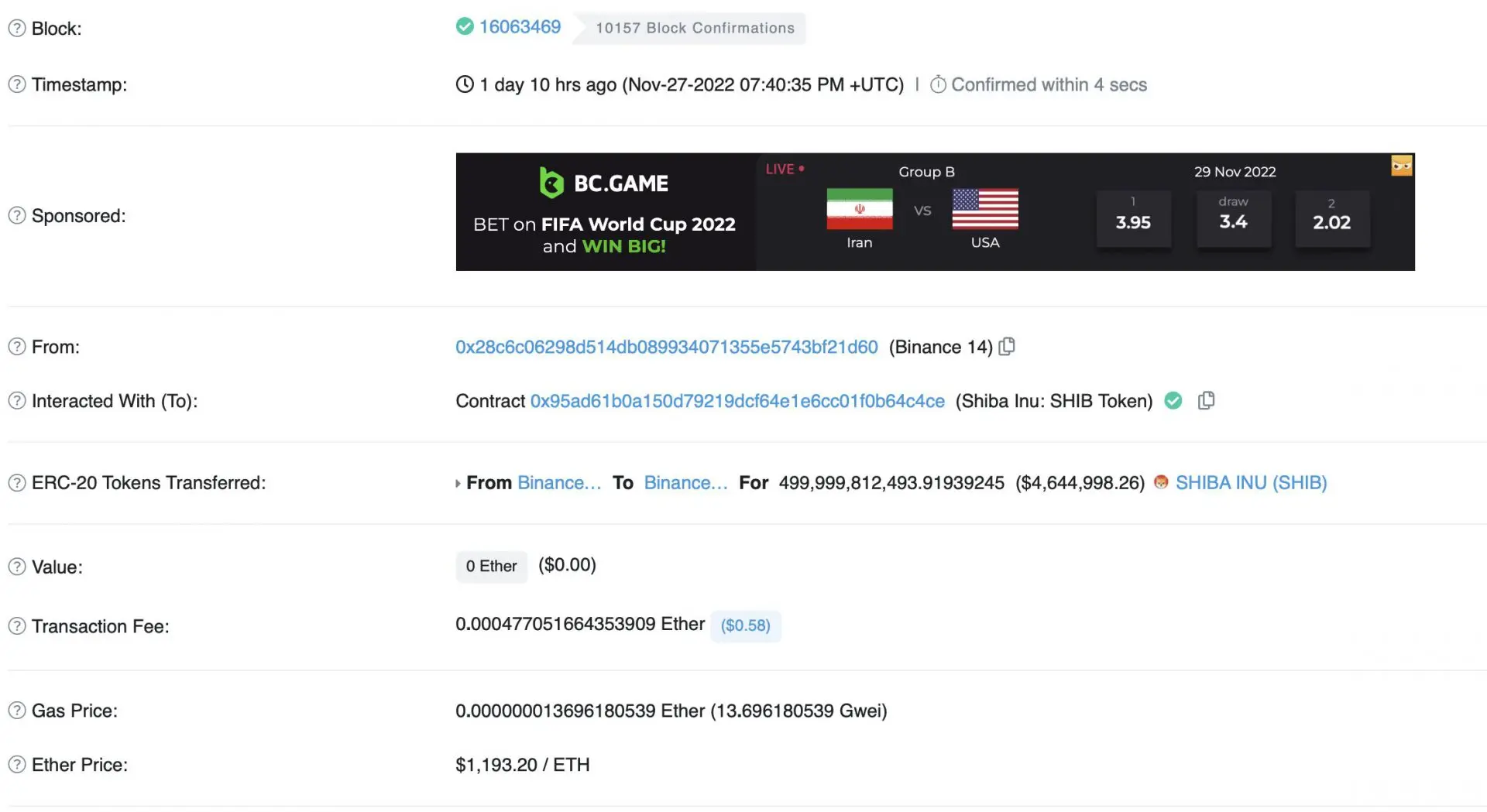 Etherscan observed three other whale transactions of 39,014,817,402, 138,364,817,402, and 160,000,000,000 Shiba Inu (SHIB) tokens. The movements were made between wallets and not into exchanges. This removed the fear of the tokens being dumped and indicated whale confidence in SHIB.
Furthermore, another whale purchased 56 billion SHIB tokens worth $520,512.33. The whale moved the newly purchased token from Binance into its wallet, adding weight to investor confidence.

Why is Binance moving its Shiba Inu holdings?
Binance is currently conducting its proof-of-reserve audit. The SHIB movements are most likely a part of the same audit. The world's largest exchange recently transferred $2 billion worth of Bitcoin (BTC) which CEO Chanpeng Zhao (CZ) clarified was part of the audit. CZ claimed that the auditor required a certain amount of BTC to be supplied to demonstrate how Binance wallets were managed.
Due to Shiba Inu's immense popularity, most major exchanges have a large amount of SHIB reserves. Moreover, Crypto.com recently revealed that it has 20% of its reserves in the popular canine-themed token.
Although SHIB's popularity does not seem hampered, the token's price continues to struggle, and the project's market cap is still below $6 billion. Nonetheless, there has been a slight upward movement over the last week. Many expect the project to take off again once its launches are underway. SHIB is working on a layer-2 network called Shibarium, and its very own stablecoin, Shi. The project also has a Metaverse project.
At press time, Shiba Inu (SHIB) was trading at $0.00000922, up by 2.3% in the last 24 hours. Also, the token's price is up by 9% in the last seven days.