The goal of the Shiba Inu community and developers is to get the value of the digital asset closer to $1. Although the volatility in the market has been a deterrent to this plan, the burn mechanism is helping Shiba Inu every with moving past every decimal. Given the weekend action, SHIB's value was down by 1.3% in the past 24-hours and was being traded at $0.00002207.
Despite the low price, the burn mechanism was active and noted a burn rate of 5,697.15% in the last 24-hours.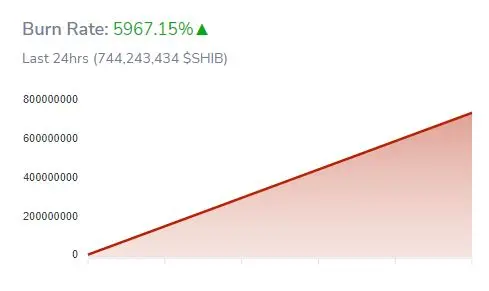 The burning of the Shiba Inu token has been catching pace with every passing day. The Shibburn Twitter handle shared that a massive sum of 327,564,569 $SHIB tokens was burned in a single transaction in an hour.
This momentum of burning Shiba Inu supply has continued. Following the burn of over 327M tokens, a total of 6,173,968 SHIB was moved to dead wallets for the burn. This was the reason for the burn rate also to escalate to nearly 6,000%.
Previous week of Shiba Inu burn
On Saturday, the @shibburn account noted 104 million SHIB tokens being destroyed in the past seven days over 58 transactions.
Following this announcement, 12,266,775 more SHIB tokens were burnt in an attempt to push the price higher. Nevertheless, the market has not been in great shape and SHIB price has lost steam. The asset has been faltering under support levels at $0.00002360 and $0.00002289 and was trying to reach this level, at the time of press.
The efforts towards burning SHIB tokens are intensifying. As per the moderator of SHIB's discord, Queenie the burning will be implemented through 3 portals going forward. Burning will be enabled through ShibaSwap 2.0, Shibarium, and Shiba Inu's new burn portal, per the post. This leaves Shiba Inu games as the only project that will not feature a burn mechanism.
With the selling pressure in the overall cryptocurrency market remaining high, Shiba Inu could witness a drop to its January lows at $0.00002053. As the future of Shiba Inu remained uncertain with its current value, a total of 410,304,557,937,451 SHIB was burned from the initial supply of 999,991,746,582,662. The total supply of the asset remained 589,695,442,062,548, with the circulating supply at 549,534,081,529,097.