Shiba Inu's anti-deflationary burn mechanism is quite popular within the community. The rise in demand through innovation, coupled with a reduction in supply, is the fastest way zeroes can be knocked off Shiba Inu's value and bring it ever closer to the $1-valuation. In a Twitter post, the moderator of SHIB's discord, Queenie said that burning will be implemented through 3 portals going forward.
As per the post, burning will be enabled through ShibaSwap 2.0, Shibarium, and Shiba Inu's new burn portal. This leaves Shiba Inu games as the only project that will not feature a burn mechanism.
Additionally, the post clarified that layer 2 solution "Shibarium" would negate exuberantly high gas fees while transacting on decentralized exchange Shiba Swap. Although Queenie stated that limit orders were "more a centralized exchange thing", developers were considering to enable the same on Shiba Inu's exchange as well.
Shiba Inu Burns
Through the principle of supply and demand, burns essentially remove coins in circulation, which in turn increases the price of a digital asset. In an AMA with Watcher Guru, influencer Shib Informer said,
"We want to make the burn rate grow with the utilization rate of the platform. If we do that we can have a virtuous cycle that fits back into each other."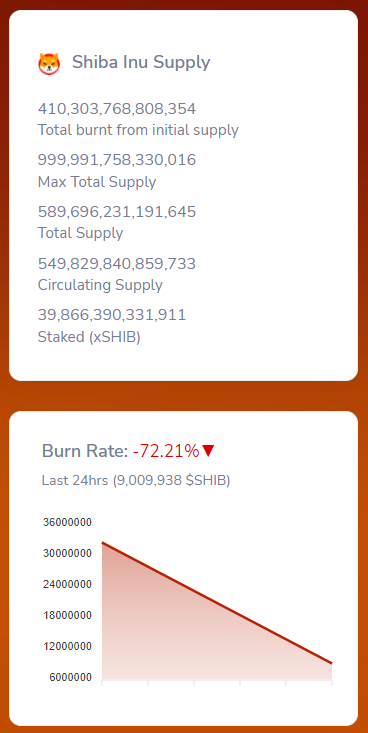 Prior to the announcement of a new burn portal, Shiba Inu burns were carried out individually by community members tracking SHIB transfers to dead wallets. The latest data from Shibburn showed that a total of 410 Trillion SHIB tokens have been burned from the initial supply, leaving nearly 550 Trillion tokens in circulation. The daily burn rate cooled down by 72% after spiking on 8 March.