Shiba Inu, a meme coin that holds a significant position in the cryptocurrency realm, has become well-known. The team responsible for SHIB has shown dedication to its growth through various endeavors, including the implementation of the Shiba Inu Burn program.
The burn rate associated with Shiba Inu has acquired a reputation for its fluctuating pattern. Certain days witness notable increases, while others experience a decline. Notwithstanding this variability, the burn rate is used to maintain consistency. However, in recent times, the burn rate has not been that impressive.
Also read: Bitfinex Successfully Retrieves $315,000 Stolen in 2016 Hack
Setting the record straight, the burn rate has spiked in the last 24 hours. According to data from Shibburn, the burn rate has soared by 4467% during this period.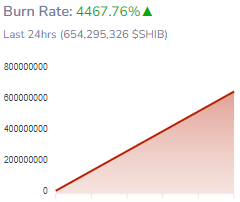 Shiba Inu burn numbers touch more than half a million
Shibburn data shows that 654,295,326 SHIB has been sent to dead wallets in the last 24 hours. Several transactions contributed to the surge in burn rate, with several single- and double-digit transactions in the millions.
Also read: Shiba Inu Maps Out its Future Course with Promising Updates
The four-digit rise in the burn rate has provided the SHIB community with relief from the slumping burn rate over the past few weeks. The surge in burn rate comes at a time when Shiba Inu is not performing well, with over 3% drop in value over the last 24 hours.