Shiba Inu, a meme coin ranked as the second largest in the cryptocurrency market, has garnered significant attention. The team responsible for SHIB has shown dedication to its progress, exemplified by initiatives such as the Shiba Inu Burn program.
The burn rate of Shiba Inu has become known for its fluctuating pattern, experiencing both notable increases and declines on different days. However, over the past few days, the burn rate has exhibited a relatively stable trend, with millions of SHIB being burned daily.
Also read: Ethereum Whales Dump ETH as Price Breached $2,000
According to the latest details from Shibburn, the burn numbers have gone up by 7329% in the last 24 hours.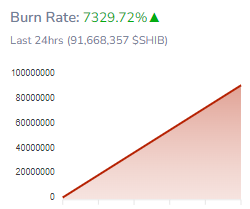 Nearly 100 million Shiba Inu burned
Details from Shibburn reveal that 91,668,357 SHIB were sent to dead wallets in the last 24 hours. One of the largest burn transactions happened 21 hours ago, sending 48.8 million SHIB to a dead wallet.
There has been a visible rise in the burn rate lately. Over 915 million SHIB were burned in the last week. The week is starting on a positive note with nearly 100 million SHIB burns. If the initiative keeps up the pace, the team can easily burn over a billion SHIB this week.
Also read: Shiba Inu Team Sets the Stage, Unveils Summer of Shibarium
The soaring Shiba Inu burn rate hasn't affected the meme coin positively. According to CoinMarketCap data, SHIB is down by 2.7% in the last 24 hours and is trading at $0.0000078 at press time.