Shiba Inu, a cryptocurrency that has gained significant recognition as a meme coin, has achieved notable popularity in the cryptocurrency industry. The team behind SHIB has demonstrated their commitment to its growth through various initiatives, including the implementation of the Shiba Inu Burn program.
The burn rate associated with Shiba Inu has garnered attention due to its fluctuating nature. Some days witness significant increases, while others experience declines. However, the burn rate has not been particularly impressive in recent times.
It is worth clarifying that the burn rate experienced a substantial increase of 6900% on June 22. Now, according to Shibburn's data, the burn rate has surged by 1077% during the last 24 hours.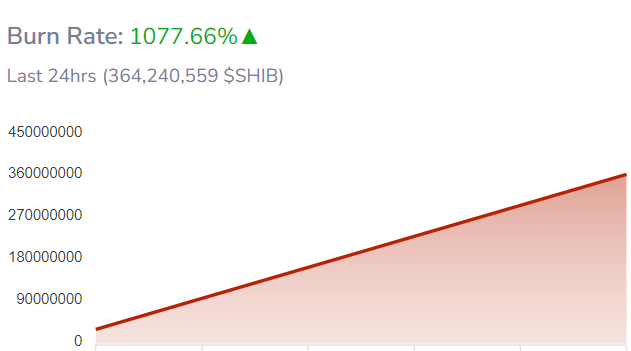 Shiba Inu burn numbers touch millions
Shibburn data shows that 364,240,559 SHIB has been sent to dead wallets in the last 24 hours. The biggest transaction occurred 23 hours ago in a single transaction. 91,698,204 SHIB were burned in that single transaction, followed by several single- and double digit transactions in the millions.
The four-digit rise in the burn rate has provided the SHIB community with relief from the slumping burn rate over the past few weeks. The surge in burn rate comes at a time when Shiba Inu is performing comparatively better than in the past few days, with over 1.2% gains in the last 24 hours.