Last week, the market was in its recovery mode. During the weekend, it rallied to a fair extent as well. However, the tables turned during the Asian trade hours earlier today, and the dumping took concrete shape. At press time, the global crypto market cap was down by more than 4% on the daily chart and stood exactly at $1 trillion at press time. Even though the market seems to be gloomy at the moment, this set of positives with respect to Shiba Inu are hard to overlook.
Shiba Inu's radiant bunch of positives
1. Shiba Inu price:

On 13 July, SHIB had created a daily low of $0.00000977. Since it, however, it has managed to stay afloat and trade above the psychological $0.00001 mark, and its 50-day Moving Average.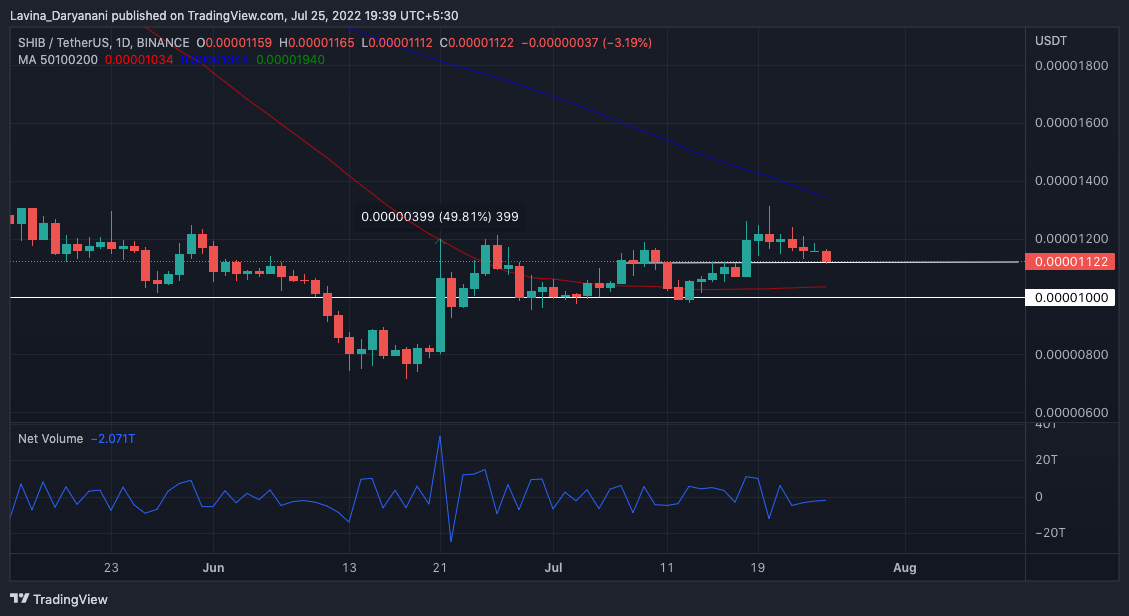 Well, the past few days have not been quite optimistic for the Altcoin, as it has been depreciating in value. However, it has been able to perform better than its top-rival DOGE on all the hourly, daily, and weekly windows. SHIB being able to tag onto its support around $0.0000112, has been one of the main reasons why it has been able to keep its losses capped so far.



2. Total Addresses
Despite the macro-choppiness, the total number of addresses possessing Shiba Inu has been inclining. At press time, the same had peaked on Monday at 1,212,692. The rise in the unique addresses HODLing assets in the network is clearly a sign of collective community conviction.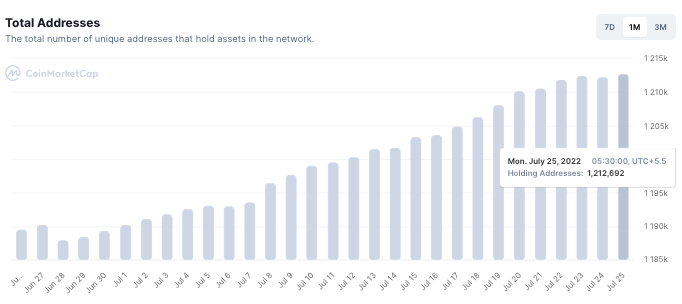 3. Burning
Shiba Inu tokens continue to be burnt at a swift pace. A few hours back, a million SHIB tokens were burnt in a span of 60-minutes via one transaction. Alongside, as reported in an article earlier today, the burn portal update had instigated a 250% rise in Shiba Inu's burn rate.
Read More: Shiba Inu 'Burn' Rate Jumps 250% After Providing Update on Burn Portal
Alongside, as far as the weekly record is concerned, Shiba Archives revealed:
4. Social Game

The project's social game remains to be strong as ever. The official Shiba Inu account has more followers [3.42 million] than that other prominent networks like Ethereum [2.7 million], Ripple [2.52 million], Solana [1.96 million], and Polygon [1.58 million].
5. Weak to strong hands transition
Since May, mid-term SHIB participants have been exiting Shiba Inu's arena, while the ones in for the long game have been rising. The convergence is clearly depicted in the ITB's chart below. Just over the past month alone, HODLers have risen by 20.87%, while cruisers have depleted by 5.1%, indicating the organic weak-hand to strong-hand transition.