Shiba Inu has been generating significant attention due to its recent price surge. The meme coin experienced a substantial price increase over the course of this week. Starting at a low of $0.000008348, the coin's value surged to reach a peak of $0.00001036. This substantial shift led to a remarkable 19.17% price hike over the past week. Meanwhile, within this period of price growth, the correlation between Shiba Inu and Dogecoin [DOGE], the OG meme crypto asset, appeared to be diminishing.
Data sourced from IntoTheBlock indicated that the 30-day correlation between DOGE and SHIB dropped to 0.36 today. This is a notable decrease from yesterday's peak of 0.74. This shift underscores the idea that SHIB is gradually breaking away from DOGE's influence and establishing a distinct trajectory.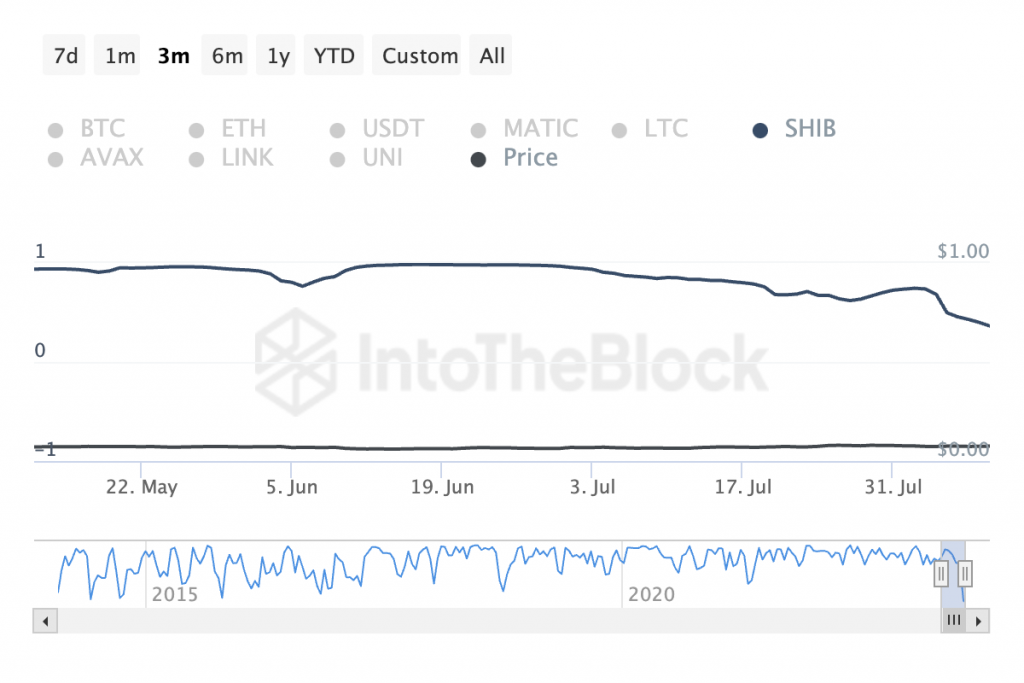 Also Read: Shiba Inu: BlackRock-backed Robinhood Holds 20 Trillion SHIB
Shiba Inu-Dogecoin's 60-Day Correlations remain robust
Nevertheless, the 60-day correlation between the two meme coins was 0.74. This implies that both assets typically exhibit parallel price movements. In essence, when Shiba Inu experiences price surges or drops, Dogecoin's price frequently mirrors these changes.
Currently, Dogecoin has not replicated the price trajectory observed in SHIB. At press time, the meme coin was trading at $0.07554, indicating a daily increase of 0.24% and a weekly advancement of 1.80%. Nevertheless, crypto analyst Ali Martinez suggested that keeping a close watch on Dogecoin could be wise due to the robust correlation coefficient it shares with SHIB.
Shiba Inu, on the other hand, was trading at $0.000009915. The asset was recording a 1.30% daily spike at press time. The asset is expected to continue its upswing as Shibarium, a highly anticipated layer-2 update, is slated to go live this month. Therefore, DOGE might benefit from a potential uptick.
Also Read: Shiba Inu Developer Unveils 3 New Partnerships: Price Spikes 19%