Shiba Inu rose to popularity in quite a short span after its launch. The asset made its debut three years back. After independently rallying several times, the asset peaked in 2021. When the market conditions became bearish, SHIB registered a significant drawdown. However, just like most other mid-cap assets, even SHIB successfully managed to weather through winter. At press time, the $4.8 billion market-capped asset was exchanging hands at $0.000008232.
Also Read: Shiba Inu: Shibarium Team to "Renounce" BONE Contract
ATH, ATL Classification
Investors are usually divided into two major categories. One group waits for the price to drop and then buys the dip. The other set of investors enters the market out of FOMO when the price makes higher highs. By ticking the 'apt entry timing' box, the former category usually has an upper hand when compared to the latter.
As far as Shiba Inu is concerned, 4.37% of the addresses [56,140] bought the token around its all-time high price. Contrastingly, 3.44% of them [44,260 addresses] scooped out the token when it was trading around its all-time low price.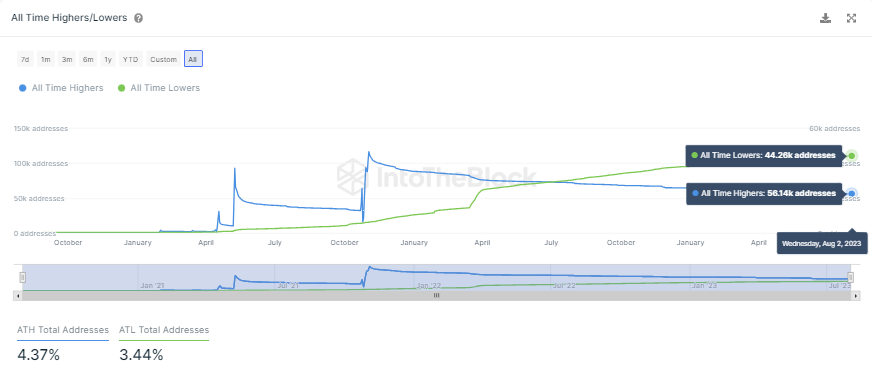 Also Read: Shiba Inu Forecasted To Rise 300% & Reach $0.00003: Here's When
Current State of SHIB All-Time 'Highers' and 'Lowers'
Shiba Inu scripted its all-time high price of $0.00008845 on Oct. 28, 2021. From this point, the asset is down by almost 91%. This means investors who bought SHIB during its peak are drowning underwater. Contrastingly, Shiba Inu has appreciated significantly from its all-time low of $0.00000000008165 created on Sept. 1, 2020. SHIB has already eliminated 5 zeros. Data from CoinMarketCap suggested that the asset was up by more than 10,085,266% from its bottom. This means, all the 44,000+ all-time lows investment bags have massively inflated.
Also Read: Shiba Inu: How Many Zeros Did SHIB Delete From August 2022 to 2023?