The burn rate of Shiba Inu fell in September compared to August, when developers launched the native Shibarium blockchain.
According to Shibburn data, around 2.3 billion SHIB valued at $17,173 were burned last month across 426 transactions. That's down from the 5.7 billion SHIB worth $45,899 destroyed in August via 763 burns.
Shibarium has yet to accelerate Shiba Inu burn rate
The numbers show the highly anticipated Shibarium launch has yet to accelerate the meme coin's burn rate, as some supporters predicted. Expectations were high that the dedicated network could fuel burns of upwards of 5 trillion SHIB per month.
Shibarium officially went live in mid-August and aims to lower fees and speed transactions. But the layer-2 solution has gotten off to a slow start with limited adoption so far.
Also read: FTX Exploiter Transfers $17M+ in Ethereum in 24-Hour Spree
For now, the lagging burn rate signals Shiba Inu's broader struggles to regain its once meteoric rise. The burn rate has also surged by 172% in the last 24 hours. During this period, 128 million SHIB were sent to dead wallets. October is kicking off with a positive start to the slumping burn rate in the month of September.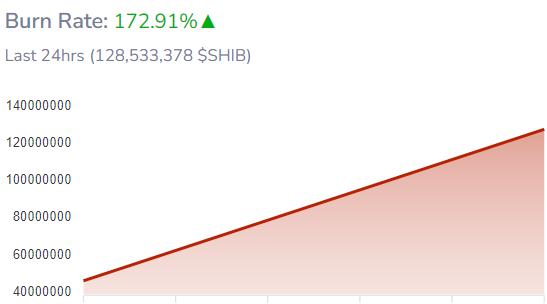 While Shibarium represented a heralded milestone, realizing its potential requires patience and sustained growth. If activity eventually hits scale, parabolic burns could still be within reach.