2021 was a bullish year for the crypto market. In H1, most assets created peaks and then succumbed to the flash crash in May. After gradually recovering for the next few months, Bitcoin double-peaked in November, and other assets followed suit by replicating its rally.
Shiba Inu, however, remained decoupled from the market at that time. When compared to the consensus, it prematurely rallied in September and October, but then started shedding value. The condition only worsened during the 2022 bear market.
The asset welcomed the new year on a bullish foot, but a subsequent correction followed in Q2 2023. With Shibarium's launch nearing, the bullish sentiment associated with SHIB has started accelerating. So, in this article, we will analyze how far SHIB has come from 2021 to 2023.
Also Read: Shiba Inu: How Much Will $100 SHIB Be Worth If It Reaches ATH?
Assessing SHIB's performance against BTC, ETH
Exactly a year ago, on Aug. 10, 2022, SHIB's closing price registered on Binance was $0.00000756. SHIB continues to trade with five zeros even now. However, its value is fairly higher now. At press time, the asset was exchanging hands at $0.00000976. This means it has appreciated by 29.1% in two years.
Given the volatility in the crypto market, the 29% figure might seem insignificant. However, it is important to note that SHIB has been able to outperform both Bitcoin and Ethereum in the two-year time frame. On this day two years ago, the top two crypto-assets closed the day's trade at $45,585 and $3,142, respectively. However, they have been hovering around $29,467 and $1849 of late. This means they are down by around 35.35% and 41.1%, respectively.
Also Read: Shiba Inu: 2 Ways SHIB Could Reach $0.01
State of SHIB Investors
Shiba Inu's Sharpe Ratio has swiftly rebounded over the past few months. According to data from Messari, this ratio hit a rock bottom of -7.2 in mid-May 2023. From there, the number is already up to +3.58. This indicated that SHIB investors are receiving ample gains for the risk taken on by holding the asset.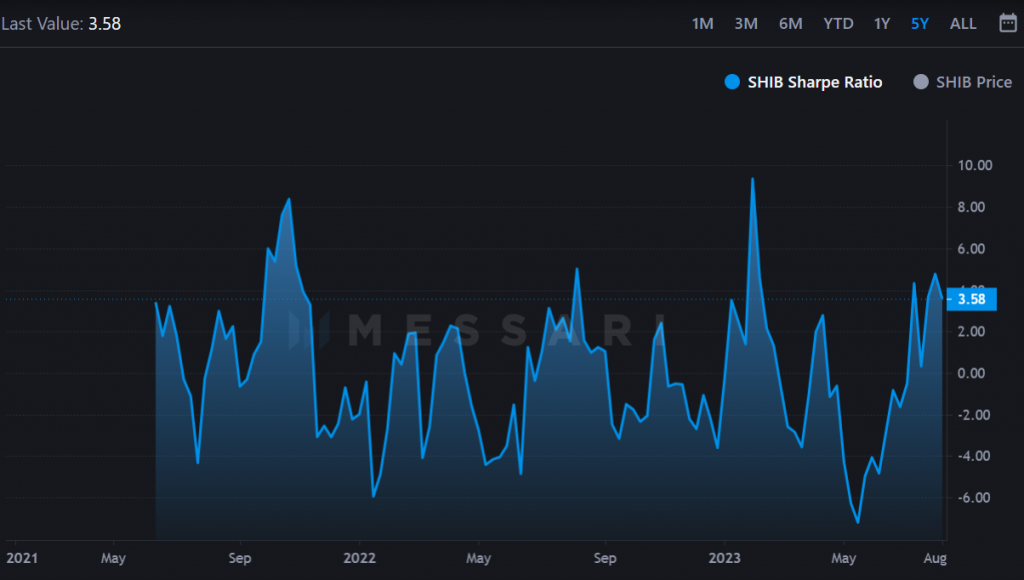 Also Read: Shiba Inu Forecasted To Rise 300% & Reach $0.00003: Here's When