Shiba Inu's price has been on an uptrend of late. From its wick low of $0.00000543 created on June 10, the asset's price is up by 58% already. However, the path from here could get tricky for Shiba Inu. As chalked out in the chart below, SHIB has stepped into its first resistance cluster. Shiba Inu was unable to make any progress when it traded in this zone the last time [May-June].
The woes will not be there even if SHIB successfully manages to break through this range. Right after, it will be tested by another resistance cluster that had hindered it from recovering in April-May. Only when SHIB successfully overcomes these two barriers, will the doors for it to eliminate one zero and trade above $0.00001 open.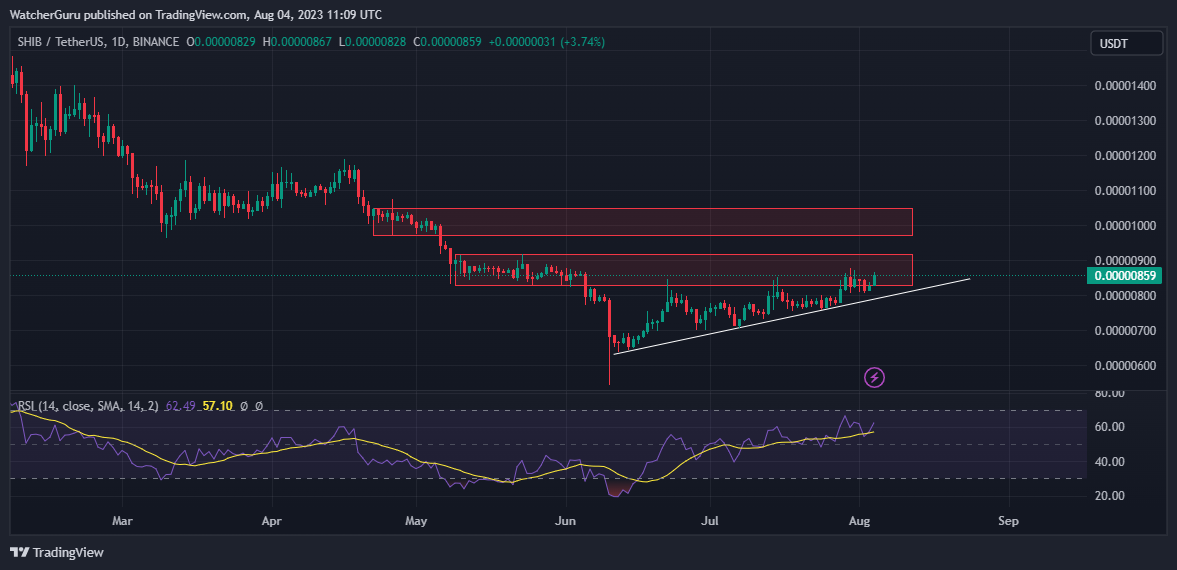 Also Read: Shiba Inu Has Risen ~10,000,000% Since its All-time Low Value
2 Factors That Could Help SHIB Rise
Shiba Inu's Shibarium is expected to launch this month. Several from the community believe that this will act like an "event" and bolster the price of the asset. However, most upgrades or launches that have taken place over the past year in the crypto industry have acted like "non-events." Ethereum's Merge, Cardano's Vasil Hard Fork, and Litecoin's Halving are three such instances.
In fact, even Shiba Inu has acted similarly in the past. In mid-2021, the hype associated with the project's native DEX, ShibaSwap, was at its peak. The launch was successful, and the DEX volume also created highs.
However, the launch failed to rub off positively on SHIB's price. On the launch day, SHIB registered a green candle, but within a fortnight, it shed close to 39% of its value. Nevertheless, in the months that followed, SHIB monumentally surged. From its September 2021 lows, the asset appreciated by a whopping 1636%.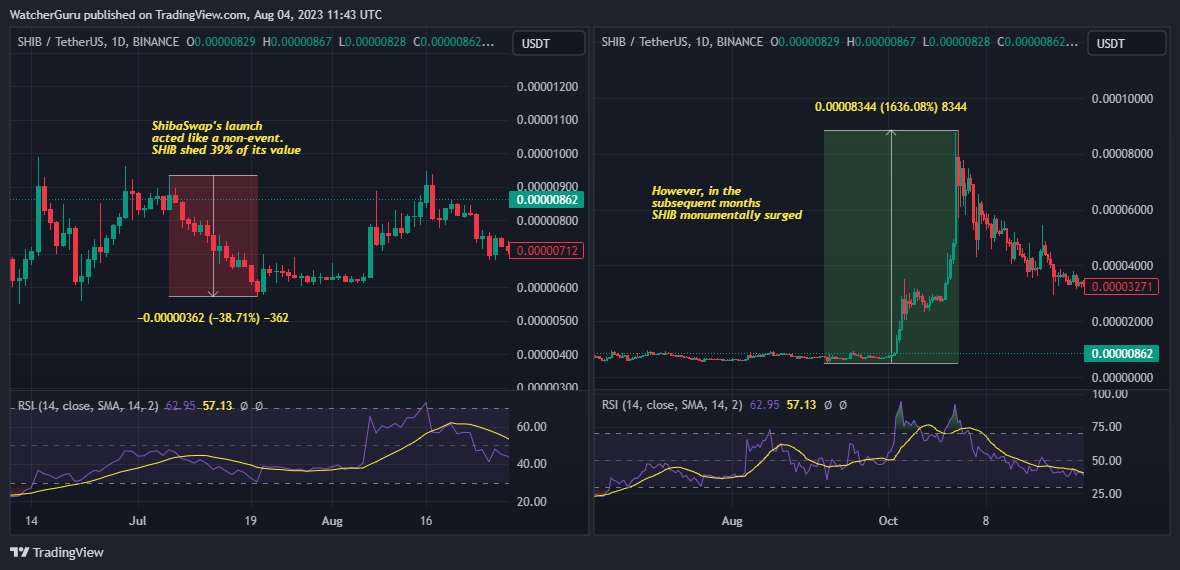 Also Read: Shiba Inu Forecasted To Rise 300% & Reach $0.00003: Here's When
That being said, several experts believe that SHIB could go on to claim historic highs after the Shibarium launch. As reported recently, Jonathan Merry, CEO of Moneyzine.com claimed that if Shibarium is extremely successful and becomes a "global sensation," SHIB may have a "better chance" of hitting the $0.01 target.
Additionally, the executive stressed that the new burn mechanism could also help in adding bullish pressure on the price. Shiba Inu-focused Twitter handle "SHIB Bezos," recently revealed that the project's layer-2 network, Shibarium, will burn 5 trillion tokens every month.
Also Read: Shiba Inu: Shibarium Team to "Renounce" BONE Contract
Reality Check
If Shibarium burns 5 trillion tokens every month, it would destroy 60 trillion tokens in a year. Therefore, to reach $0.01, while maintaining its $4.7 billion market cap, SHIB would need 470 billion tokens in circulation, burning away the remaining 569.5 trillion tokens. Hence, to burn 569 trillion tokens, it would theoretically take the project around 9.5 years, with 5 trillion tokens being burned a month.
However, the reality seems to paint a different picture. People from the community have been burning Shiba Inu tokens on a daily basis. Consequentially, the burn rate keeps fluctuating, and on certain days, it deviates in denominations of thousand. However, SHIB's price in most cases has not outrightly reacted to the same. In fact, as pointed out in a recent article, Shiba Inu's circulating supply has 'barely changed' since June 2022.
Despite question marks lingering, the Shibarium and the Shibarium burn factor, together, have the potential to act like game changers for SHIB. Even though they will likely not trigger SHIB to attain $0.01 overnight, their success would certainly place SHIB on the bullish path.
Also Read: Shiba Inu: How Many Zeros Did SHIB Delete From August 2022 to 2023?