Shiba Inu (SHIB) has gained significant attention and popularity as a meme coin in recent years. Although its price performance may have been less favorable, the project has made noteworthy advancements in terms of its utilities. Shiba Inu sets itself apart from other meme coins by actively pursuing development initiatives and providing regular updates.
Also read: Fidelity Allegedly Planning to File for Bitcoin ETF, Claims Source
According to Lucie, an official from the Shiba Inu ecosystem, Puppyscan, the blockchain explorer of Shibarium, has undergone a reset and update. As a result, Shibarium Explorer has received new enhancements aimed at improving its functionality for the community. The addition of new features is evident in the tabs located at the top of the blockchain explorer.
Shibarium Puppyscan back with improvements
During the recent improvements being made to Puppyscan, there was a temporary interruption that rendered it unavailable for some time. This interruption may have been a consequence of the ongoing enhancements.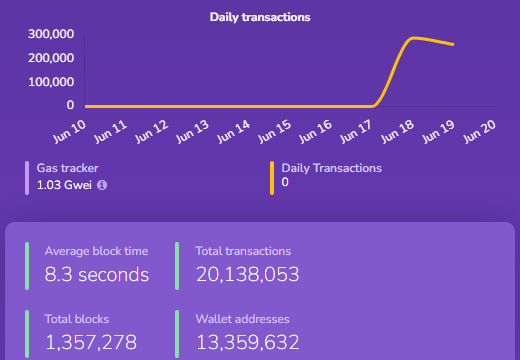 Meanwhile, the Shibarium testnet, also known as "Puppynet," has been achieving significant milestones. According to PuppyScan, since its launch on March 11, the Shibarium beta has processed a total of 20,138,053 transactions. The testnet currently consists of 1,357,275 blocks, with an average block duration of 8.3 seconds, and there are 13,359,632 wallet addresses associated with it.