According to analytics provider IntoTheBlock, the profitability of holding the meme cryptocurrency Shiba Inu (SHIB) has fluctuated alongside changes in the coin's market price. Based on current data, approximately 16% of SHIB holders are in a profitable position at the present value of around $0.000008182 per coin.
Another 10% are estimated to be breaking even with neutral profitability. The remaining 74% are projected to experience an overall loss.

Shiba Inu has declined 90.75% from its record high of $0.00008616 reached in October 2021. Some holders who acquired SHIB around its peak price are now in negative territory on their investments due to this drop. Conversely, those who bought SHIB at lower valuations may be seeing positive returns.
Shiba Inu's high price volatility and holder composition appear to be key factors impacting individual holder profitability. SHIB's value has seen major fluctuations amid high trading volumes. Per IntoTheBlock, about 77% of the circulating supply is held by large "whale" wallets.
Shiba Inu's burn plunges by -25%
Shiba Inu's burn rate, which permanently removes tokens from circulation, has been volatile recently. According to burn data platform Shibburn, the burn rate plunged by -25.44% in the last 24 hours.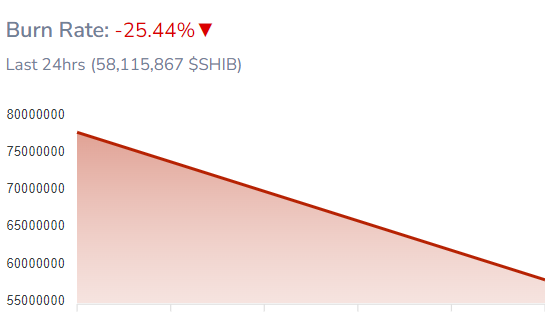 Also read: Shiba Inu Price Prediction (SHIB): August End 2023
During this period, approximately 58 million SHIB were sent to dead wallet addresses, removing them from the circulating supply. Amidst the drop in burn rate, the price of SHIB has also fallen recently. SHIB has lost over 2.8% in the last 24 hours despite the launch of Shibarium.