Earlier today, a well-known platform called Shibburn posted a tweet that unveiled a fresh initiative. Shibburn has primarily been dedicated to informing the community about the tokens being burned within the network. However, Shibburn has decided to double down on its interest and commitment to the network by introducing the 'Shib Association.'
In a fairly long tweet, the network introduced the establishment of the SHIB Association. Shibburn conveyed that this platform will exclusively concentrate on Shiba Inu. Their aim is to contribute utility and innovation to SHIB, through the development of its own blockchain.
Shibburn further clarified that it should not be mistaken for other projects as it operates as an independent entity. Additionally, the SHIB Association will function separately from Shibburn, although Shibburn will actively contribute to its operations. Nevertheless, the latest news came as a surprise and it was seen as an effort by the community to revive the SHIB network.
Shiba Inu's social sentiment dips
The Shiba Inu [SHIB] network has been on a downward spiral. This is the case for both price and network activity. Following the botched launch of SHIB's layer-2 scaling solution, Shibarium, the network saw a major slump. Concurrently, the social sentiment surrounding the asset had also begun to dip.

As seen in the chart above, the level of interest in Shiba Inu has significantly dropped over the past few days. The network gained attention after the introduction of Shibarium, but this upward trend was not sustained. Likewise, various fundamentals of network activity, such as transaction count, daily active addresses, and transaction volume, experienced a decrease. For instance, the number of transactions was 9.64K last week. However, it is currently at a low of 4.19K.
Also Read: Shiba Inu Profitability Plunges Alongside Slumping Price
SHIB soars by 3%
After an entire week of downward movement, SHIB was finally moving away from the negative territory. The meme coin was being traded at $0.00000824, showing a 3.2% increase in its daily value. This positive shift brought significant optimism to the SHIB ecosystem.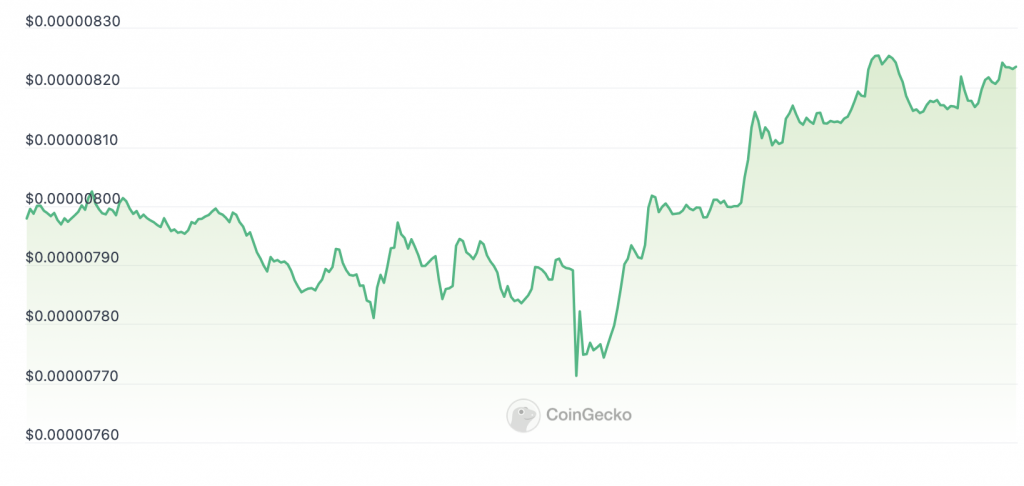 Shiba Inu surged all the way from a low of $0.00000771 to a high of $0.00000825.
Also Read: Shiba Inu's Burn Rate up by 1000%: Recovery Underway?