The cryptocurrency industry has witnessed the arrival of hundreds of new assets. However, very few make the cut or are even deemed to be legit. Shiba Inu [SHIB] is relatively new to the market and has taken over pretty quickly. From increased updates to major endorsements, the popularity of the asset is on par with the OG meme coin Dogecoin [DOGE].
More recently, a prominent travel company decided to double down on its Shiba Inu inclination. The firm announced a new affiliate program solely for SHIB holders.
This wasn't all. Shiba Inu's BONE and LEASH have been making quite some noise as well. For instance, BONE recently bagged a place on Crypto.com. Earlier today, the exchange opened doors to the BONE/SHIB trading pair. Similarly, the meme coin has been seeing immense growth in terms of popularity.
Additionally, the Shiba Inu network rolled out the much-awaited beta version of Shibarium last month. Despite all these efforts, the price of the asset as well as its total value locked [TVL] recorded a major plummet.
The SHIB-WETH pool on Uniswap V3 is the largest Shiba Inu pool, and it presently has a value of $1.8 million. However, this is a substantial drop from its previous peak of $10.8 million. The TVL of the asset recorded a 70% dip since its previous high.
It should be noted that decentralized exchanges [DEX] offer a significant level of liquidity to digital assets. This becomes more pertinent in the case of assets that do not have listings on centralized exchanges [CEX]. The SHIB-WETH trading pair currently has a low liquidity level which is speculated to take a toll on the meme coin's price.
Will this push Shiba Inu's price lower?
As mentioned above, lower liquidity often paves the way to rising volatility in price. Currently, is quite high compared to what it was at the beginning of 2023.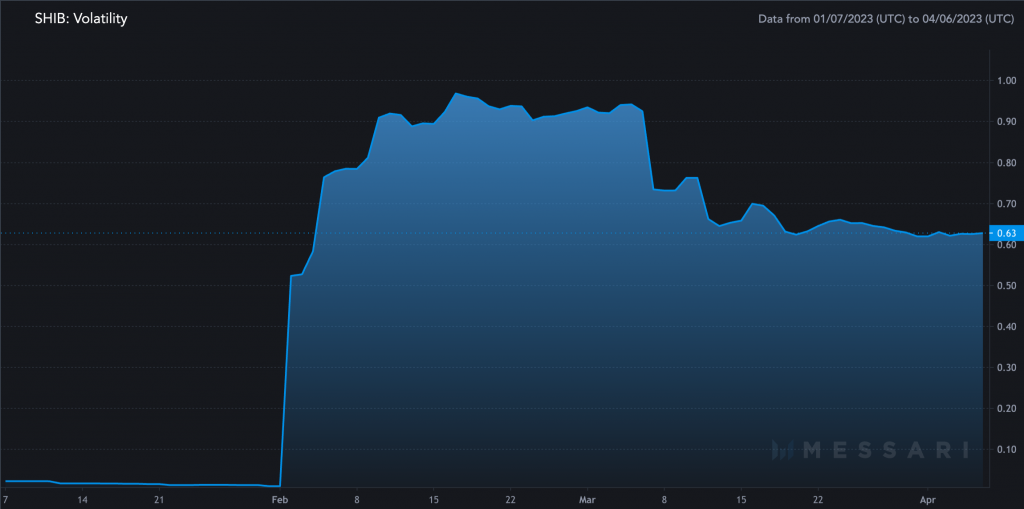 At press time, Shiba Inu was trading for $0.00001099 with a 2.91% daily drop. An increase in volatility could certainly meddle with its price change.