The popular dog-themed crypto token, Shiba Inu (SHIB), witnessed a surprising rally over the weekend. The project even briefly deleted a zero after its decimal point, which it gained in May 2023. However, SHIB has fallen on its back foot once again, dipping by 5% in the last 24 hours. Nonetheless, the Dogecoin rival is still up 8.4% on the weekly charts.
SHIB has been on a downward trend for most of the year since February. That trend was broken towards the end of June. Since then, SHIB has consistently seen higher highs and higher lows. Moreover, it recently broke out of its ascending triangle, reversing the long-term bearish trend. SHIB currently faces resistance at around $0.00001, with support at around $0.00000800.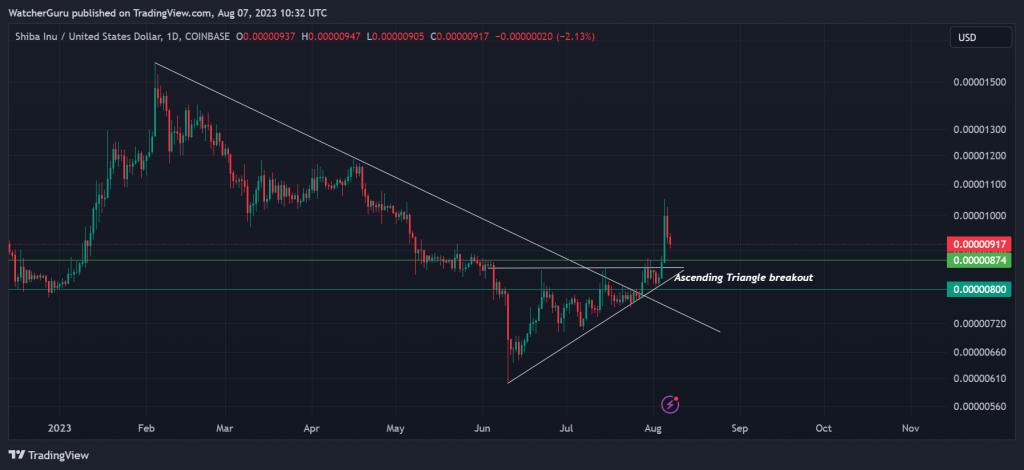 Shiba Inu's (SHIB) latest rally is most likely fueled by lead developer Shytoshi Kusama's latest blog, and rumors that the project's layer-2 network, Shibarium will launch later this month. However, the development was not enough to sustain the rally. Moreover, the larger crypto market is still in a slump, hence a SHIB rally is unlikely to carry much weight at the moment.
Also Read: Shiba Inu: Shytoshi Kusama Unveils Shib SSI Launch Details, Here's When
How low can Shiba Inu fall?
Judging by SHIB's Fibonacci retracement, the popular crypto could fall to somewhere around $0.00000775 before consolidating or moving back upwards. Moreover, SHIB has a lot of volume in that area to offer support. As identified by the Visible Range Volume Profile indicator, there is a strong trading volume cluster between 0.00000875 and 0.000008. Hence, there is a significant possibility that the price will register a recovery after reaching that particular support range.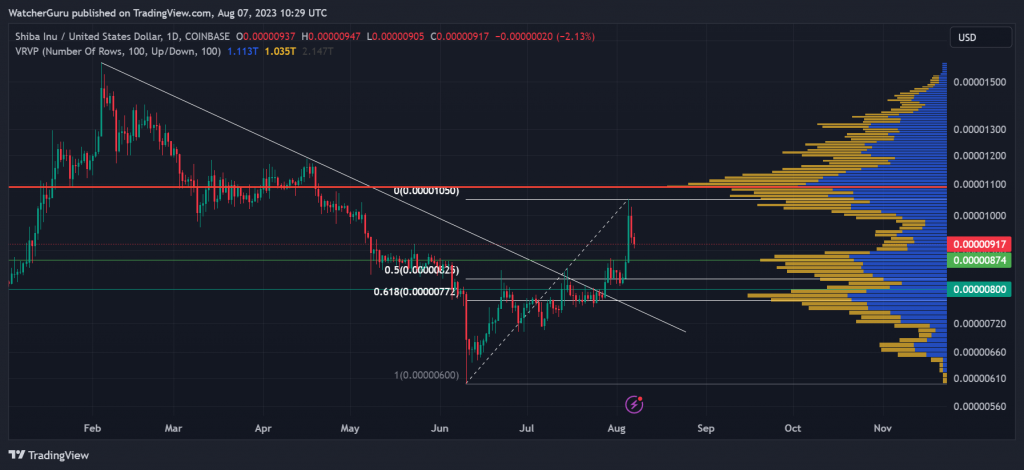 If the Shiba Inu (SHIB) team is able to launch the Shibarium network this month, then the token could even register yearly highs. However, there is also a possibility that SHIB could go lower after its consolidation period as the larger market is not generating a lot of steam. Bitcoin (BTC) continues to be painted red, falling 1.3% in the weekly charts. Without BTC making positive strides, it is unlikely for SHIB to do so just yet. At press time, SHIB was trading at $0.00000910, down by 0.7% in the last hour.
Also Read: Shiba Inu: If Price Hits $0.00001, How Much SHIB for $10 Million?