Shiba Inu [SHIB] has a series of upcoming updates planned for its future, with Shibarium being the closest one on the horizon. This layer-2 update is scheduled to be launched next month and it is anticipated to generate substantial profits for SHIB investors. But, does this upgrade entail the potential to boost the meme coin's price to $0.01? Not quite yet.
Based on DigitalCoinPrice data, Shiba Inu has a long journey ahead before it can reach one cent. Although some holders have speculated on 2030 as a pivotal year, the asset is projected to eliminate a few zeros from its price but not enough to reach a cent. Over the next seven years, SHIB is anticipated to reach approximately $0.0000773. The meme coin is predicted to have a minimum price of $0.0000771 and a maximum price of $0.0000778 by the end of 2030.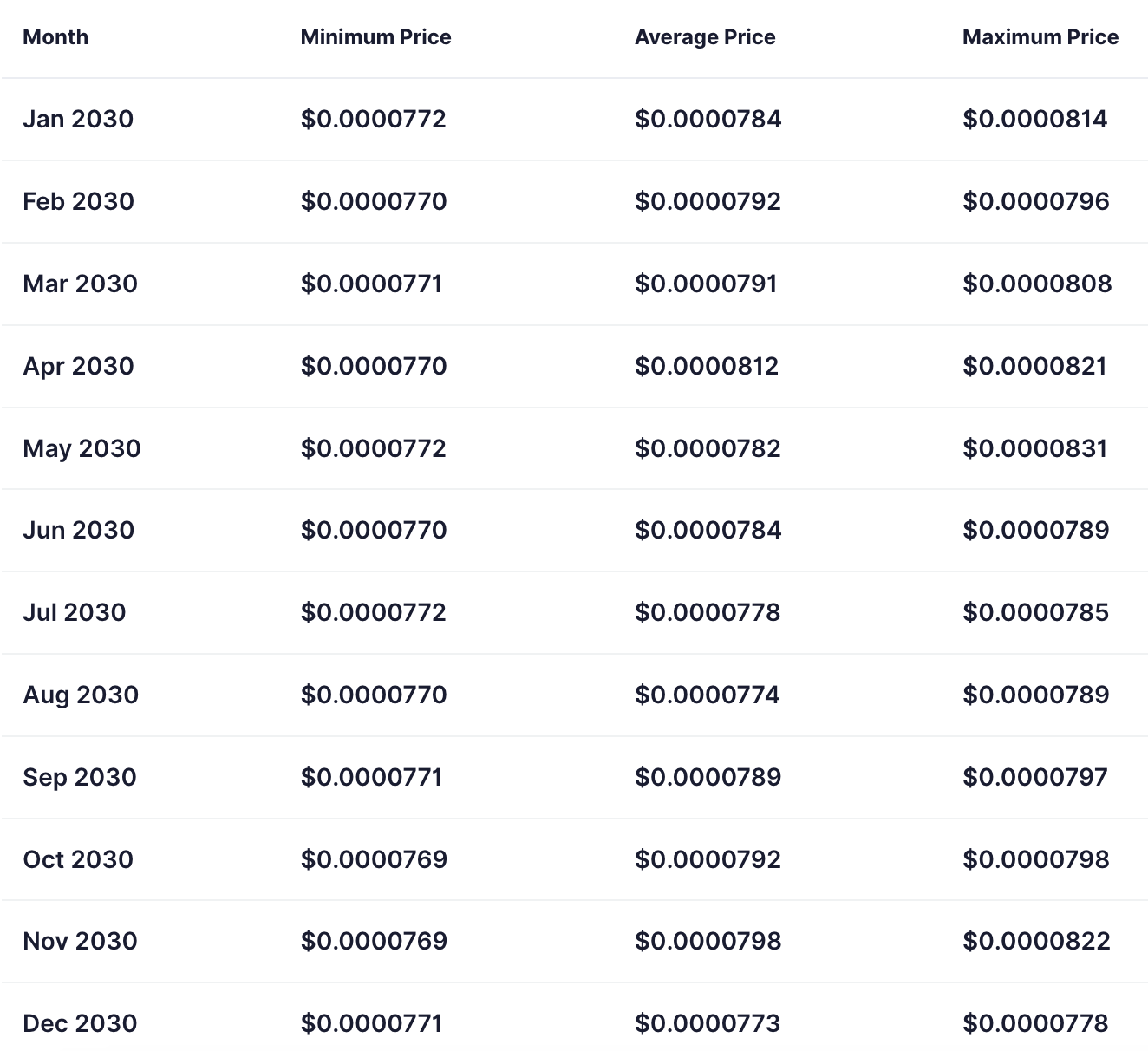 Based on the above image, it is anticipated that the meme coin will commence January 2030 with a peak value of $0.0000814. It appears that Shiba Inu will not eliminate any zeros from its price over the course of the year. The projected closing value for 2030 is estimated to be $0.0000778.
At press time, SHIB was trading for $0.000007886 with a daily surge of 5.15%. The asset pocketed weekly gains of nearly 9%. This upward movement aligns with the overall market trend, indicating a general upswing.
Also Read: Shiba Inu: Will SHIB Delete a Zero as XRP Moves Toward $1?
How can SHIB achieve its one-cent dream?
There are multiple factors that could play a role in Shiba Inu's potential path towards reaching $0.01. The primary catalyst is increased burning activity, although it is not the sole determinant. To be more specific, for Shiba Inu to have a chance at reaching $0.01, it would need to burn about 90% of its circulating supply. As a result, SHIB would need to reduce its circulating supply. This should dip from the current 579 trillion tokens to 610 billion tokens.
Rising market demand and wider adoption can contribute to the asset's price appreciation. Furthermore, significant partnerships and deals can also support this progression. The Shiba Inu community and its online presence possess the ability to influence both the coin's popularity and its price.
Also Read: Shiba Inu: Top Whale With 101 Trillion SHIB 'Active' Before Shibarium