The rising appeal of Shiba Inu [SHIB] is evident in its expanding popularity and the rate of new adoptions. Another positive indicator of adoption is reflected in the balances on exchanges. Numerous exchanges include SHIB in their holdings. However, recent data discloses that the collective balance of the meme coin on these exchanges has been on the rise.
According to data obtained from Santiment, major increases were witnessed in the balances across various major exchanges. The cumulative SHIB balance on Binance surged to 30.9 trillion tokens, marking a noteworthy rise of 201.1 billion tokens over the previous 24 hours. OKX closely followed with a balance of 9.9 trillion tokens, having accumulated 149.4 billion tokens within the last day.
In contrast to the inflow of tokens which might indicate a desire to sell, the rise in holdings implies a positive trend of increased adoption for SHIB.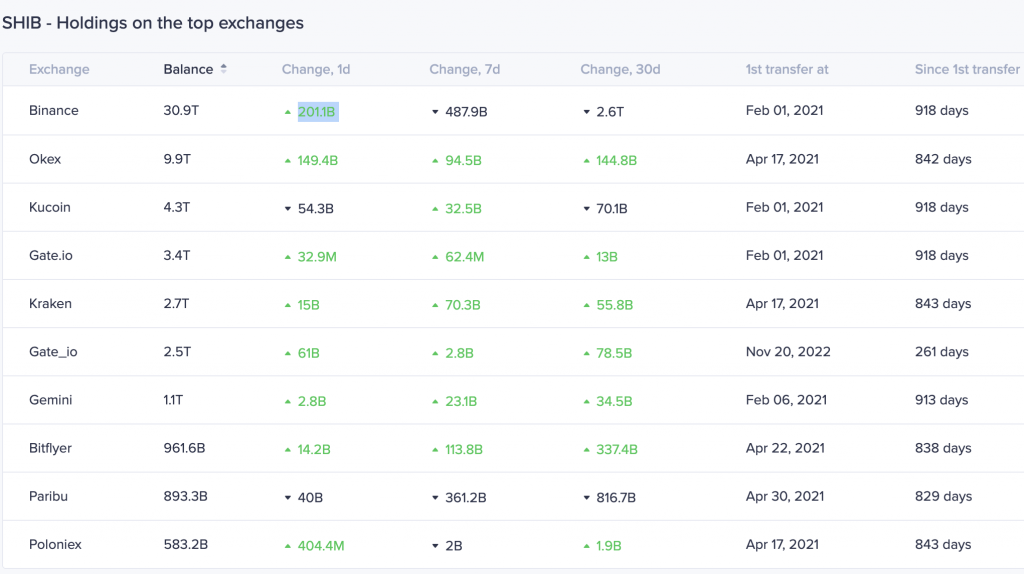 Also Read: Shiba Inu Expected to Rally Another 66%: Here's When
SHIB exchange supply records major dip
The latest increase in balance coincided with a period when the supply of Shiba Inu on exchanges experienced a decline. During the weekend, SHIB encountered a significant surge in its price. Concurrently, the SHIB supply on exchanges dropped to 8.29%, marking the lowest level observed since April 2021. This suggested that the selling pressure on SHIB has not intensified. The ongoing rally in SHIB's price is likely to persist due to the insufficient amount of SHIB available on exchanges for selling.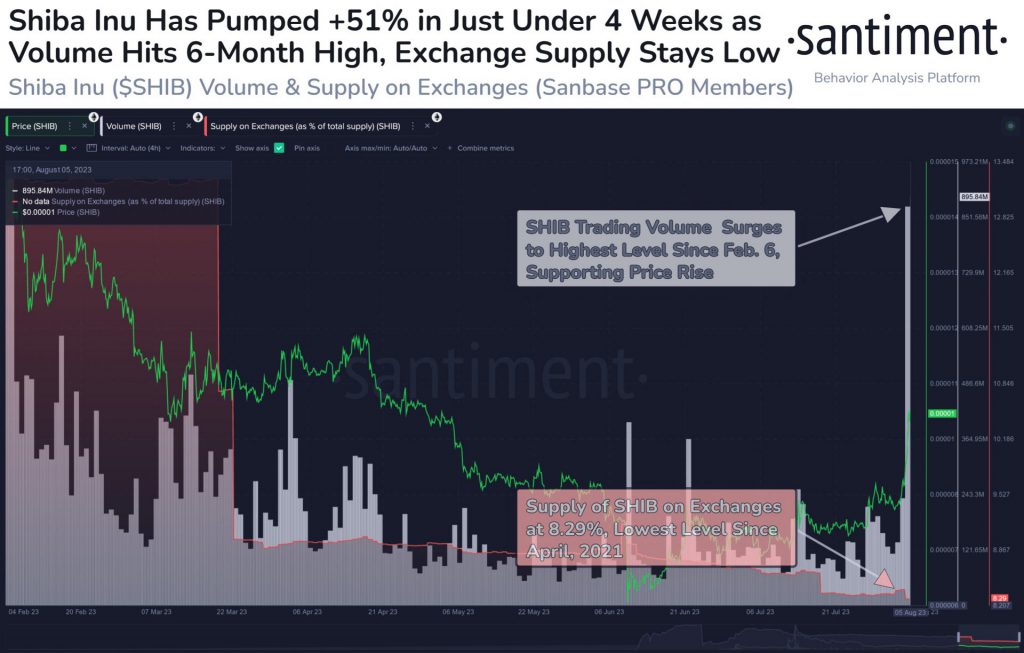 Moreover, the asset's period of strong performance was relatively brief. At press time, SHIB was trading for $0.00000898 with a 3.17% daily drop. Nonetheless, the excitement surrounding Shibarium and the aforementioned exchange-related activities have the potential to lay the groundwork for a favorable trajectory for the meme coin.
Also Read: Shiba Inu: Shibarium on the Brink as Whales Accumulate 11 Trillion SHIB