Meme coins have become a significant component of the cryptocurrency ecosystem. Despite most of them being created as a form of amusement or joke, assets like Dogecoin [DOGE] and Shiba Inu [SHIB] have demonstrated their potential. As the popularity of these coins continues to rise, a recent study has identified the areas where interest in meme coins is highest.
As per CoinGecko, the craze for meme coins in 2023 is primarily being driven by the U.S. India was following closely behind. The United Kingdom secured the third spot on the list of countries with the highest interest in meme coins.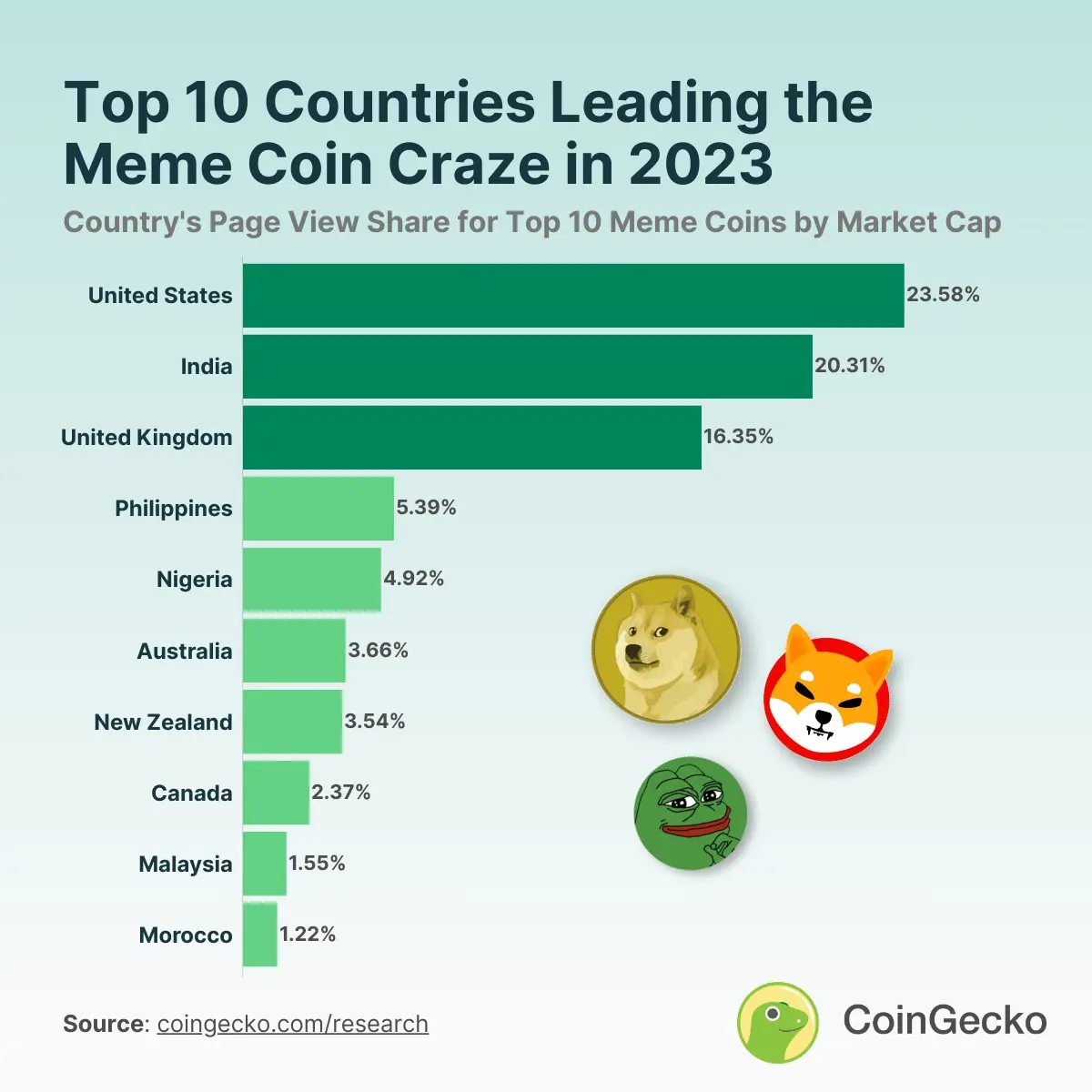 While the initial demand for meme coins was concentrated in the first few countries, the current list displays a diverse range of nations. The meme coin craze is led by countries such as the Philippines and Malaysia in Southeast Asia, Nigeria and Morocco in Africa, Australia and New Zealand in Oceania, and Canada. The top ten countries mentioned above accounted for 82.9% of the interest in meme coins.
Shiba Inu draws the most interest
Shiba Inu has taken over as the most sought-after meme cryptocurrency, drawing a considerably higher level of attention from individuals across these countries. Specifically, cryptocurrency has generated 46.7% of total interest, with a significant portion of this coming from the U.S. The report also highlighted that Shiba Inu is particularly popular in the U.S. as it has sparked 60.7% of interest. Additionally, in India, it has captured 55.8% of the nation's interest.
Meme coins such as Floki Inu [FLOKI], Bonk [BONK], and Baby DogeCoin are reported to be flourishing in other countries. Specifically, in the Philippines and Nigeria, FLOKI garnered the most attention. At press time, SHIB was trading for $0.00001001 with a 0.36% daily surge.
PEPE is already making noise
PEPE, although a newly launched cryptocurrency, has gained significant attention and popularity. However, in comparison to its competitors, it has much room for growth. Nonetheless, it was able to capture 11.8% of meme coin interest in the U.S. In Canada, on the other hand, PEPE was able to generate the highest meme coin interest, accounting for 26.9% among the people. PEPE, was up by 21.15% over the last 24 hours and was priced at $0.000001308, at press time.