A surprise triple-digit burn rate spike is lifting spirits in the Shiba Inu community amid the meme coin's struggles to regain lost ground. Over 162 million SHIB were removed from circulation in the last 24 hours, offering a rare glimmer of hope following months of declining burns.
Data from Shibburn showed the SHIB burn rate abruptly surged by 620% on Wednesday. More than 162,385,519 SHIB were permanently destroyed in under 24 hours. The unexpected flood of burns provides welcome relief to holders desperate for catalysts to reboot momentum.
Also read: Shiba Inu: SHIB Digital ID All Set For October Debut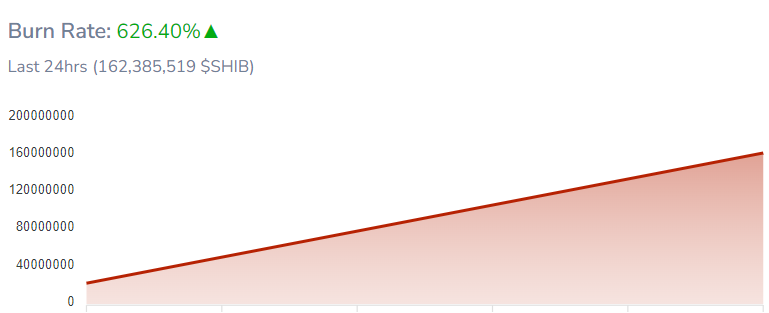 Rise in Shiba Inu burn rate comes amidst slumping price
The rise in burn rate comes even as Shiba Inu hovers near all-time lows after a punishing crypto winter. SHIB is down by 0.45% in the last 24 hours, and it remains crushed by nearly 91% from highs in the doldrums of a prolonged bear market.
But sustaining the momentum remains an uphill battle, with SHIB still deeply out of favor. The token needs consistency and, ideally, accelerated burns to reduce the circulating supply, weighing on prices.
For now, the community embraces any sign of revived strength. The much-needed burn rate spike also reminds holders willing to chip in that their collective impact is significant. While one spike alone cannot reverse the coin's misfortunes, it does inject positive sentiment.