The meme coin outlook was changed by Shiba Inu (SHIB). The asset rose to the top due to the numerous partnerships and a sizeable community. The network has remained current with timely developments. It has been challenging for the price of SHIB to rise despite increased interest from the community and its partnerships.
FTX's demise undoubtedly played a significant part in the market's decline. Shiba Inu also sank with its counterparts. Those who had the assets in their wallets were also losing money as a result of its declining price.
The number of holders hit an all-time high on November 17, 2022. However, as per recent data from Etherscan, the holder count has plummeted.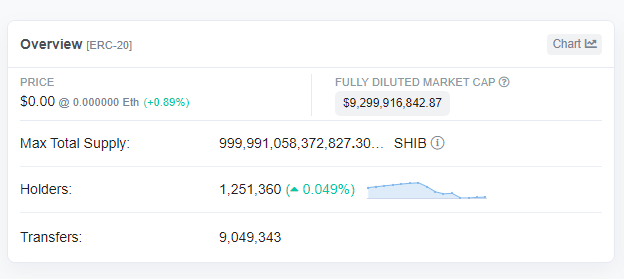 SHIB holder count drops
Data from Etherscan reveals that the Shiba Inu holder count currently stands at 1,251,360. It has over 20,000 fewer holders than it did on Nov 17, when it was 1,272,067.
This might be primarily due to investors selling off their SHIB amidst the plummeting market. SHIB is currently trading at $0.000009294 at press time, with no major movements during the last 24 hours.
Nevertheless, the number of SHIB holders is considerably higher than last year. This is primarily due to the number of developments that the Shiba Inu team is working on for the community.