Shiba Inu (SHIB) lead developer Shytoshi Kusama has said that the project's upcoming layer-2, Shibarium, will be out before May. Nonetheless, the developer has not given the community an exact launch date.
Kusama's latest tease comes right after the Shiba Inu (SHIB) developer said they "don't have one."
The Shibarium launch has undergone many delays so far. The highly anticipated layer-2 was supposed to launch in Q4 2022 before being postponed due to development issues. The team announced that Shiba Inu's layer-2 would see the light of day in early 2023. This was followed by rumors about Shibarium releasing on Feb. 14th, Valentine's Day. Kusama changed its Twitter bio to "Quickly learning to play the flute before putting Shibarium in a heart-shaped box with a bow." However, it seems that fans and users of the popular canine-themed cryptocurrency will have to wait for another few months, if not less.
Read more: Shiba Inu's On-Chain Metrics Lacks 'Bullish Behavior'
Shiba Inu whale buys discounted SHIB
The cryptocurrency markets have once again entered a slump. Major tokens are on the downtrend, with SHIB falling 12.5% on the weekly charts. However, one SHIB whale seems to be taking the discounted price to its advantage.
According to Whalestats, one Ethereum whale (BlueWhale0073) purchased 223 billion SHIB tokens worth $2.75 million.
Shiba Inu (SHIB) is extremely popular among Ethereum (ETH) whales. As per the data on Whalestats, SHIB currently makes up 13.76% of the holdings of the top 100 ETH whales. Moreover, according to IntoTheBlock, 80% of SHIB's supply is in the hands of large holders.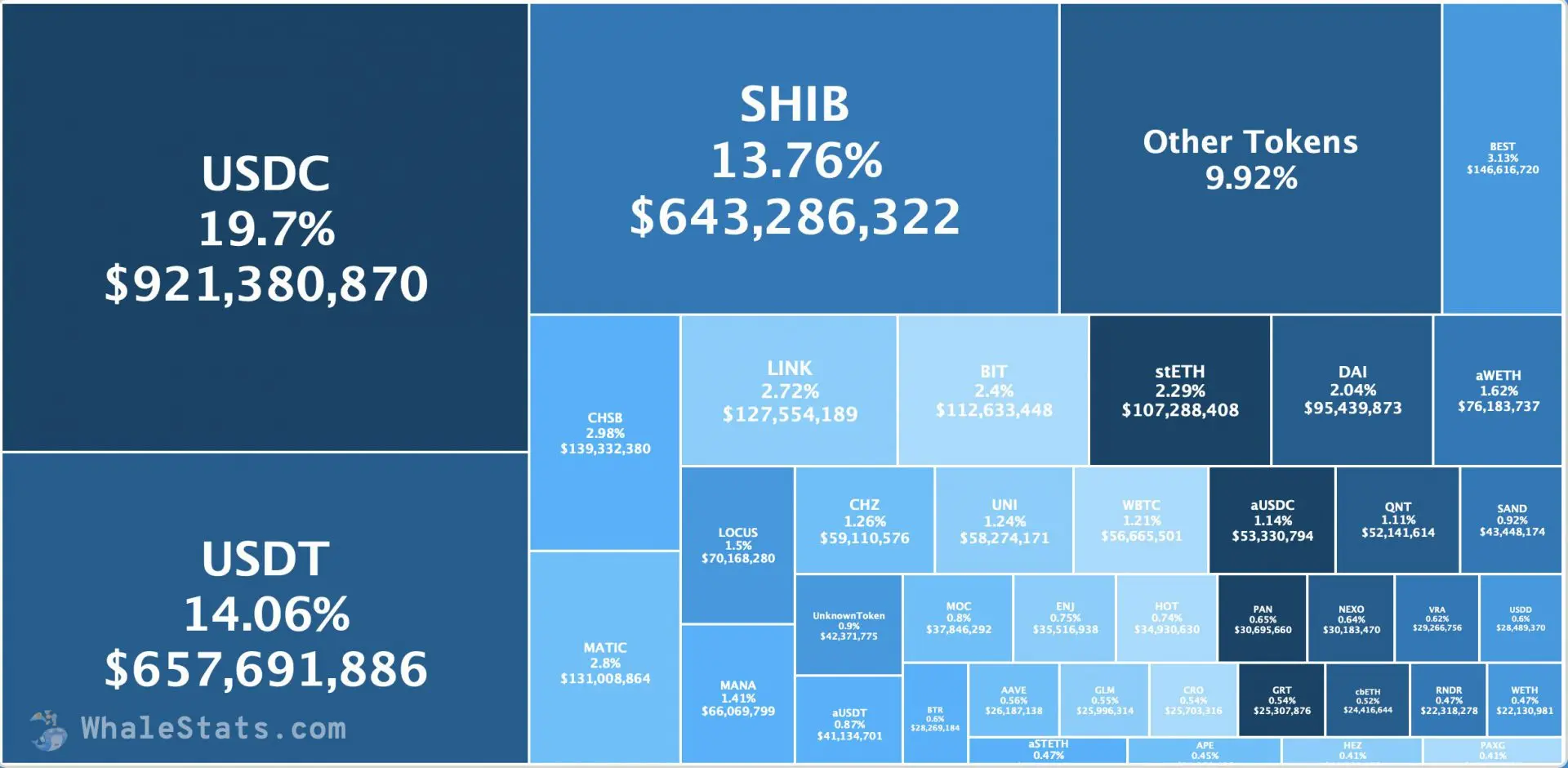 SHIB's whale influence is a concern for many investors, as a selloff could lead to a sudden drop in the asset's price.
At press time, SHIB was trading at $0.00001237, down by 3.9% in the last 24 hours. Moreover, the popular cryptocurrency is down by 85.71% from its all-time high of $0.00008616, attained on Oct. 28, 2021.