Shiba Inu started off on the backfoot this year as the token dipped in price and displayed bearish sentiments. Despite the team updating about several developments such as Shibarium private testnet, and SHIB Metaverse bidding, its price dipped.
A drastic spike in price occurred in October last year when it jumped +1,000% in 30-trading days. It touched an all-time high of $0.00008616 during its bull run. However, SHIB is down -72.1% from its ATH and is falling into a never-ending abyss of dismal performance.
Read More: Will Shiba Inu's '1 Cent Dream' Be A Reality?
Crypto analyst Altcoin Sherpa revealed to his 172,000 followers on Twitter that he expects Shiba Inu to spike +50% in the next 6-weeks. He shared that the SHIB's chart suggests that a 'spike in price' is on the cards in the coming weeks.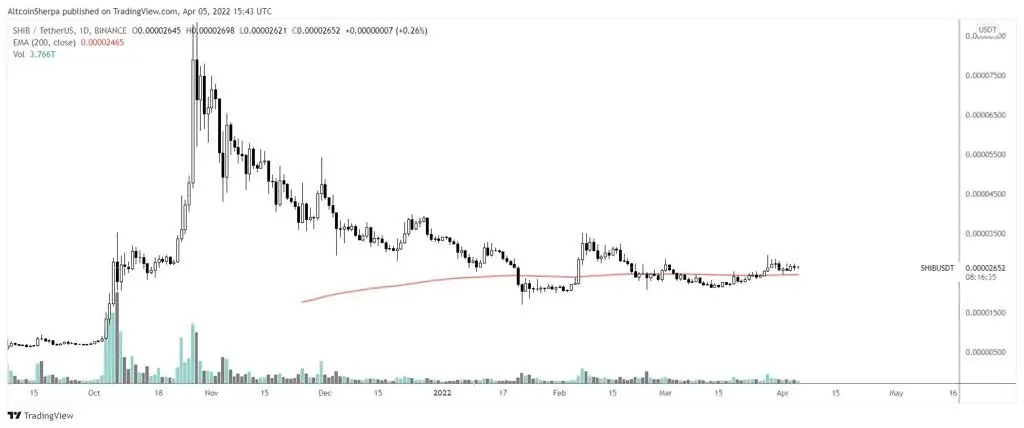 "Strategy: Buy $SHIB spot (just layer/DCA in). Let it sit for 1-6 weeks, wait for it to pump during that time. Easy 50%+. Should outperform most other strategies," he tweeted.
The analyst revealed that he'll wait for 6-weeks as he'll be out of network, but still believes as per the chart pattern that it could jump +50%. "I'm doing this because I'm traveling soon and won't be on computer as much. I'm like 1/3rd size in rn w. bids everywhere."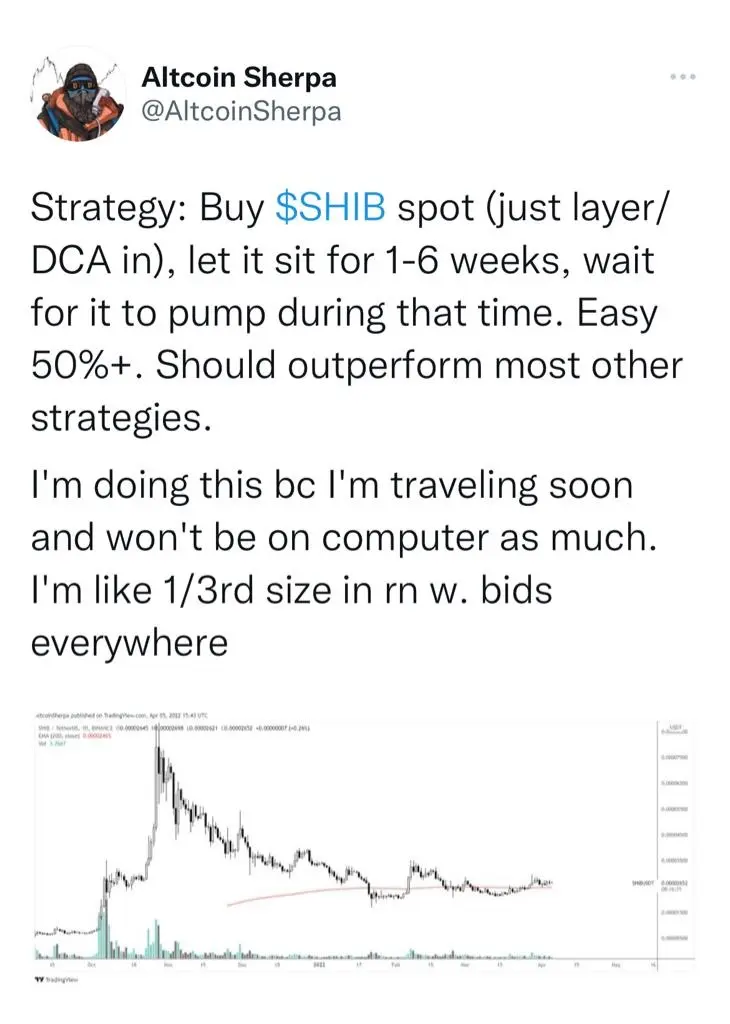 He also stated that Dogecoin and Shiba Inu are similar but he prefers SHIB's chart more. "I think other dog coins likely pump if Doge starts to pump hard. Doge and Shib are close in MC but I prefer Shib because I like the chart more," he said.
Read More: Steven Cooper Deletes Every Tweet On Shiba Inu, Abruptly Exits 'Burn' Project
However, some followers questioned his prediction saying that the chart doesn't support his thesis. The user stated that the pumps are getting smaller as each day pass. Altcoin Sherpa replied, "Yes, it does, this is accumulation, IMO. This isn't the real move yet, IMO."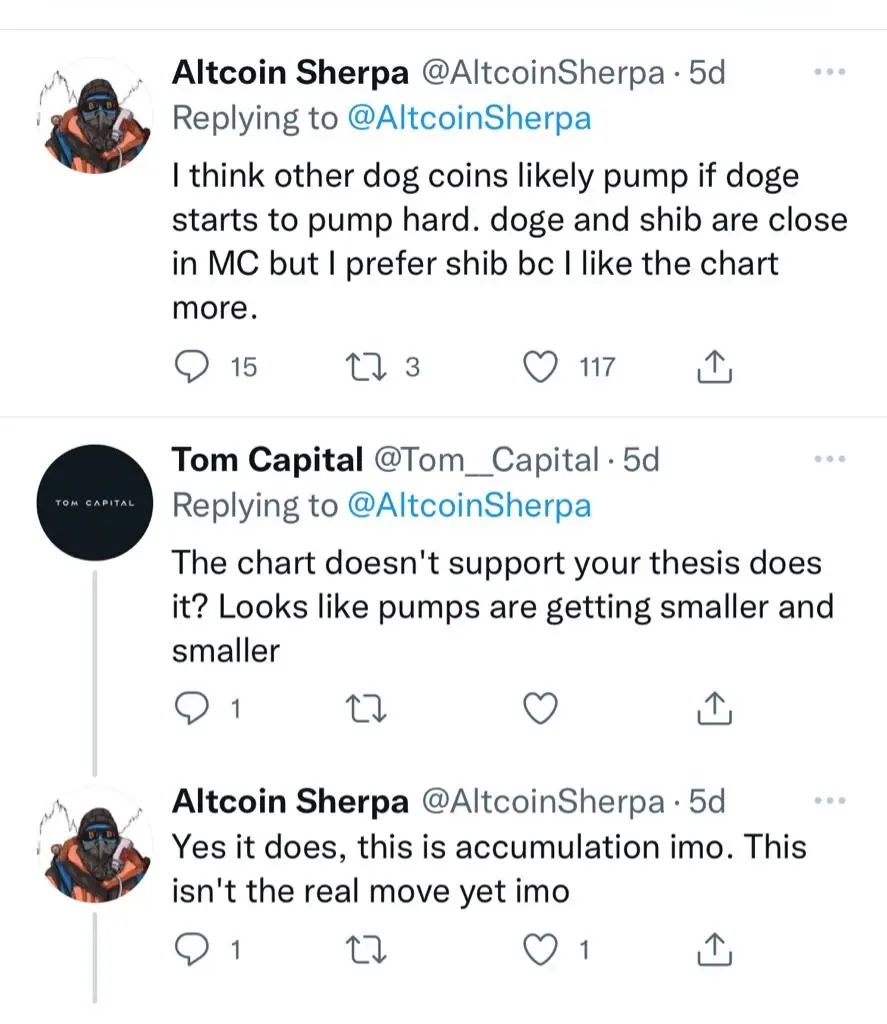 Shiba Inu: Price Rise
Investors are eagerly waiting for Shiba Inu to pump in price as it barely moved upwards since October last year. Day traders are staying away from the token as it has no volatility and trades on a razor's edge. Moreover, most of them who purchased the token are now playing the long-term game waiting for it to hit the 1 Cent mark.
Read More: Shiba Inu 'Burn Portal' is in Final Stages, According to SHIB AMA
Unfortunately, its circulating supply is 549 trillion and its market cap needs to be bigger than Bitcoin to even consider reaching $0.01. Only massive amounts of 'burns' can lead the token to drive towards the '1 Cent Dream'.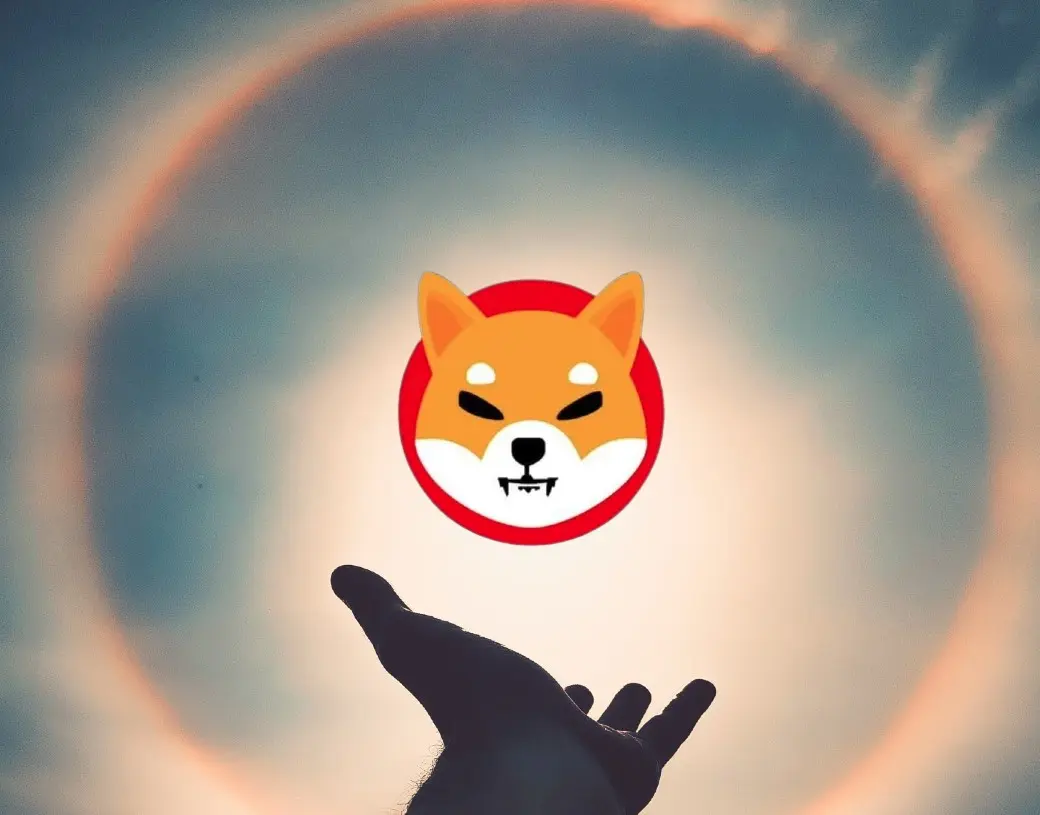 In addition, all eyes are on the upcoming 'SHIB burn portal' which the team revealed they would launch soon. Moreover, not many details about the 'burn' process are revealed and the development is kept under wraps.
However, SHIB's Discord moderator Queenie tweeted a hypothetical calculation suggesting that 111 trillion tokens can be 'burned' each year. You can read here hypothetical estimate.
At press time, Shiba Inu was trading at $0.00002356 and is down -4.1% in the 24-hours day trade. The token is down -11.9% over the last 7-trading days but is up a staggering +28,399.3% in the last 365-days.