Shiba Inu turns two today after it was launched on August 1, 2020, with a modest price of $0.000000000972241 (nine 'zeroes'). The dog-themed token labeled itself the 'Dogecoin killer' during inception and garnered eyeballs for its bold yet challenging tagline. Nonetheless, its motto made headlines during its launch and attracted investors to the token. A year later, in 2021, SHIB removed the 'Dogecoin killer' language from its website and mellowed its tone. However, SHIB has come a long way post its launch two years ago by deleting several 'zeroes' in the indices.
Also Read: Can SHIB Delete A Zero This Year?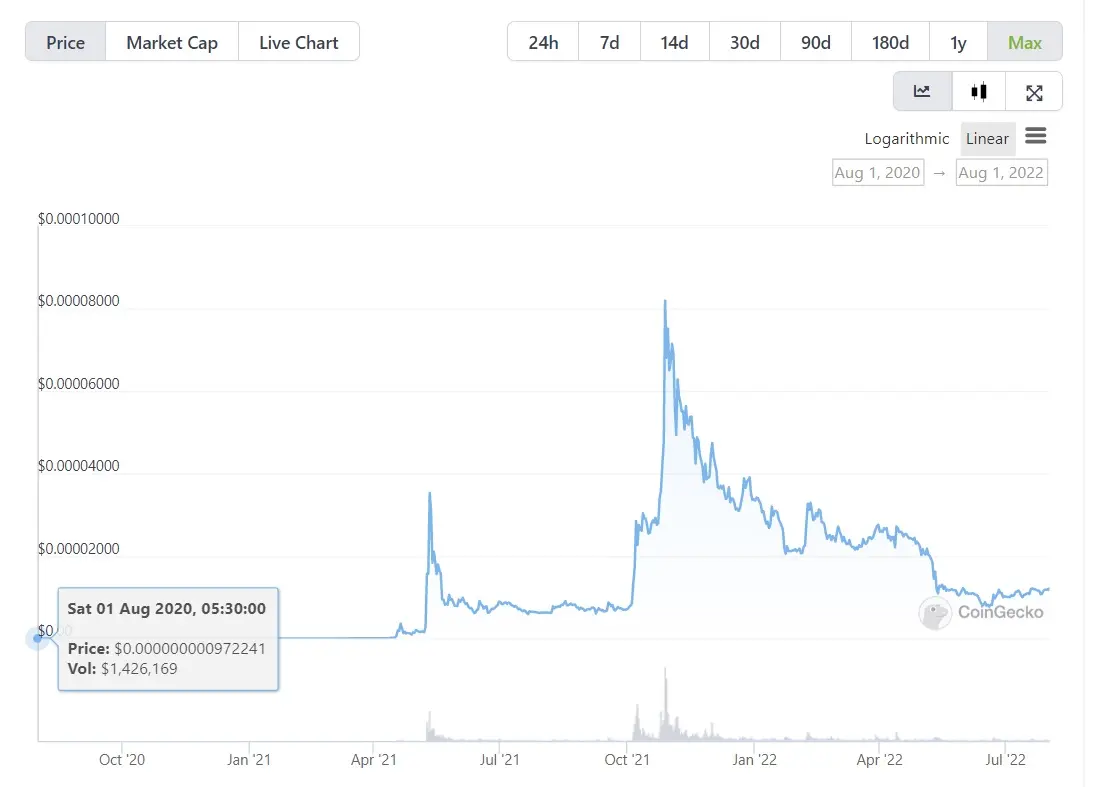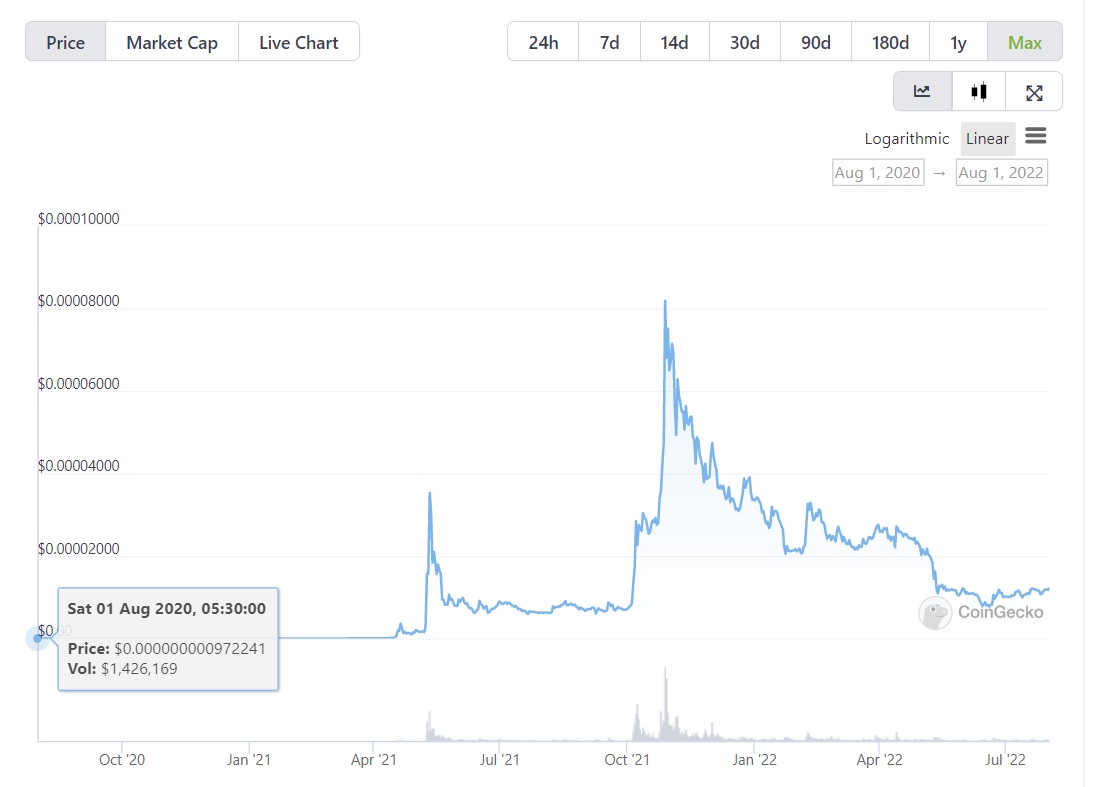 How Many 'Zeroes' Shiba Inu Deleted After Its Launch?
Shiba Inu celebrates its 2nd birthday today after its founder Ryoshi launched the token on the ERC-20 network. Ryoshi had sent Ethereum founder Vitalik Buterin 50% of all SHIB tokens, where he eventually 'burned' 410 trillion tokens. Vitalik also donated 50 trillion Shiba Inu tokens to India to help combat the second wave of the Covid-19 pandemic in May 2021.
While Shiba Inu was trading with nine 'zeroes' in August 2020, it plummeted the same year, adding an extra 'zero.' From October to December 2020, SHIB was trading with 10 'zeroes' and mostly went on the back foot for three months. The token had reached an all-time low of $0.000000000056366 in November 2020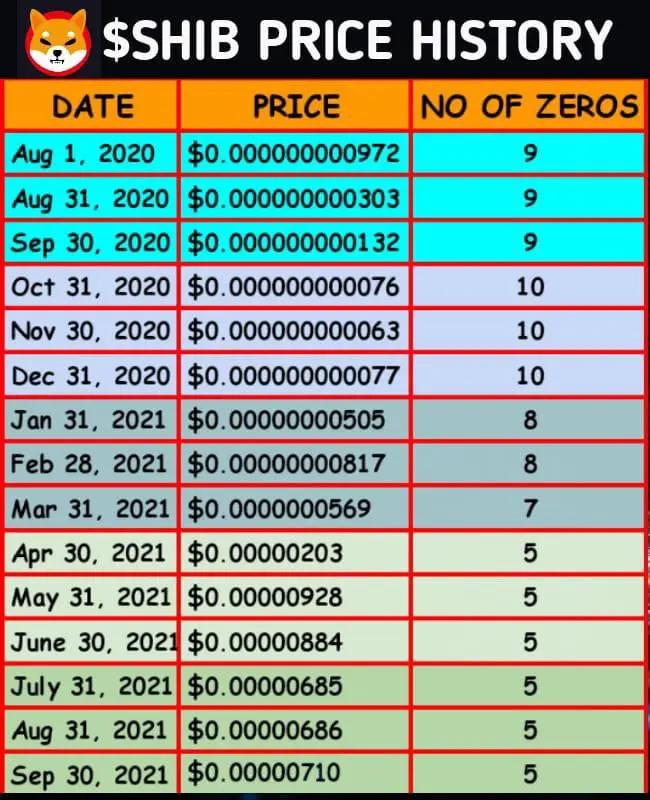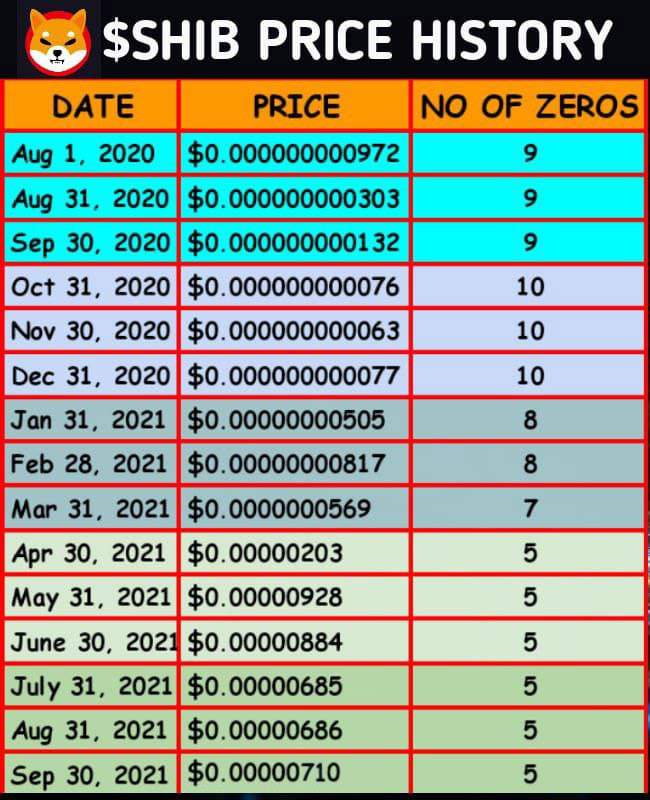 Nonetheless, its fortunes changed for the good in 2021 after it jumped 21,925,409.6% from its all-time low, reaching its current price of $0.00001232.
Also Read: $1000 in Shiba Inu and DOGE in 2020 is Worth This Much Today
From January to October 2021, Shiba Inu deleted six 'zeroes' in 10 months making early investors turn millionaires. Read here to know stories of early investors who made millions while taking an entry position in SHIB during inception. In October 2021 alone, SHIB jumped 1,000% in 30 days and reached its current position of four 'zeroes.'
Also, Shiba Inu has not deleted a single 'zero' in 2022 as the token mainly trades on the back foot. It added an extra 'zero' in May but quickly recovered the same month. SHIB has slim chances of deleting a 'zero' this year as bearish sentiments have taken over the crypto sphere.
At press time, Shiba Inu was trading at $0.00001232 and was up 1.7% in the 24 hours day trade.